[ad_1]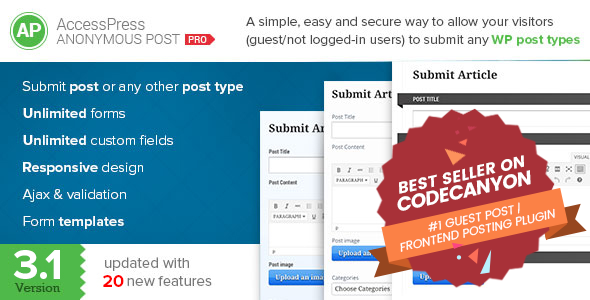 DEMOs
1. Frond End Post Form – Template 1 Demo
2. Frond End Post Form – Template 2 Demo
3. Frond End Post Form – Template 3 Demo
4. Frond End Post Form – Template 4 Demo
5. Form Styler Demo
6. Backend Demo
7. Full Demo Landing Page
Video Preview
Image Uploaders
Doc Uploaders
Support
Support right from here – Contact us using the contact form on our profile page
Support from codecanyon comments here
Full feature list:
Unlimited Forms
Submit post from frontend as a not logged in user or as a logged in user.
Enter Tags for the post
Custom File Uploader with image, audio, video and doc uploaders
Email notification to admin email after successful post submission.
Customized Post Submission message.
Field Selection ability.
Anyone can post from anywhere in the site
Category selection
Add featured image to the post. More than one image and other media items can be added to the post if logged in.
Captcha for secure posting which can be enabled and disabled from plugin settings page
Use short code to display the submission form anywhere
Post submissions may include title, tags, category, author, URL, post image
HTML5 submission form with streamlined CSS styles
Posts will be directly saved into WordPress database and will show up in Admin Dashboard as pending post or any selected status with given Title, Description, Category and Tags.
Option to assign post to specific category/taxonomy or let users choose category/taxonomy from frontend
Moderator will be able to review and approve them as needed.
Authors Name, Author URL and email will be added as custom field.
Simple and user friendly
Custom Post Types and Taxonomy
Multiple Image Upload
More secure Google Captcha
Add upto 3 email addresses for admin notification
Admin notification email message customization settings
Form styling settings panel
Form templates availability
Required Field selection option
Custom required message adding option
Notes displaying options for each field
Inline login system
Option to send message to the submitter once the post is made live
Option to change the message when the post goes live
Allow suggestion text to be entered for each form field.
Tool tips option for form fields (suggest text or tooltips option)
Add more notification emails upto 3
Built in form templates
Custom form designer
Specify optional/mandatory form fields
Specify custom mandatory form field message
Google captcha
Dedicated forum support
Online chat support
Email support
Documentation:
We've detailed documentation which leaves you with no question. Find the plugin documentation here:
https://accesspressthemes.com/documentation/wordpress-plugin-instruction-anonymous-post-pro/
Video tutorials:
We've prepared detailed video tutorials to setup and use the plugin. Find video tutorials here:
https://www.youtube.com/user/accesspressthemes/playlists
Customer Feedback
Change log:
3.2.6
Fixed undefined index error for Post Image
Added More WordPress Resources Section

3.2.5
Solved the header already sent issue for message display

3.2.4
Removed some security bugs and some minor issues both for frontend and backend
Removed PHP session
Fixed some missing translations

3.2.3
Removed a blank space in the plugin's main file causing the header already sent error

3.2.2
Fixed filename change after file upload bug

3.2.1
Fixed PHP 7 incompatibility for google reCaptcha

3.2.0
Fixed the security vulnerability

Supported Languages
English – United States
Get latest updates
Like our Facebook page and get latest updates:
https://www.facebook.com/AccessPressThemes
Feature request:
Click here to submit feature request. It can also be used to notify bug .
https://accesspressthemes.com/contact/
More WordPress Resources
Themes Compatible with the Plugin :
AccessPress Anonymous Post Pro works best with every WordPress theme. It's even more remarkable when used with popular themes like VMagazine and AccessPress Parallax.
AND IF THIS PLUGIN HAS IMPRESSED YOU, THEN YOU WOULD ENJOY OUR OTHER PROJECTS TOO. DO CHECK THESE OUT :
WPAll Club – A complete WordPress resources club. WordPress tutorials, blogs, curated free and premium themes and plugins, WordPress deals, offers, hosting info and more.
Premium WordPress Themes – 6 premium WordPress themes well suited for all sort of websites. Professional, well coded and highly configurable themes for you.
Premium WordPress Plugins – 45+ premium WordPress plugins of many different types. High user ratings, great quality and best sellers in CodeCanyon marketplace.
AccessPress Themes – AccessPress Themes has 50+ beautiful and elegant, fully responsive, multipurpose themes to meet your need for free and commercial basis.
8Degree Themes – 8Degree Themes offers 15+ free WordPress themes and 16+ premium WordPress themes carefully crafted with creativity.
Check out our other great plugins
New Release: the most Comprehensive FREE WordPress Theme – Punte

New Release: All in one Free WordPress theme – Bingle

[ad_2]
Source