[ad_1]
WooCommerce configurable product. Customize WooCommerce checkout fields. Add custom fields to user's profile. All in one WooCommerce advanced custom fields.
Advanced Extra Options

Advanced custom fields, create various on-demand product or highly personalized products.

Drag Drop Builder

Easily add and config new field group by using intuitive drag – drop form builder
⚡ WooCommerce Extra Product Options ⚡
Configurable and customizable products, sell more with extra options like gift-wrap, custom logo, music intro…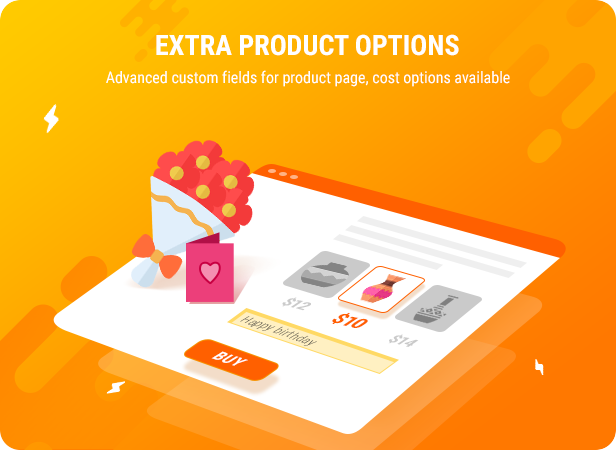 Extra Pricing Options

Add advanced custom fields for single product page with pricing options.

Compatible

Work with various product types, like: Simple, Digital, Variant, Booking.
Extra WooCommerce Checkout Fields
Gather all the custom information to the order detail. Control what information should appear, no unnecessary field on the order detail.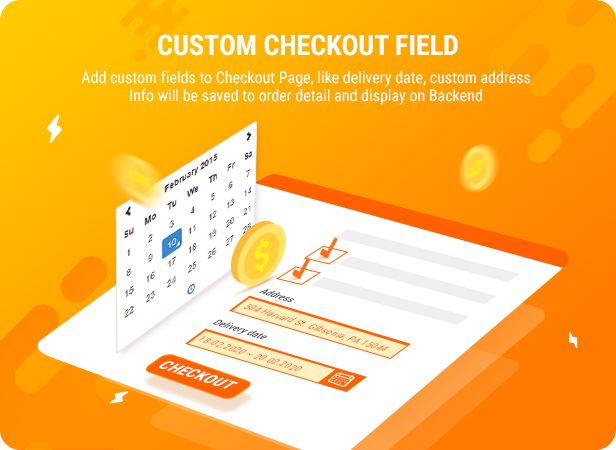 Multiple Places

Add custom fields where you want, with multiple locations.

Save to Order Detail

The data will be saved into order detail, you can manage and update extra info there, too!
Customer Profile Fields
Create new custom user profile field in 30 seconds. Collect user information at checkout page or My Account page. Allow user edit, update the custom profile field.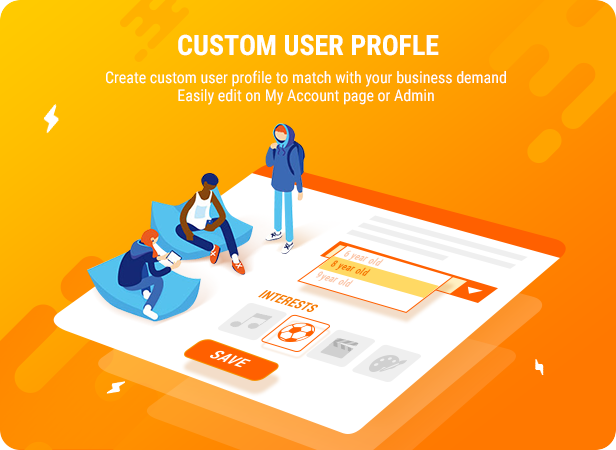 Custom Profile

Add the custom fields to user profile and display on My Account page

Admin Editable

Admin can edit the information on user's profile page easily in the Backend.
Conditional Logics
With advanced conditional logics, we can create multiple conditions to show the fields when the other field has been selected.
Where You Want

You will be able to set where you want the field show to show, i.e on Before Add to Cart button on single product page

When You Want

Fields in group can be hidden until it satisfy specific condition, like if Selected Variant is Blue, then show the fields.
BuilderJS – Drag & Drop Builder
Instead of boring fields builder, we're now have the form builder with multiple feature, can be used by non-tech users.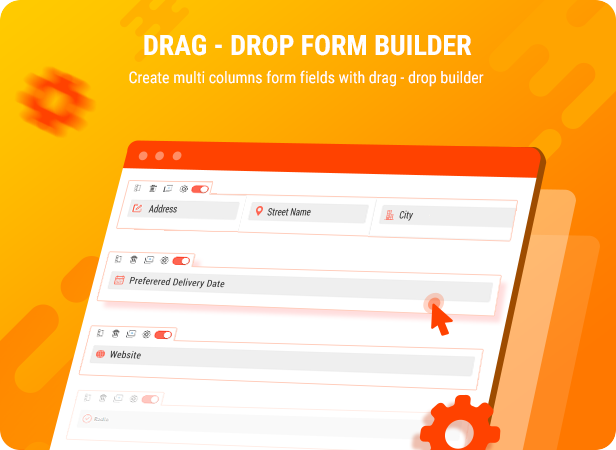 Intuitive Builder

Instead of showing fields in 1 colume, now we can add fields in multiple columes.

Multiple Fields Types

From normal field types to advanced field types. i.e: input text, repeater, slide range…
Order PDF Invoice & Emails
If you want to how the fields in PDF invoices. You came to the right place!.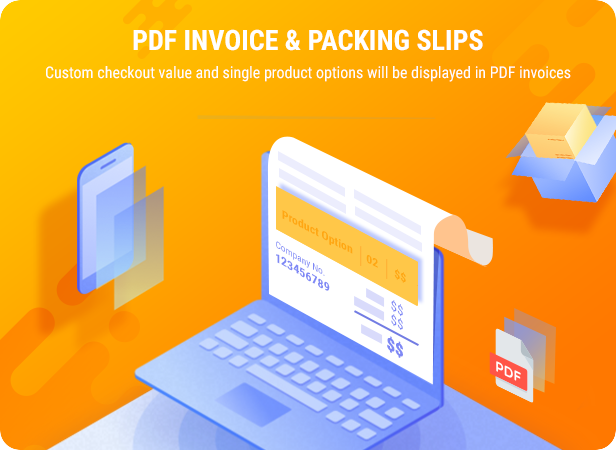 PDF Invoice

Show the custom field value in PDF Invoice. We made the plugin to compatible with various PDF invoice generator plugins.

Email

The information of the custom field will be included in the emails of WooCommerce, to make sure everything is connected and clear.
Admin Columns
If you want to show the custom order details on Order List, you can select on field option to display it as addition columns.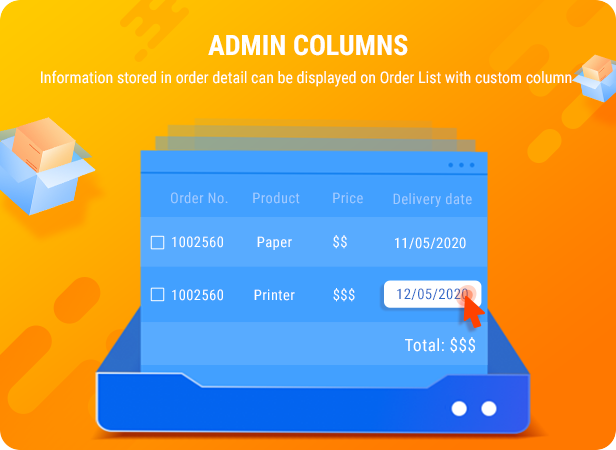 Easily Showing

When creating the fields, you can select to make field value appear on Orders tables

Easily Management

Easily manage the order at a glance without going to order detail.
Various Usage & Demo
Selling flowers with customized form field to fit with your business
⚙️ Available Field Types ⚙️
We understand how hard for you to manage the correct format of product options, that's why we create a lot of field types to help you achieve your goal easier.
Input Text

Include advanced field validation: email, password, number, normal text

Radio Select

Creating the radio select with pricing option enabled.

Checkbox Select

Allow user to select multiple value as checkbox

Select Box

Showing the options as dropdown select.

Slide Range

Creating the slider range to have better options

Date-time Picker

All in one date-time picker with beautiful calendar template

File Upload

Allow uploading file, limit file types or size easily

Image Upload

Only upload the images, instead of all files, best for print on demand products

Text Area

Add multilines text area input, best for cover letters or messages

Repeater

Enable customer to add new information as repeating rows easily.

Image Select

Display the options as image and allow user to click on image to select option

Google Map Address

Display the address in google map, best for shipping locator and profile info.

Accordian

Showing the options in repeater and accordian, best for user's interest

Gallery

Allow upload and manage image upload as gallery, best for user profile and print on demand
⚙️ Technical Features ⚙️
Moew! Do you know that CP Keyword SEO Rank Tracker is created by a featured author?
Shhh! Don't tell anyone that they put a lot, I mean hugeeee to every product they do, they will pet me, and I meowwww it!
Backup & Transfer

Get the backup with .zip file for your data, in case switching host.

VueJS Technology

Use latest technology for the top-notch performance & experiences..
Pay one-time, use forever & get access to the lifetime updates!

No heavy database data

Do not worries your database size, it's stored under JSON files!
Secure Requests & SSL

All the requests between our server will be encrypted, so your data is secured!

Built for shared hosting

Our plugin is built to run on shared hosting, it won't eat RAM or CPU!!
Customer Support


Product Notes From Version 5.0.0
Our plugin will not use Advanced Custom Fields but our builder instead. If you're running your site with Advanced Custom Fields, please use the older version.
The looks and feel of the fields might variant, base on your current theme.
Our plugin require PHP 7.3 or above to have it run smoothly
This plugin will enable you to create the custom options on Single Product pages on the fronend, it will not act as a backend field extender.
Change Log
Current version: 5.2.0 - Updated on 20/11/2019
- Fix: duplicate field when display on frontend on some themes
- Fix: remove eval() function, use alternative instead
- Fix: conditional logic doesn't show for radio, checkbox
- Update: search product on conditional logic now work better
- Update: builderJS now show field name/label instead of field's type
- Update: faster render engine

11/07/2019
- Update documentation in proper format & videos instruction
- Conditional logic does not show for radio/checkbox/select
- Showing field group many time
- Update conditional logic for Repeater field type
- Update conditional logic operator: Showing field group if item in cart is A - work for checkout

22/10/2019
- Big update: release version 5.0.0
- Remove ACF plugin dependency
- Using our form builder (builderJS) instead
- Base code change and integrate new features

[ad_2]
Source