[ad_1]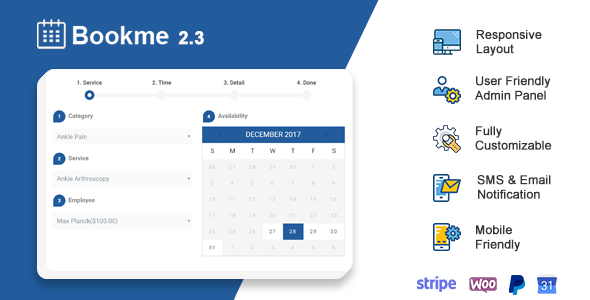 Best WordPress Booking Plugin | Save 50%
Bookme – WordPress Booking Plugin | Responsive online booking & scheduling WordPress calendar booking plugin: fully customizable and translatable , notifications, Google Calendar sync, payment with woocommerce, cart system, that allows your customers to check availability and make appointments for specific day(s) and time slots. You can book me plugin – is a great easy-to-use and easy-to-manage booking tool for service providers who think about their customers. Bookme supports a wide range of services provided by business and individuals who offer reservations through websites. Set up any reservation quickly, pleasantly and easily with Bookme!
Our Help Desk Link: https://bylancer.ticksy.com/
Bookme perfectly supports:
Customer scheduling (beauty salons, massage, spas, massage therapists).beauty, massage, wellness and healthcare reservations;
Training scheduling (sports, trainings, dance, fitness, yoga, pilates appointments);
Education scheduling (learning and educational courses, tutors and helpers);
Patient scheduling (doctor, dentists, clinic, medical).
Event scheduling (event planner, yoga class, gym, organisation of special events, conference, course, fitness center).
Searching and booking reservation for specific day(s) etc.
Multipurpose Booking Types:
Default Booking
Bookme is a WordPress plugin that provide you an automated booking and online scheduling of your services, save time and money, manage your appointments, customer and staff with only single plugin.
-Category and Service
-Staff Members (Employees)
-Calendar with Seat Availability
Group Booking
Bookme allows you accept group bookings for the same service at the same time. Let customers specify the amount of persons they would like to book multiple seat on a single time slot. And in admin panel it will be shown as single appointment.
Consultant Booking
Booking and scheduling for meeting with consultant. who provides expert advice in a particular area such as security (electronic or physical), management, education, accountancy, law, human resources, marketing (and public relations), finance, engineering, science or any of many other specialized fields.
Add to Cart Booking
Bookme Cart allows your customers to book several appointments per session by placing them in a cart. Your clients can book more appointments in the add to cart step of the booking process. A click on "Book More" button will take the user back to the 1st step while retaining the current booking in the cart.
Free Boking
Let's say you have the Bookme plugin installed and on your site and you doesn't required a payment option. You just want booking for the other reason without pay and handle manually. Our developers took care of everything – you can easily disable the booking payment option and you won't show the payment options in frontend booking page.
Booking with WooCommerce
The administrator can enable WooCommerce feature. It allows you to use WooCommerce shop add to cart functionality and checkout. It can be used to create & manage all types of booking services. Bookme enables you to sell time or date based bookings.
How it works
Bookme has a simple installation process, Bookme allows booking in a step-by-step manner, where they first choose a category after a service and an employee, then a date, then a available time slot, etc. Bookme renders a step-by-step booking wizard as a neat one-page app, which allows to uses smoothly without page refresh. You can add Bookme wizard on any page with a single shortcode. Admin can start creating services which can be provided to customers upon request such as clinic, courses, meetings, trainings, consultations etc. Bookme provide a powerful admin panel booking and services management tool with the help of this The administrators can easily change and customize settings booked schedule for each service provider, staff members, schedule days and hours for the whole company and for each service provider separately. Admin can see the all appointments lists, customers data, payment transaction details information with filters on multiple criteria. Bookme also provided an option to create and update appointments manually through the WP admin panel its help you to manage booking manually.
Let's say you have the Bookme plugin and installed on your website, but its default design does not match to the appearance of your website. We have kept everything in mind – Appearance customization features are available to manage and modify the booking form design as per your booking purpose & requirements. You can easily modify main color and change the fields titles and descriptions.
Bookme e-mail and SMS notifications feature – Its offers easy and comfortable way of communication between service providers and customers. Website owner can manage all notification settings in the WordPress admin panel > Bookme > E-mail and SMS notifications.
Bookme offers a unique solution to make the process of booking pleasant for customers – the only thing that is required from the client is to complete 4 easy steps. The interface has been smartly designed to fit into any web page and attractive design makes this process extremely easy . Customers have possibility to select service, service provider, find a convenient booking time, book an appointment and pay for it. By entering your purchase code in Bookme -> Settings > Purchase Code – you will get access to Bookme admin panel features.
Beautiful & Simple Design – The interface has been smartly designed to fit into any web page to allows Bookme responsive layout works perfectly on all devices.
Powerful & User-friendly admin panel – Bookme comes with an extended powerful admin panel and user friendly, which allows you to manage all bookings, customers, staff members and many more – with few clicks.
Easily Manageable – We did our best to make it as easy and quick as possible to install and start using Bookme on your WordPress website. You can set Bookme up with almost no effort and have a world-class booking system working for you in no time. Managing features and appointments couldn't be easier. Automate your online scheduling system to concentrate on the most important part of your business – serving your customers.
Key features
Responsive Front-End Design
Intuitive and Powerful Admin Panel
Complete admin space having intuitive interface
Simple WordPress integration
Independent Booking Calendars
Online Payment – Paypal integrated
Customized fields
Customizable Form and Calendar
Allow discount coupons
Each day calendar overview for all
Unlimited colours
Unlimited variety of companies
Unlimited variety of service suppliers
Personalised value for service supplier
Customize time slot
Personalised supplier week schedule
Configurable schedules and days-off
Email Templates – Editable e-mail notifications
Configurable e-mail reminders
Configurable funds report
Specific Time Bookings
Customizable look settings
Multiple Bookings
Edit Existing Bookings
Export of bookings to CSV
Multi-User Functionality
WPML Support
New features
Cart System (Book several appointments at once)
Payment With Woocommerce
Stripe Payment
SMS Notification (Twilio SMS API Integrated)
Google Calender
Loco Translate And WPML Compatible (POT File Included)
WordPress Timezone
Updates – Available FREE to existing purchasers!
= Version 3.0  =
* Add custom fields shortcode for email & sms notification
* Many bug fixed

= Version 2.3.8  =
* WordPress 5.0 supported

= Version 2.3.2  =
* bug fixed

= Version 2.2  =
* Calender language translation improved.

= Version 2.1  =
* Few bug cleared

= Version 2.0  =
* Cart System Integrated
* Woocommerce Payment Integrated
* Stripe Integrated
* Google Calender Integrated
* SMS Notification (Twilio SMS API Integrated)
* Email Notification Updated
* Loco Translate And WPML Compatible (POT File Included)
* WordPress Timezone Integrated

= Version 1.1  =
* Day Limit
* Free Booking

Version 1.0
- Intial Release
[ad_2]
Source