[ad_1]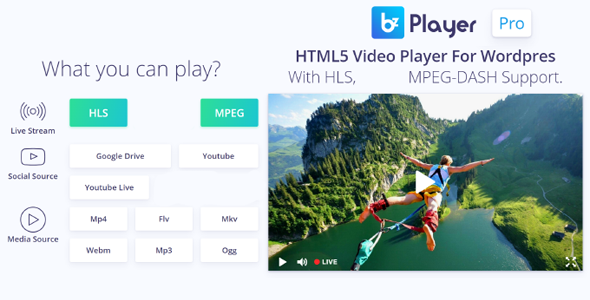 Warning: We are not giving refunds, lot of scammers are detected. (Test your streams on different browsers and different devices with bzplayer) if some other players like VLC can playback your sources but bzplayer can't, or stream stop working after purchase it is not reason for refund, or you just change your mind after purchase.
Before purchase everyone have oportunity to test they sources and player features, make sure product is for you read description, test sources and features on demo website or not purchase it at all.
bzplayer – HTML5 video player for WordPress, with modern responsive design and great features such as Live Streaming, Social Sharing, Advertising, Theme Builder. Player supports sources like Youtube, Google Drive and also Self Hosted: video-audio-livestream (MP4,M3U8, MP3, MKV, FLV, WEBM, OGG) , Live Streaming: HLS, MPEG-DASH. Player uses shortcodes it's easiest way for inserting. bzplayer is Videojs based player.
Playback your video over all browsers and devices with fast and modern video player.
Gutenberg Optimized. WordPress 5.0 and higher ready.
Changelog
- Auto Video Thumbnails.
- Hls/Mpeg auto quality.
- Theater mode.
- UI redesign.
- Gutenberg Compatibility. Plugin compatibility with WordPress 5.0 and higher.
- Vast playback problem on mobiles solved.
- Bugs fixed.
- Player UI improved
- Fullscreen bug on some mobile devices is fixed
- Http streaming is updated
- Videojs version is updated
- Some bugs fixed
- Bugs fixed
- Black screen bug fixed
- No compatible source error, on some encrypted sources, at first time on page load fixed
- Updated to vjs 7
- CAPTIONS/SUBTITLES feature added
- HLS updated
- Fixed incompatibility with some plugins
- Player UI improved
- Bugs fixed
- Vimeo, Soundcloud, Bugs fixed
- Player UI improved
- Bugs fixed
- Player UI improved
- ID feature added, now you can add id for each player
- Quality button added (You can add 6 source per format of video or livestream.)
- Player UI improved
- Bugs fixed
- Backward Forward buttons added
- Playback speed button added in youtube videos
- New Theme "Line" added
- Replay button added
- Html advertisment added(google adsense ready)
- twitch.tv channel embed
- player ui improved
- CSS bugs fixed
- Youtube quality button added
- Download button added
- Resume future added
- Volume remember feature added
- New theme default added
- CSS bugs fixed, play button and preroll video
- Disable video download feature added
- ios bug fixed when player goes fullsceen
- Small bugfixes
[ad_2]
Source