[ad_1]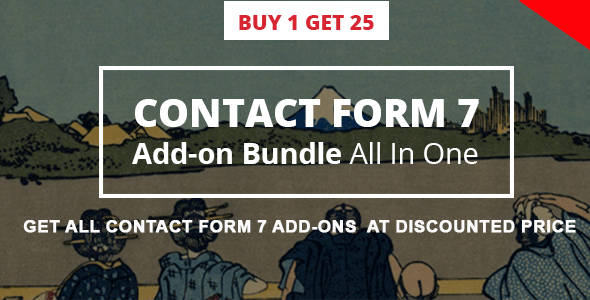 Contact Form 7 Add-on Bundle – All In One
This is a special pack including all add-on for contact form 7 issued by us and every released add-on!
If you purchase a lifetime license now, you're entitled for lifetime upgrades and updates.
Save up to 90%
In fact, purchasing every item singularly you would spend at least $514.
Bundle Price – Only $55
What you get
Contact Form 7 Zapier ($20) – Coming Soon
What do Buyers say?
CHANGELOG
18/February/2020: (version 3.7)
-Updated: All plugin

07/November/2019: (version 3.6)
-Added: Contact Form 7 Range Slider
-Added: Contact Form 7 Notification Attachment
-Updated: All plugin

12/August/2019: (version 3.5)
-Added: Contact Form 7 International Telephone Input
-Updated: All plugin

28/March/2019: (version 3.4)
-Added: Compatible with WordPress 5.1.x
-Added: Compatible with Contact Form 7 - Version 3.5.x
-Updated: All plugin

04/january/2019: (version 3.3)
-Updated: All plugin

22/November/2018: (version 3.2)
-Updated: All plugin

14/September/2018: (version 3.1)
-Updated: All plugin

01/September/2018: (version 3.0)
-Added: Contact Form 7 Auto Save Progress
-Updated: All plugins

06/August/2018: (version 2.9)
-Added: Contact Form 7 Webhooks
-Updated: All plugins

25/July/2018: (version 2.8)
-Updated: All plugins

19/July/2018: (version 2.7)
-Updated: All plugins

18/July/2018: (version 2.6)
-Added: Contact Form 7 CRM - ZOHO CRM
-Added: Contact Form 7 Polls
-Updated: All plugins

11/July/2018: (version 2.5)
-Updated: All plugins

01/July/2018: (version 2.4)
-Updated: All plugins

20/Mar/2018: (version 2.3)
-Updated: All plugins

15/12/2017: (version 2.2)
-Added: Contact Form 7 Popup
-Updated: All plugins

30/11/2017: (version 1.9)
-Updated: All plugins

03/11/2017: (version 1.8)
-Added: Contact Form 7 Constant Contact
-Updated: All plugins

03/11/2017: (version 1.7)
-Added: Contact Form 7 Paypal pro
-Updated: All plugins

15/10/2017: (version 1.5)
-Added: Contact Form 7 Invitation Codes
-Updated: All plugins

15/09/2017: (version 1.4)
-Added: Contact Form 7 Tooltips
-Added: Contact Form 7 Drag and Drop FIles Upload - Multiple Files Upload
-Added: Contact Form 7 Color Or Image Swatches
-Updated: All plugins

15/09/2017: (version 1.3)
-Added: Contact Form 7 Recorder Field
-Added: Contact Form 7 Star Rating Field
-Updated: Contact Contact Form 7 Multi-Step Pro (3.3)
-Updated: Contact Form 7  Cost Calculator - Price Calculation (3.6)

07/08/2017: (version 1.2)
-Added: Contact Form 7 Repeater

07/08/2017: (version 1.1)
-Updated: Contact Form 7 Save To Database / CSV / PDF (1.1)
-Updated: Contact Contact Form 7 Multi-Step Pro (3.2)

05/08/2017: (version 1.0)
- Version 1.0 Initial Release
[ad_2]
Source