[ad_1]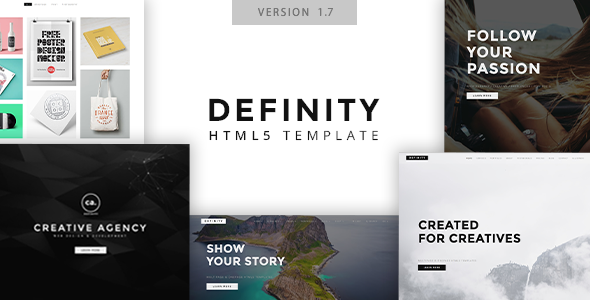 Definity is clean and minimal, multipurpose one page & multi page HTML5 template, its 100% responsive and its build with Bootstrap 3 framework and SCSS. It follows the latest web design trends and offers lots of options to chose from. Comes with 20+ demos to chose. Its suitable for any business especially: creative agency, freelancer, personal portfolio, resume, photography, fashion, wedding, shop etc.
Definity Features:
One Page and Multi Page demos
25+ Different Demos
84+ HTML Elements
Light, Dark and Transparent Menu Bars
Lots of portfolio options
Isotope portfolio filtering
Fully responsive
Google Mobile-Friendly
Bootstrap 3
SASS files included
Fonts Awesome Icons
Line Icons
Parallax sections
Full screen & full width video backgrounds
Animated Headings
Smooth scrolling
Coming Soon Pages
Maintenance Page
Styled 404 Page
Landing Page
Login Pages
Responsive Pricing Table
Multiple Table Layouts
Styled Google Maps
Google Fonts
Lots of blog layouts
Powerful shortcodes
Shop (E-Commerce) Layouts
Checkout Page
Cart Dropdown Menu
Responsive Video
Browser compatibility (IE9+, Chrome, Safari, Firefox, Opera)
Cross Browser compatible
Well documented
Clean and commented code
… and more!
Credits
Plugins & Scripts
Images
Video
Video
Audio
Important:
Please note that template does not include the images in the source zip file.
Changelog
v. 1.7 – 30 March 2018
UPDATE: FontAwesome to version 4.7.0;
UPDATE: Font weight of the headings;
-------
Files updated:
/fonts/fontawesome/
google-fonts.js

v. 1.6 – 12 September 2016
FIX: map pin not showing on some pages;
FIX: countdown for coming soon pages reseted;
NEW: shop-right-sidebar.html
NEW: shop-left-sidebar.html
NEW: shop-4col.html
NEW: shop-single.html
NEW: shop-checkout.html
NEW: tables.html
NEW: cart dropdown menu
NEW: _shop.scss
NEW: _tables.scss
ADDED: jquery ui (range slider only)
-------
Files updated:
all *.html files that have multi page navigation
_navigation.scss;
responsive.scss;
main.scss;
main.css;
reponsive.css;
main.js
gmap.js

v. 1.5 – 29 February 2016
FIX: hover problem for portfolio items on iOS (iPhone);
FIX: blurry background on iOS (iPhone);
FIX: nav menu with many items not scrolling when opened on iOS (iPhone);
FIX: contact-form.php is recoded from scratch;
UPDATE: added link to the feature project section on h3 to work better on mobile;
UPDATE: added adjustable height on the portfolio single sldier;
UPDATE: zoom on scroll removed from google map sections;
-------
Files updated:
all index-*.html files;
all portfolio files;
hover.html;
_portfolio.scss;
_hover.scss;
responsive.scss;
main.scss;
main.css;
reponsive.css;
main.js
gmap.js
contact-form.php

v. 1.4 – 18 November 2015
Added Hover Effects and two new Portfolio Single Pages
NEW: hover.html
NEW: _hover-effects.scss
NEW: portfolio-single-3.html
NEW: portfolio-single-4.html
UPDATE: main.css, main.scss, _portfolio.scss


v. 1.3.1 – 22 October 2015
Small fix for some hero layouts on extra small screens (bellow 400px width);
UPDATE: responsive.css

v. 1.3 – 14 October 2015
added new template App Landing Page;
added new template Web App Landing Page;
fixed small bug with the fw slider navigation;

NEW: index-app-landing.html
NEW: index-web-all-landing.html
UPDATE: main.css
UPDATE: _features.scss, _settings.scss, _utility.scss,
_typography.scss, _hero.scss, _portfolio.scss, _footers.scss,
_testimonials.scss, reposnsive.scss
UPDATE: main.js
UPDATE: text highlight color from black to green
UPDATE: mega-menu with new links

v. 1.2 – 06 October 2015
added working contact form;
added MailChimp integration;
added two new templates (Agency 2);
updated the freelancer layout;
added labels element;
fixed small bug with the full screen slider stacked navigation;

-- contact-form.php - added;
-- jquery.ajaxchimp.js - addded;
-- animDots.js - added;
- main.js updated;
index-agency2-mp.html - added;
index-agency2-op.html -added;
index-freelancer-mp.html - updated;
index-freelancer-op.html - updated;
- team.html - updated;
- labels.html - added;

v. 1.1 – 16 September 2015
fixed scrolling for mac;
fixed the menu in onepage templates on mobile screens;
updated blog preview section with correct path for the links;
fixed missing id`s in the onepage index files;

- main.js updated;
-- smoothscroll.js updated;

[ad_2]