[ad_1]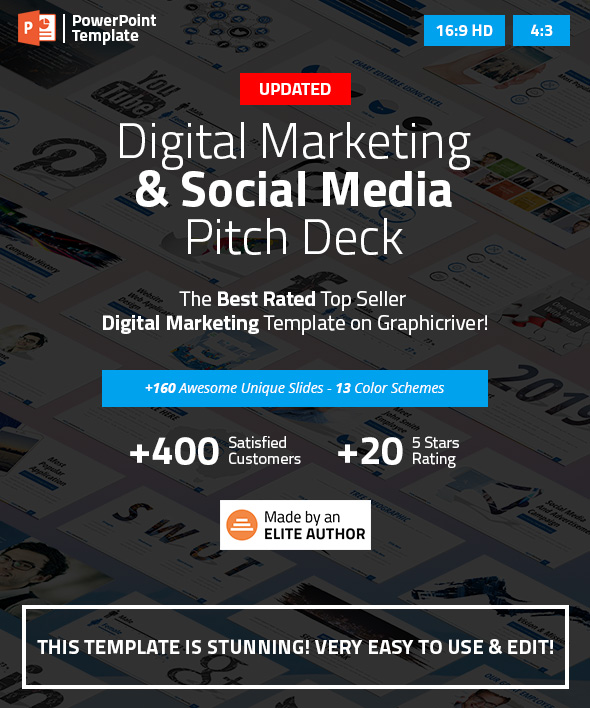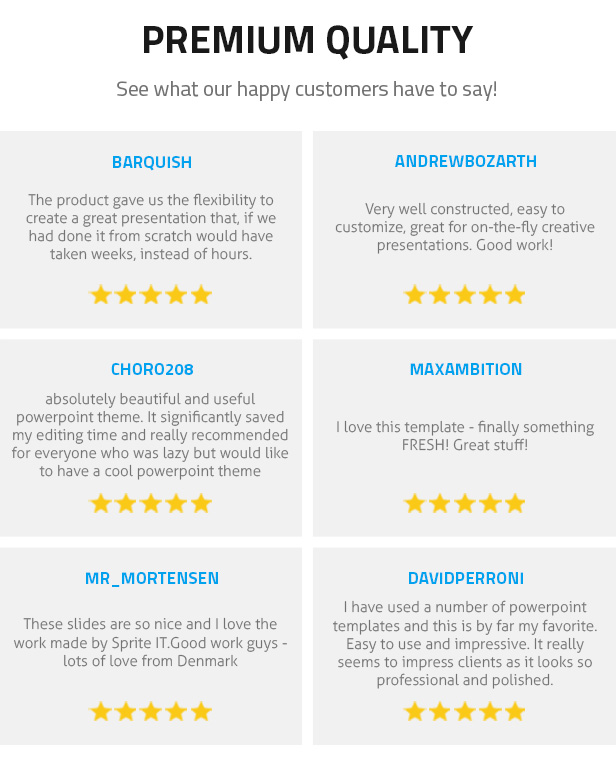 This template contains a great set of social media and digital marketing slides. This template will help you to create a powerful marketing pitch deck.
Impress your clients & audiences with a modern and clean PowerPoint presentation template. It's so easy to edit and use. you only need PowerPoint to edit all slides, images and shapes.
Make a great marketing presentation using this amazing and creative presentation that contains the most useful social media and digital marketing slides, save days of hard work.
This template contains tons of custom infographics, maps, charts, graphs, smart art and more. We used image placeholders and master slides.
100% customizable
You can customize every single detail in this template, all the slides, shapes, information and images are easily and fully editable.
This template created based on slide master
When you edit the slide master, all slides that follow that master will contain those changes. more information about slide master here
Check out the best selling Marketing Plan Template in the market!
Presentation Features:
+160 unique slides in each file.
4:3, 16:9 Aspect Ratio.
PPTX, PPT & THMX versions.
Animated and non-animated versions available
XML color schemes files available.
13 Color schemes.
We used image placeholder for all images.
Only one click for change the colors and auto recolored.
Big business section (about, services, employees, clients, portfolio, pricing table, mockups, .. etc.)
Facebook slides.
Twitter slides.
Pinterest slides.
Instagram slides.
Google Plus slides.
Youtube slides.
Linkedin slides.
Interactive portfolio, clients.
Infographics.
Map infographics.
Pie charts.
laptop, tablet and mobile mockups.
Clean and fully editable slides.
Easy editable charts, edit the charts using excel.
Free fonts used.
Fully editable content.
Vector icons.
Free Font:
Updates:
20/01/2018
2017, 2018, 2019 & Instagram image placeholder slides have been added.
FAQ
How to change the Digital Markeitng into our company name?
To write your company name using image placeholder you need to do these following steps:
Open digital marketing presentation.
Click on View tab -> Slide master.
Go to the second slide master, you will find all the English letters.
Right click on this slide on the left sidebar and click on 'Duplicate Layout'.
Choose your company name letters and deletes all other letters.
Put them as you want to create your company name, Now you have slide master with your company name (each letter separate image).
If you want your company name to be just one word select all the name letters, and go to Format tab -> 'Merge Shapes' -> Click on 'Union'.
Now close the Master view (from Slide master tab -> 'Close Master View').
From Home tab click on New Slide and choose the slide that you added, then drag and drop you image to the placeholder.
Note: If you want send us your company name and we will send you a ready to use slide contains it as image placeholder.
Can I create 2020 & 2021 slides?
Sure you can use the numbers slide to create any slide you want.
How to edit the website in the footer?
To change or remove the URL in the footer go to 'View Tab', then click on 'Slide Master', open the main slide 'The first one' only, you will find the editable footer, do what you want then your changes will be appear in all slides.
Note:
Images used in the demo of presentation are not included in the main file, if you like them send us an email and we will reply the URLs.
Feel free to contact us with any question, you can contact us from our profile page
Hope you like this item
Please don't forget to rate this item if you like it, your support is highly appreciated – Many thanks for your time.
Marketing Plan PowerPoint Presentation Template




Sales Deck PowerPoint Template




Startup Business Plan PPT Pitch Deck



Digital Marketing and Social Media PPT Pitch Deck




Social Media Marketing PPT Pitch Deck




SEO Proposal PowerPoint Presentation Template




Startup Business Plan PowerPoint Presentation Template




Cloud – Startup Business PPT Pitch Deck




Company Profile PowerPoint Presentation Template



SlidePro – Marketing PowerPoint Presentation Template



DIVA – Marketing PowerPoint Pitch Deck



Marketing Pitch Deck PowerPoint Presentation Template




Charts and Data Driven PPT Pitch Deck



Mobile App Showcase PPT Pitch Deck




Education and Learning PowerPoint Presentation Template




Medical and Healthcare PowerPoint Pitch Deck




Awesome Collection of PowerPoint Presentation Templates

Awesome Collection of Keynote Presentation Templates

Awesome Collection of Google Slides Presentation Templates


We received more than 310 five stars reviews from our happy clients! read some of them:
Very high level presentation. A lot of slides of all kinds.
The explanation of the initial setup and adjustments is great. Also suitable for RTL languages.
Great and fast service – after purchasing I received a very quick answer to a technical question and it is appreciated.
On Marketing Plan PowerPoint Presentation Template
This template is beautiful, easy to use, and the customer service was OUTSTANDING! I had a question and they answered me in MINUTES on a Sunday night! I'll definitely buy from this designer again!
On Digital Marketing and Social Media 2 PowerPoint Presentation Template
Highly recommended SEO Proposal template. Easy to edit as well. Thank you very much for designing this, we'll use it in our next presentations.
On SEO Proposal PowerPoint Presentation Template
So complete! Great options for every idea, love the colors.
On Startup Business Plan PPT Pitch Deck
I have purchased other PowerPoint data driven products from this site and in my opinion the quality and craftsmanship that has gone into each and everyone of the slides is incredible, and refreshing to see.

On top off all this the level of support is brilliant, and lets not forget what your getting for the price. I would have rated this product 10 Stars, but there was only 5 available.

MrPotatoHead
On Charts and Data Driven PPT Pitch Deck
Love this presentation. I found it super easy to customize. There are so many slides, so so so many. It helps you visualize how to work with your content. It took me some time to figure out how to customize the footer but the publisher was super quick in responding to me. I highly recommend this product. Although, make sure you buy the right one, because silly me bought the keynote when I needed the Powerpoint.
On Marketing Pitch Deck Keynote Presentation Template
All I can say is that this presentation is really impressive. In addition, the customer attention is excellent and the icon set is an outstanding goodie. Would I buy it again? No doubt! I am very satisfied
On Trust Business PowerPoint Presentation Template
Excellent package. Rich contents and easy to customize. When i contacted them to ask for icons settings, they replied within minutes.
On Trust Business PowerPoint Presentation Template
Service, Support & Quality is exceptional. Thank You Spriteit This has been a fantastic experience – finding the BEST product, at the right price, with exceptional personal service. VERY Highly Recommended!!
On Creative Business PowerPoint Presentation Template
This is a very high-quality PowerPoint template. It covers a broad spectrum of use cases. I contacted the creator for support on one occasion, and they responded promptly in a professional manner. I would recommend this item.
On 3 in 1 Business PowerPoint Presentation Bundle
excellent customer service and really helpful icons & presentations, easy explanation.. I really recommend it!
On 3 in 1 Business PowerPoint Presentation Bundle
This template help me get a last minute project done in time and looking great. Thank you!
On Trust Business PowerPoint Presentation Template
A great package featuring excellent graphics and flexible layouts with exceptional support from the author, All of my questions and concerns were answered swiftly. This package and the support provided exceeded my expectations!
On Trust Business PowerPoint Presentation Template
This is really a template one can use – not just a fency looking bunch of graphics that you cannot change or reuse. Color Schemes are provided as XML files, installed in seconds, easy to use. A cool Icon set with thousands of icons included. Therefore I rate it 5 Stars and recommend it to others. Thanks
On Trust Business PowerPoint Presentation Template
Amazing template! So useful and so many themes and slide formats to choose from. Beautiful work!
On True Business PowerPoint Presentation Template
Credits:
Vector graphics: Freepik


[ad_2]