[ad_1]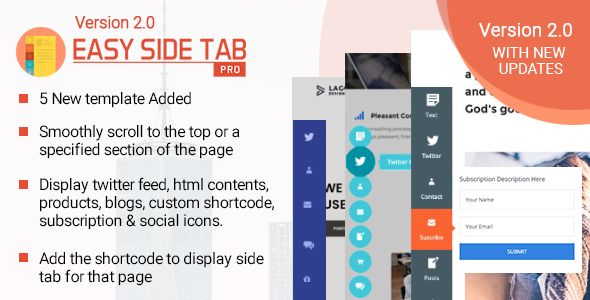 The Best plugin to add side tabs or bar easily in your WordPress site!
Video Preview
Add side tabs and display your featured content in-line! An easy way to promote your content & increase leads!
Easy Side Tab Pro – is a Call To Action Floating Tabs plugin for WordPress which allows you to create any number of quick side tabs and stick them to any of the vertical or horizontal edge position. When the tab is clicked the popup associated to that tab pops out. The plugin has a very easy and user-friendly backend interface to create your tabs and assign different functions to each of the tabs. There are many functionalities to choose from for each tab like twitter feed, social share icons, recent posts, woo-commerce product, custom shortcode, wp editor content, subscription form, internal page link, custom external page link.
And with many other multiple customization options to change to fit the layout of the site along with highly mobile-friendly responsive and sleek designs.
A standout amongst the most powerful side tab display platform with the pre-available layout for each tab and 15 templates for tabs in the most attractive and easy way.
It is a premium WordPress side tab plugin packaged with 15 Beautifully pre-designed templates enriched with elegant components, animations and functionalities.
Multiple Layout Options For Popup Components
– Altogether 26 different beautiful and sleek layout design to choose from for each popup components.
4 Twitter Feed Layout
5 Subscription Form Layout
6 Recent Post Layout
6 Woocommerce Product Layout
5 Social Icons Layout
Tab Template Desgins
– 15 templates altogether for each tab groups.
15 colourful layout designs
Animations and transitions for popup.
Varieties of shapes and sizes for tabs.
Custom Designs
– You can build custom template with custom design options to customize the selected template tabs design according to your need and requirement for the site.
4 Different Orientation for Side Tab display
-You can choose among 4 different layout positions.
Left Middle
Right Middle
Bottom Left
Bottom Right
Twitter Settings
Set the twitter credentials in the backend and display options.
Number of tweets to display.
Set the cache period in which the feeds should be fetched.
Enable Cache option for quicker site load.
Subscribers Settings
Displays all the users subscribed to your channel in backend settings.
Lists the subscribers name and email.
Option to Export the subscribers information in a CSV file.
Add the subscribers into your MailChimp Lists.
Get email notification when you gain new subscriber.
Easy Import Export Side tabs
Supports Export of all necessary tab settings into JSON File.
Quickly Import the backed up tab settings using JSON File.
Full Responsive
– Supports various mobile devices so it will be no issue to view in any desktop and mobile devices.
Documentation
Please check our detailed documentation here
WordPress Compatible
– Tested with multiple themes and WordPress versions
Customer Feedback
Lifetime Dedicated Support
– You can find us anytime when you have some queries, problems or with any valuable suggestions for plugin or us. You can find us through following ways:
Constant Free Upgrades
– Not fixed on dates, but we assure you to provide you new updates and feature upgrade in the plugin at regular basis.
Update Logs
2.0.4
General bug fixes and refinement in the script

2.0.3
Minor Changes: Refinement in code

2.0.2
Minor Changes: Bug fix related to class conflict

2.0.1
Minor Changes: Refinement in CSS script.

2.0.0
- 5 New Elegant Template
- Scroll Navigation
- Shortcode Enabled
- WooCommerce Multi Product Display
- Add Subscriber to Mailchimp List
- Subscription Mail Notification

1.0.5
Minor Changes: Multisite Compatibility Support.

1.0.4
Minor Changes: Added tooltip for template-2.
Minor Changes: Added active page color for an internal page.
Minor Changes: Some Minor Fixes.

1.0.3
Issue Fixed: Minor bug fixes.

1.0.2
Issue Fixed: Hide and Show Side Tab for Desktop and mobile separately.

1.0.1
Issue Fixed: Bugs Fixed.

1.0.0
Initial release of the plugin.

More WordPress Resources
Themes Compatible with the Plugin :
Easy Side Tab Pro works best with every WordPress theme. It's even more remarkable when used with popular themes like VMagazine and AccessPress Parallax.
AND IF THIS PLUGIN HAS IMPRESSED YOU, THEN YOU WOULD ENJOY OUR OTHER PROJECTS TOO. DO CHECK THESE OUT :
WPAll Club – A complete WordPress resources club. WordPress tutorials, blogs, curated free and premium themes and plugins, WordPress deals, offers, hosting info and more.
Premium WordPress Themes – 6 premium WordPress themes well suited for all sort of websites. Professional, well coded and highly configurable themes for you.
Premium WordPress Plugins – 45+ premium WordPress plugins of many different types. High user ratings, great quality and best sellers in CodeCanyon marketplace.
AccessPress Themes – AccessPress Themes has 50+ beautiful and elegant, fully responsive, multipurpose themes to meet your need for free and commercial basis.
8Degree Themes – 8Degree Themes offers 15+ free WordPress themes and 16+ premium WordPress themes carefully crafted with creativity.
Check out our other great plugins
New Release: The Most Comprehensive FREE WordPress Theme – Punte

New Release: All in one Free WordPress theme – Bingle

[ad_2]
Source