[ad_1]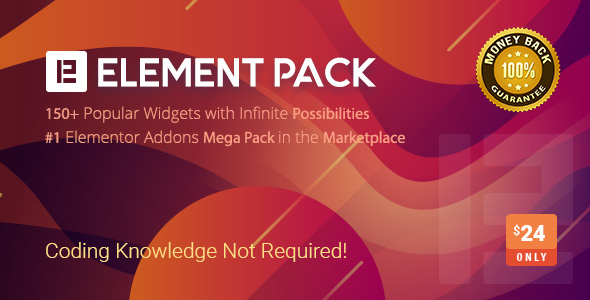 Ultimate essential addon for Elementor Page Builder with 150+ of the most popular and essential elements that you need for everyday use in website page building.
Development of the Element Pack addon for Elementor has the world's best practices in code standard and meets proper validation using the latest CSS, HTML5 and PHP 7.x (Tested up to 7.3)
technology to bring you a professional addon for the Elementor Page Builder Plugin that is WordPress 5.2.x ready and compliant.
Element Pack for Elementor includes the most commonly used elements (called widgets) that help you easily manage your website content by simply using the drag and drop ability.
There is absolutely no programming knowledge required, seriously!
It's also multilingual ready, including 15+ languages and support RTL language.
Included Ready Made Homepages:
110+ Pages and 1100+ sections/blocks + 160+ Header and Footer already included more pages, blocks, header and footer design are coming very soon…
Some Customer Reviews
Every Widget Control is Now in Your Hand
Element Pack Included Widgets
3rd Party Plugins Supported
We are really happy to give support some of the most popular plugins. Here are some that we have widgets for now and more are coming soon.
NOTE: You need to download or purchase separately those 3rd party plugins. 3rd Party plugin NOT included with our package.
3rd Party Themes Compatibility
Our addon supports almost all themes but we tested some of the most popular can confirm that it works properly on the following:
Paid Themes:
Free Themes:
More test results coming soon…
## 4.7.0 [9th April 2020]

### Added

- Twitter Grid Widget Added
- Envelope Skin added in Hover Box Widget
- Carousel, Thumb Gallery External link option added
- Quick View modal style control added in wc product widget
- Grid Entrance Animation added in Custom Gallery, Logo Grid, Post Gallery, Portfolio Gallery, WC-Products widget   

### Fixed

- Add to cart deactived issue fixed in WC Slider
- Tabs widget fixed Sticky mode and Hash location problem
- Accordion, FAQ, Post Gallery, Portfolio Gallery, WooCommerce widget fixed Hash location problem
- Widget doesn't Spin to the last item issue fixed in Circle Info widget (Thanks to Pero Vidovic)
 -Toggle Element Initially Opened Setting issue fixed in Toggle widget (Thanks to Africam Team)
- Mouse activity issue fixed in Particles (Thanks to Juan Rojas)

### Updated

- Carousel, Custom Carousel, Portfolio Carousel, Event Carousel, Twitter Carousel, Testimonial Carousel, Tutor LMS Course Carousel, WC Carousel, Fancy Slider, Twitter Slider Navigation Updated
- Accordion, FAQ, Post Gallery, Portfolio Gallery, Tabs, WooCommerce widget added Hash Location ON/OFF option and also added Hash History

## 4.6.1 [12th March 2020]

### Added

- Quick View added in WC Carousel Widget
- Some Control option added in Fancy Icons Widget

### Fixed

- Whatsapp issue fixed in HelpDesk Widget
- Post block date format issue fixed (Thanks to Corey Lee)
- Image Magnifire widget magnification responsive issue fixed
- QRCode widget javascript and dynamic issue fixed
- 3rd party plugin admin javascript conflict issue fixed
- Element Pack Dashboard URL fixed and added submenu for better navigation
- Undefine slug or name PHP issue fixed for category function
- Advanced Button dynamic issue fixed
- Advanced Image Gallery icon issue fixed
- Fancy Icons widget icon hover color issue fixed
- Ninja Form widget icon issue fixed
- Mini Cart not showing on checkout page issue fixed

### Updated

- UIKit framework updated
- WooCommerce widget Filter Control updated and also added Hash Location Property
- Accordion widget updated and also added Title and ID both as an Hash Location Property with Scrollspy
- Tabs widget updated and also added Title and ID both as an Hash Location Property with Scrollspy
- FAQ widget updated and also added Title as an Hash Location Property with Scrollspy on Filter Bar
- Portfolio widget Filter Control updated and also added Hash Location Property
- Post Gallery widget Filter Control updated and also added Hash Location Property
- Advanced Icon Box Divider now added animation option + added some new divider style
- Social Proof widget now able to add static ratings option
- Toggle widget completely re-coded for fix the 

### Removed

- Minimum Height, Center Slide, show Dotnav option removed in Fancy Slider Widget


Source and Credit Goes to:
[ad_2]
Source