[ad_1]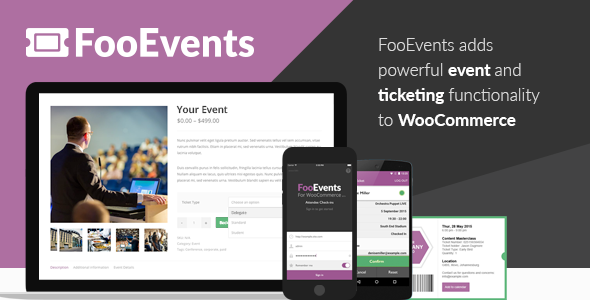 FooEvents adds powerful event and ticketing functionality to WooCommerce. There are no ticket fees or commission to worry about and you don't need to be a developer to get FooEvents up and running on your website! With FooEvents for WooCommerce, you can sell tickets and manage check-ins for practically any type of event such as a concert, camp, school function, fundraiser, conference, tour or sports fixture.
EVENTS
Manage events and sell tickets on your own terms
FooEvents removes the middle man and makes it possible to sell an unlimited number of custom branded tickets from your own WordPress website without having to pay any ticket fees or commission. FooEvents ensures that you have full control over the ticket sales process and customer data, making it the safest and most flexible event and ticketing solution available.
Built for WooCommerce
FooEvents is designed to work natively with WooCommerce. This means that you can take advantage of the security and power of the world's most popular eCommerce platform.
Unlimited Tickets and Events
All FooEvents licenses let you create an unlimited number of events and tickets at no additional cost! Licenses are only limited to the number of websites on which FooEvents can be installed.
Sell Digital and Physical Products
You can sell tickets, physical goods and digital products all from the same website using the powerful combination of FooEvents and WooCommerce.
WordPress Theme Friendly
FooEvents works seamlessly with the majority WooCommerce compatible themes, meaning you have countless options to choose from when jazzing up your store and marketing your events to customers.
Detailed Event Information
Each event page has a unique URL that includes the event description, summary, image gallery, Google Map, event information, variation drop-downs and related products.
No Commission or Ticket fees
Event tickets are sold directly from your own website and payments are processed via any payment gateway that WooCommerce supports. Whether you sell 10 or 10,000 tickets, all your ticket revenues belong to you!
Customizable Wording
Override the use of the FooEvents default terminology with your own wording that is more appropriate for your event. For example you could change 'Attendees' to 'Participants', 'Students' or 'Customers'.
Free or Paid Events
Sell tickets or register attendees for free events. Attendees will be issued tickets and registered in your WooCommerce database which is great for building a CRM database and managing event access.
No External Dependencies
FooEvents is designed to run on your own WooCommerce website and is not dependent on any third-party plugins or external services. Simply install the FooEvents plugin, configure and start selling.
WP Multisite Support
FooEvents supports WordPress Multisite which gives your clients the ability to create and manage their own events and sell tickets in a WordPress Multisite "network".
WPML Compatible
FooEvents is compatible with the popular WordPress Multilingual (WPML) plugin. WPML lets you translate website content into different languages.
Translation Ready
Use WordPress localization files (.PO/.MO) to change all FooEvents text outputs into your website's default language.
Create Event Calendars
Add calendars of all your events to your website. Calendars support various themes and can be added to your posts and pages using simple short codes or widgets. See required plugin →
Manage Multi-day Events
Sell multi-day tickets that give your attendees access to an event over multiple calendar or sequential days, each day contains it's own separate check-in. See required plugin →
Seating Charts
Create and manage visual seating charts where attendees can view which seats are booked and select their own seats from the ones that are available. See required plugin →
TICKETS
Send professional-looking tickets that make your events stand out from the crowd
FooEvents is designed to ensure that you have complete control over what your tickets look like, how they are sent, the format they are sent in and how they are used by your team and customers or attendees. You can take your pick from over 20 free Ticket Themes or design your own using the starter theme as a guide.
Different Ticket Types
Create different ticket types that have their own stock count, price, discount etc. This is ideal for events where access is based on the type of ticket that your customer purchased.
Manage Ticket Inventory
FooEvents leverages powerful order and stock management functionality that is native to WooCommerce so that you can specify the number of tickets available to prevent overselling.
Scan Tickets Using Barcodes or QR Codes
All tickets include a unique 1D barcode or QR code which can be scanned using a handheld barcode scanner or with our free mobile Event Check-ins apps.
Send Branded Ticket Emails
Send customizable ticket emails to attendees or ticket purchasers. Tickets include the event logo, attendee and event details and a unique 1D barcode or QR code.
Free Ticket Themes
Transform the appearance of your tickets and make your event stand out with over 20 professionally designed Ticket Themes that cover almost any occassion.
Customize Ticket Templates
With very little HTML knowledge, you can easily customize the layout and design of both HTML and PDF tickets to match the unique identity and requirements of your event.
Send PDF Tickets
Attach tickets as PDFs to the emails that are sent to attendees or ticket purchasers so that they can easily save and print out tickets in a recognizable format. See required plugin →
Downloadable Tickets
Give attendees the option to login and download their PDF tickets directly from the 'My Accounts' section of your website. This is a perfect solution for replacing lost or damaged tickets. See required plugin →
Add to Calendar
Include an 'Add to calendar' button on your event tickets which gives ticket purchasers the option of downloading an .ics file which adds the event to their preferred calendar. See required plugin →
Print Friendly
Send your tickets in a clean, print-friendly format which attendees can download and print from any device that supports PDFs. See required plugin →
Manually Create Tickets
Manually create tickets for existing customers on your website or create a new user on the fly from your WordPress Admin Area.
Bulk Resend Tickets
Manually resend individual tickets or a bulk group of tickets to the purchasers or attendees at any time from your WordPress Admin Area.
APPS
Manage access with our FREE Check-ins apps
There's no need to carry around a clumsy clipboard or kill trees when you can elegantly manage check-ins with our free, easy to use iOS and Android apps. The Event Check-ins apps give you the tools to manage access to your event like a pro and they even work when the internet goes down!
Barcode and QR Code Support
All tickets include a unique 1D barcode or QR code which can be scanned with a handheld barcode scanner or with our free Event Check-ins apps.
Customizable Branding
Make the Events Check-ins apps your own by changing the logo and color scheme directly from the plugin settings screen to match your website.
Attendee Search
Easily find attendees that are registered for your event and view their information by searching for them by name or ticket ID.
Auto Check-ins
Speed up check-ins by enabling the auto check-ins option which will automatically check-in an attendee and return to the scanning screen once their ticket has been successfully scanned.
Offline Mode
Don't stress if the power goes out or the internet connection drops as you can still do check-ins with the built-in offline mode until your connection is reestablished and the data automatically syncs.
Bulk Status Updates
Change the check-in status of multiple attendees using the built-in Bulk Update option. Simply select the tickets and mark them as checked-in, checked-out or canceled.
View Attendee Information
View information for attendees as well as any custom attendee fields that were captured when the ticket was purchased.
Attendee Filter
Filter the attendee list based on the current event check-in status. These include checked-in, checked-out, canceled and unpaid.
Bluetooth Scanner Integration
Scan tickets using your mobile device's built-in camera or pair your device to any handheld Bluetooth barcode scanner.
ATTENDEES​
Capture and export critical attendee information with ease
Organize your events and engage better with your attendees by capturing detailed attendee information and exporting it to your preferred CRM, marketing, reporting, webinar or other business tools.
Capture Standard Attendee Fields
Capture common information when attendees purchase a ticket. The standard fields include first name, last name, phone number, email address, company and designation.
Capture Custom Attendee Fields
Create and capture your own custom attendee input fields through an easy to use drag and drop form builder interface. See required plugin →
Allow Attendees to Reserve Seating
Allow attendees to choose their own seats based on the layout of your venue. Specify rows and seats or tables and chairs. See required plugin →
Manage Event Access
Manage access to your event like a pro with our free Events Check-ins apps or the FooEvents Express Check-ins plugin.
CSV Export
Export a CSV file containing all attendees for a specific event which you can open in a spreadsheet or upload to another database.
Print Name Badges
Download a PDF file that contains name badges for all your attendees which are pre-formatted in many common commercial label sizes for printing.
INSIGHTS
Make informed decisions based on event and ticket reports
Good decisions are based on good data. FooEvents provides real-time event and ticket reports which integrate seamlessly with your WooCommerce sales reports so you always know how your events are performing and can make informed business decisions based on this data.
Event Reports
Get a better understanding of your ticket sales and event performance. View event revenue, tickets sold, check-ins, available tickets and more.
Sales Reports
With WooCommerce Reports, you can view your store's detailed sales performance from month-to-month using various graphs and stats.
Order Management
WooCommerce orders are generated each time a ticket is sold. Orders are linked to your tickets and contain billing information and product data.
You can't go wrong with the world's most popular eCommerce platform
FooEvents is designed to work natively with WooCommerce. This means that you can take advantage of the security and power of the world's most popular eCommerce platform as well as 100+ payment gateways that it supports.
CHECKOUT​
100+ Secure Payment Methods
Sell tickets and process payments via Stripe, PayPal, credit cards, direct bank transfer or cash on delivery. Choose from over 100 popular payment gateways for WooCommerce.
Bulletproof Checkout
FooEvents piggy backs on the WooCommerce checkout process so your attendees are guaranteed a safe and familiar checkout experience.
Discount Coupons
Promote your event through fixed and percentage based discount coupons. Track and manage coupon usage directly from your WooCommerce dashboard.
Local Currency and Taxes
Set your local currency and display taxes based on the ticket purchaser's billing address or your store's location.
Data Remains Safe and Private
FooEvents does not access or store any of your data. All customer and ticket data is archived in your website database and never leaves your site.
GDPR Compliance
We are proudly GDPR compliant and completely respect your privacy. We do not sell or share customer data with any third-parties.
PLEASE NOTE: While most of the functionality needed to sell tickets to an event is included in the FooEvents for WooCommerce plugin, some of the features outlined above are offered by way of additional premium FooEvents extensions. Where applicable, links to these extensions have been included above.
What do our customers say?

"Great product, as we only run a few functions a year, we avoid having to use a third party website that takes 5%+ from ticket sales. Support has also been great" – justinth

"Amazing plugin, i love it, the app's really great!" – Nubesti

"It looks really good, it works, and it is simple! This is the option for someone who wants their events to work fast and even look fancy. I really like the barcode and the app. VERY SATISFIED. Very easy to use, thank you!" – joundrichi

"Very stable and working great with all of our other applications. Virtually weightless on our system!" – sdinvestor2k

"With more and more new features being developed/released. This is an amazing plugin for what it does. Easy to use and feature rich. Thank You!" – Daziaus

"Out of the box it just worked, which was great to get our project started. Setup is pretty straight forward and not difficult once you get your head around the basic logic of how to setup an event." – Stefan

"Great product! Since we only run a few functions a year, we avoid having to use a third-party website that takes 5%+ from ticket sales. Support has also been excellent!" – Justin

"I absolutely love this plugin, it's exactly what I've needed for a while and it's being working brilliantly. I am in awe of your skill!" – Hannah

"FooEvents is a great plugin to manage event tickets. I used it for an international fair and the result was excellent. I recommend it 100%!" – javiromero

"This is THE plugin for events." – digit89

"Customer service response is outstanding – very fast and efficient response to ticket enquiries which made the initial interaction easy. As a small NPO the generous NPO discount on products is a huge help – thank you!" – Helen

"I tried a number of ticketing plugins prior to FooEvents – all of them promised various features and didn't deliver most of them at an inflated price. FooEvents does exactly what I needed." – Sithra

"Great plugin for selling tickets through WooCommerce. The customizable tickets and scanning smart phone app are awesome!" – eastcoastliquor

"Great futures for a outstanding price and great support." – onbir

"Amazing plugin, I love it! The FooEvents Check-ins app is also really great." – Malexism

"This is an outstanding module. When I had an issue which was caused by another conflicting plugin, the author offered tremendous help and proceeded to offer a refund if it couldn't be fixed. We fixed in anyway but I had the piece of mind that the author was fully committed to customer satisfaction. The issuing of tickets and checking in facility on phone is brilliant! Easily 5 stars!" – webfoleo

"The advantage of FooEvents is that is allows you to focus on event management. Many other plugins focus on the calendar and I do not find that important. Your plugin with the various add-ons cover most requirements." – Michael

"It looks good, it works, and it's simple! This is the solution for someone who wants their events to run smoothly and even look fancy. I really like the barcode scanning functionality and FooEvents Check-ins app. VERY SATISFIED. Thank-you!" – Joundrichi

"This is the second year we've used FooEvents and it's getting better." – Daniel

"Easy to install and configure and is perfect for my client's needs (a box office for local arts centre)" – JonTarrant

"So convenient, beautiful and simple with an easy to use interface. Everything works as expected and makes check-in a breeze." – Salara

"Very good plugin for the low price – lots of features" – katemcc
Updates
1.11.27
UPDATED: Zoom integration features
FIXED: Various small bugs
TESTED ON: WordPress 5.4 and WooCommerce 4.0.1

1.11.26
ADDED: Zoom webinars integration 
ADDED: Option to choose which events should display in app
ADDED: Timezone option for events
FIXED: Various small bugs

1.11.23
FIXED: Fatal error on WooCommerce deactivation
FIXED: Various other small bugs

1.11.21
FIXED: Report query tweaks 
FIXED: Admin create tickets bug

1.11.17
ADDED: Sorting and filter updates to products
ADDED: Order ID to tickets listing page
FIXED: Wrong settings link on plugins page
FIXED: Missing phone number from csv export
FIXED: REST database bug
FIXED: Fatal error on change product to event
FIXED: Missing JavaScript warnings on exports
FIXED: Revenue 0 bug on reports
FIXED: Various other small bugs

1.11.12
ADDED: Support for REST communication with check-ins app
ADDED: QR code support
ADDED: Add ticket search on event and purchaser list
FIXED: Various small bugs

1.11.10
UPDATED: Event settings options and layout
FIXED: Various small bugs 

1.11.7
FIXED: Multi-day check-in bug using apps
FIXED: Sale price bug in apps
FIXED: Ticket theme admin bugs
FIXED: Cancel order stock bug

1.11.4
FIXED: Bug where optional attendee fields are still format validated
FIXED: Media control conflict
FIXED: Upload and preview theme bugs
FIXED: Bug on variation stock management variable vs product level

1.11.2
ADDED: Support for seating settings page

1.11.0
ADDED: New event report features
ADDED: New settings page
FIXED: Various small bugs 

1.10.5
FIXED: Attendee fields required field bug
FIXED: Various other small bugs

1.10.3
FIXED: Ticket theme count bug
FIXED: Custom attendee reference bug
FIXED: Various other small bugs

1.10.1
ADDED: Support for PDF themes
FIXED: Various small bugs

1.9.7
FIXED: WooCommerce 3.7.0 setting conflict

1.9.6
FIXED: Conflict with WPML compatibility and CSV attendee exports

1.9.5
ADDED: First name, last name and email address fields no longer required for custom attendee fields

1.9.3 
ROLLBACK: PDF theme updates

1.9.2
ADDED: Support for FooEvents PDF Tickets updates
FIXED: Various small bugs

1.9.0
ADDED: Support for FooEvents Custom Attendee Updates

1.8.23
ADDED: Out-the-box compatibility with WPML
ADDED: Compatibility with new FooEvents Seating updates
FIXED: Removed tickets with unpaid status from CSV
FIXED: Various small bugs

1.8.20
FIXED: Updated translations
FIXED: Various small bugs

1.8.18
FIXED: Replace sanitization method for 'Ticket text', 'Thank you page text', 'Event details tab text'
FIXED: Revert config base URL path for better compatibility on various server configs
FIXED: Seating chart incorrectly set to not required when 'Capture individual attendee details' is not set.

1.8.17
FIXED: Various small bugs

1.8.16
ADDED: Various compliance updates
FIXED: Bug with seating chart selection
FIXED: Timestamp equal 0 bug
FIXED: Various other small bugs 

1.8.9
ADDED: Option to print all event tickets
FIXED: Various bugs

1.8.7
FIXED: Bug with selecting background color for event on calendar

1.8.6
ADDED: New FooEvents Calendar feature support
FIXED: .ics generation bugs
FIXED: Admin add new ticket bugs
FIXED: Various small bugs

1.8.1
ADDED: Attendee badge functionality
ADDED: Multi-day support in ICS export 
FIXED: Various small bugs

1.7.32
FIXED: CSV export bug
FIXED: Various small bugs

1.7.26
ADDED: Support for FooEvents Seating
FIXED: Timestamp being set to 0 bug on certain servers

1.7.25
FIXED: Multi-day event date bug on date selection 
FIXED: Various small bugs

1.7.23
ADDED: Functionality to include/exclude custom attendee details on tickets 
UPDATED: Introduction page
FIXED: Empty new order notification email when creating a ticket via the WordPress admin
FIXED: Various small bugs

1.7.22
FIXED: CSV export bug
FIXED: Various small bugs

1.7.19
UPDATED: Only admin role can now login to app by default
UPDATED: Documentation
UPDATED: Plugin option clean-up on delete 
FIXED: Various small bugs

1.7.15
FIXED: Terminology new site bug
FIXED: Email template PHP warning
FIXED: Various other small bugs

1.7.12
ADDED: Terminology override feature

1.7.11
FIXED: Update notification service bug

1.7.10
FIXED: Image header ticket theme bug 

1.7.9
ADDED: Ticket header image upload option
ADDED: Multi-day check-in statuses to CSV
FIXED: WordPress MU password reset bug
FIXED: Google Maps API bug when key not set
FIXED: Various other small bugs

1.7.7
ADDED: Support for selected FooEvents Multi-Day event days 
ADDED: Support For colored events on FooEvents Calendar
ADDED: Added telephone, company and designation attendee fields to app 
ADDED: Purchaser phone number to csv 
FIXED: Option to not send tickets bug
FIXED: CSV unpaid tickets bug

1.7.3
FIXED: Barcode path bug

1.7.1
UPDATED: Security updates

1.7.0 
NEW: Moved barcodes and email themes to the WordPress uploads directory
ADDED: Support for HTML email ticket themes
UPDATED: Translations

1.6.6
FIXED: Various small bugs

1.6.0
ADDED: Auto-update functionality 
FIXED: Various small bugs

1.5.32
ADDED: User role / capabilities support for WordPress ticket management
FIXED: Out-of-stock book tickets button 
FIXED: Date format bug on product page
FIXED: Various small bugs

1.5.19
FIXED: Custom attendee multiple event bug
FIXED: Billing error on ticket admin page
ADDED: Theme option to use placeholders

1.5.15
FIXED: CSV variations bug
FIXED: Ticket meta variations bug
FIXED: Version update number bug
FIXED: 10+ attendee bug

1.5.5
FIXED: Event details tab PHP warning

1.5.4
-FIXED: App login bug
-FIXED: Various small bugs

1.5.1
-FIXED: Multi-day extension support bug

1.5.0
-ADDED: Multiday extension ready
-FIXED: Various small bugs

1.4.4
-FIXED: More WordPress 4.8 bugs that may affect sending tickets
-FIXED: Duplicate ticket bug with certain payment gateways

1.3.12
-FIXED: WordPress 4.8 bug causing tickets not to be sent out on order completion
-FIXED: CSV export bug
-FIXED: Various other small bugs
-FIXED: Updated translations

1.3.8
-ADDED: FooEvents dashboard widget
-ADDED: Download ticket from ticket admin
-ADDED: Export CSV enhancements 
-FIXED: WooCommerce 3 warning messages
-FIXED: Ticket purchaser name missing bug 
-FIXED: Various other small bugs  

1.3.3
-FIXED: Bulk ticket resend bug  
-FIXED: Purchaser name missing bug
-FIXED: Various other small bugs  

1.3.0 
-FIXED: WooCommerce 3 warning messages 
-ADDED: Export CSV enhancements 
-ADDED: Edit ticket subject

1.2.17
-FIXED: App bug with certain currency symbols
-FIXED: Email ticket bug on first install
-FIXED: WordPress MU activate plugin bug
-ADDED: Custom attendee fields to CSV export

1.2.16 
-FIXED: Barcode directory not writable bug

1.2.15
- ADDED: FooEvents Custom Attendee Fields support
- FIXED: Various minor bugs

1.2.11
- FIXED: Admin menu bug

1.2.10 
- FIXED: Critical bug update

1.2.8
- FIXED: Plugin activation warning
- FIXED: Blank event list when manually adding tickets
- ADDED: Directions to tickets
- ADDED: Company, designation, telephone number to tickets
- ADDED: Price to apps
- ADDED: Plugin update notification

1.2.6
- ADDED: Option to hide unpaid tickets in admin
- ADDED: Check if barcodes directory writable
- FIXED: Removed "Auto Draft" references in ticket admin
- FIXED: Bug where adding tickets might not link to created user
- FIXED: Hide start and end date on event details tab
- FIXED: Override template bug

1.2.4
- Fixed: Variation bug where only first tickets variation is saved
- Fixed: Javascript DatePicker localization
- Fixed: Various other small bugs
- Added: Sort by additional fields in ticket admin

1.2.2
- NEW: .JPG barcode generation for PDF Ticket plugin
- FIXED: Google Map pointer
- REMOVED: Date picker translations. Buggy, will look at a different implementation.

1.2.1
– NEW: Compatibility with the FooEvents PDF Tickets plugin support (http://www.fooevents.com/product/fooevents-pdf-tickets/)
– NEW: Compatibility update for the new Events Pro app offline support (http://www.fooevents.com/apps/)
– NEW: Filter by event name, order ID and status on admin ticket listing
– NEW: Time formats for am-pm
– UPDATED: New Google Maps API support
– UPDATED: Translations on date picker
– UPDATED: Send location to .ics
– FIXED: Fixed admin HTTPS warning

1.2.0
- New: Event Check-ins Pro iOS App integration - See http://www.fooevents.com/apps/
- New: Event Check-ins Pro iOS App - Auto Check-ins (Fast, effortless checkins)
- New: Event Check-ins Pro iOS App - Custom Branding (Set your own color scheme and logo)
- Updated: Documentation
- Fixed: .ics postal code bug
- Fixed: Add new ticket permission bug

1.1.18 
- WooCommerce Events has rebranded and is know called FooEvents.
- Please install the latest version and deactivate the older version.
- Please be sure to download the new FooEvents Check-ins apps as the older WooCommerce Events apps will not work the the new plugin.
- You can find links to the apps here: http://www.fooevents.com/apps/

1.1.16
- Attendee name bug in app
- Various small bug fixes

1.1.15
- Ticket bulk resend in admin
- Attendee name bug on tickets
- Various small bug fixes

1.1.14
- App integration bulk edit support
- Insert custom message on thank you page
- Addition of various optional attendee registration fields
- Various bug fixes

1.1.11
- Various bug fixes

1.1.8
- .po and .mo language file support
- Option to not send ticket emails
- Various bug fixes

1.1.5
- Various bug fixes

1.1.4
- Enhanced admin search
- Resolved ticket and event listing bug in App
- Various other small bug fixes

1.1.2
- Various bug fixes

1.10
- Capture Attendee details on checkout
- Option to email attendees their tickets
- Cary through attributes/variations to tickets and ticket details
- Option to change "Add to cart" to "Book ticket" 
- Support for iOS App (Launch imminent!)
- Various bug fixes

1.0.8
- Conflict with WooCommerce image uploads.

1.0.6
- Added additional options to control ticket output
- Fixed bug where certain non-event products would send out tickets
- Fixed various other small bugs

1.0.3
- Fixed display bug with Google Maps
- Fixed bug with attendee not displaying on ticket
- Fixed bug where admin user is displayed as the ticket owner 
- Various other small bugs

[ad_2]
Source