[ad_1]
Inspire is a cutting-edge, masonry based, multi-purpose theme. With its clean design it is great for projects that emphasizes a stylistic and modern look. Add the powerful grayscaling option for an instant artistic, noir feel and Inspire is sure to stand out in its own understated "less-is-more" kind of way.
Driven by AJAX the Inspire theme will load posts seamlessly for a smooth and uninterrupted browsing experience.
But don't let Inspire's understated design fool you, underneath the hood is a very powerful and flexible set of options that will let you customize almost every aspect of the theme. Every item on the homepage is made up of components that you can use as building blocks to create just the right look and function you need. You can even add media like videos and audio to each post to be displayed right on the front page for an integrated multimedia experience.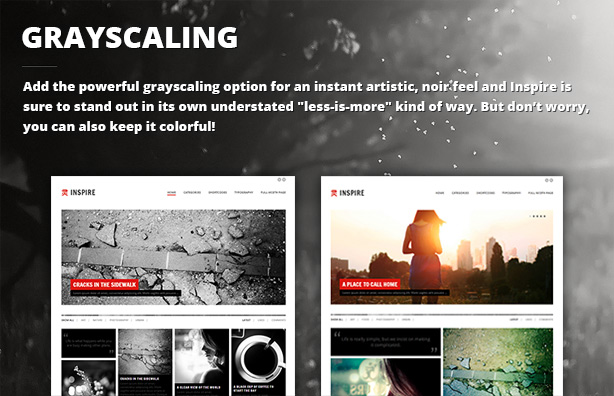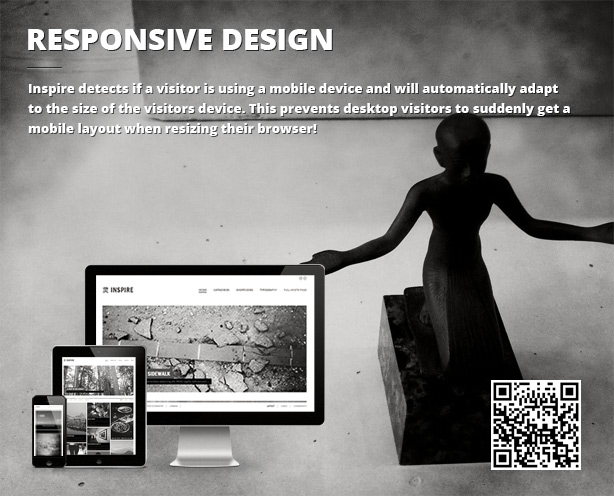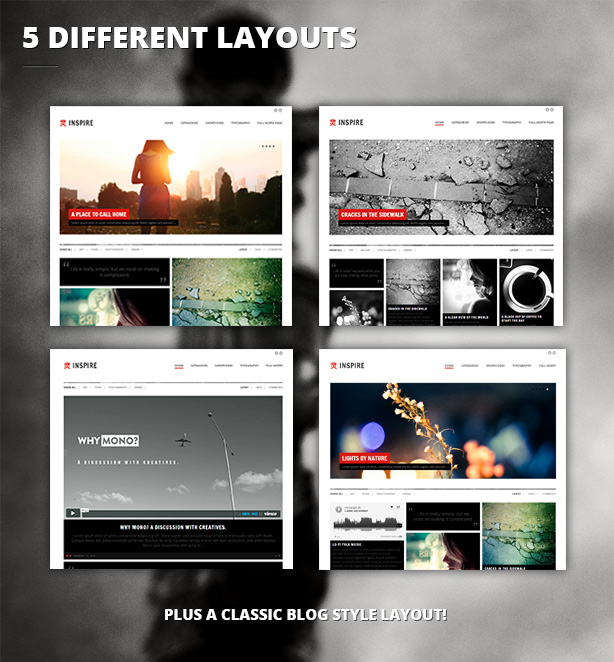 Presentation Video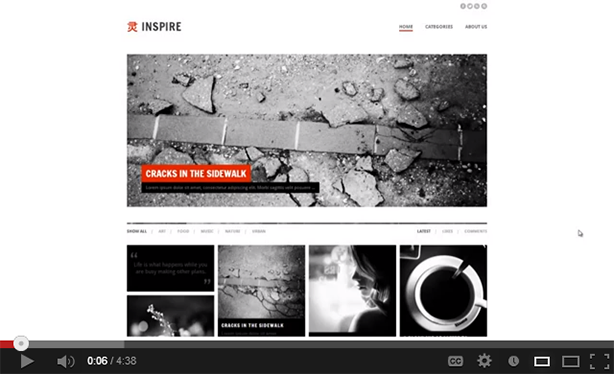 More Presentation Videos
Theme Options – Part 1: Post Settings
Theme Options – Part 2: Inspire Widgets
Theme Options – Part 3: Theme Options
Theme Features
Responsive design
Grayscale option for artistic noir feel
5 Different layouts: 1 column, 2 column, 3 column, 4 column & classic blog layout
AJAX driven site: Posts loaded by ajax for smooth experience
AJAX driven filter menu: Filter posts by category, latest, likes & comments
AJAX "like"-function. Let your users show their appreciation for their favorite posts
Masonry grid Pinterest like feel
Build your items from component building blocks, giving you full control on item customization
Put media in your items right on the front page
Pop-up footer with jCarousel
Flexslider with easy drag and drop functionality in backend
Embed media in slider
Lots of shortcodes

Tabs
Toggles
Buttons
Dropcaps
Highlights
Columns
Alert Boxes
Embed (Easily embed videos from all major video sites)

Social icons and share buttons to stay connected
600+ Google Webfonts
Full image header possible
Custom background images
5 Custom widgets (Facebook like box, Latest tweets, Sidebar banner, Latest posts (grid or list view), Social links)
Translation/localization ready with ready-to-go .po file
Logo PSD included
WordPress menu support with dropdown functionality
Automatic update control
Full documentation and extensive contextual help in backend to guide you through easy setup.
Changelog
Version 10.5 (Jun 16, 2016)
UPDATED: Google Web Fonts now detects server protocol and applies automatically allowing for Google Web Fonts over https connections.
FIXED: Issue where share buttons on posts would automatically redirect to Pinterest.
Version 10.4 (Aug 26, 2015)
ADDED: Spanish translation po/mo files included (thanks to Juan G.C. / juangake).
UPDATED: Widgets to use new internal construct class (removed dev notice when debug is turned on).
Version 10.3 (Apr 26, 2015)
ADDED: Better responsive support for embedded video in classic layout.
FIXED: Filter menu can now hold more items without content overflowing.
Version 10.2 (Jan 19, 2015)
FEATURE: Option to add a widgetized footer.
FIX: Issue where featured image would be stretched in single post view when in responsive mode.
Version 1.7.4 / 10.1 (Apr 21, 2014)
FIX: issue where images on front page would overlap on mobile devices
Version 1.7.3 / 10.0 (Apr 2, 2014)
Version number increased to 10 in style.css to prevent update notification in WordPress dashboard. The update notification comes from a recently released theme in the WordPress theme repository with the exact name as ours and version number. By increasing the version number we will avoid any confusing from WordPress, so please go ahead and download and update Inspire asap.
Version 1.7 (Feb 14, 2014)
FIX: Grayscale now works properly in IE10
FIX: now displays hook below slider correctly
FIX: nav. menu now aligns correctly as set in the theme options.
FIX: if responsive off on handheld masonry would not initialize.
FIX: infinity scroll now works on archive pages (category etc).
FIX: Few responsive bugs fixed
FIX: removed automatic update checker that was causing loading issues for too many of our users. Remember to check manually for updates in the future.
FEATURE: Excerpts can now display shortcodes
FEATURE: Comment author name now links to author URL
FEATURE: You can now make background clickable linking to the URL of your choice. Great for ad campaigns.
Version 1.5
New Features
Hooks
You can now insert custom content (HTML/CSS) on the homepage very easily using location hooks.
Available hooks are: above the slider, below the slider, below the filter menu, above the footer.
Lightbox
Image links now display in lightbox – settings for opacity and overlay in back end.
Animations control
Now possible to control site animations straight from the back-end.
Post slider
Images attached to a post will now display in a post slider.
Footer slider
You can now control what posts the footer slider show (random, latest, category).
Media in blog layout.
You can now embed media for each post to be displayed on the blog layout.
Search box option
You can now choose to have the search box open, open on homepage or closed by default.
Filter by Random
We added the option for "random" to the filter menu.
Subfilter options
You can now select what sorting options you wish to include in the subfilter menu.
Slider with custom links
You can now choose to have your slider images refer to a custom link instead of always linking to post.
Improved Google Webfonts
New and updated Google Webfonts list. No longer uses file_get_content to get list which gave some users with strict server setups an error.
Option to open up featured image component on homepage in lightbox
Great for creating galleries.
Blog layout now displays number of comments for each post
Improved social icons
Choose between small or big icons.
Added Instagram and Google+ social icons.
Reverse grayscaling
Choose between grayscaling, reverse grayscaling or full color mode.
Open Graph tags
Open graph meta tags implemented for optimal Facebook sharing.
Bug Fixes
Fix: Now checks if server configuration allows for automatic update checking. Otherwise displays manual update link.
Fix: Issue where filter menu would not respond if translated to other language.
Fix: Media in posts now respect $content_width (Large images will fit in main content area)
Fix: Blockquote shortcode now works as intended.
Fix: Archive now displays dates.
Fix: Few minor issues in responsive
Version 1.3 + 1.4
FIXED: A few issues with the layout on tablets
FIXED: An bug where the image on posts with full width image didn't scale right for responsive layout on mobiles
Version 1.2
ADDED: Option to load posts by infinity scroll instead of load-more button – example on the 1-column layout on preview site.
FIXED: removed debug variable from archive-page.
Version 1.1
ADDED: Styling to the Contact Form 7 plugin – Check out an example on the demo page
FIXED: A bug which caused some posts to get duplicated
Credits
Preview image credits
[ad_2]