[ad_1]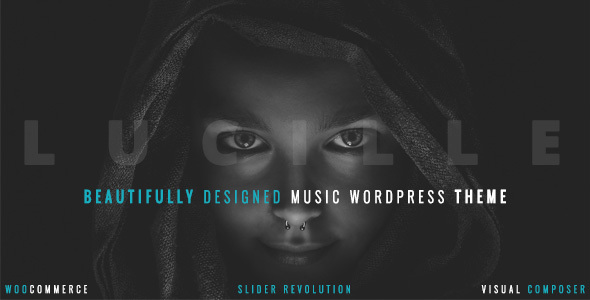 Lucille is a beautifully designed WordPress theme, suitable for musicians, artists, music bands, producers or anyone working in the music industry.
Lucille theme is extremely flexible, intuitive and easy to use, packed with premium features and plugins, making it a powerful and complete solution for the music industry.
The standard license includes free lifetime updates for the theme, 6 months of professional support, child theme on demand and bundle license for the premium plugins: WPBakery Page Builder (formely Visual Composer) and Slider Revolution.
All the theme demos are included and can be imported with a single click.
    
Alex: Do you have a question?
Leave us a comment
Have a question? Let's get in touch!
For pre-sale questions, feel free to use the comments section on the theme page. For support questions, please open a ticket on our support system: https://smartwpress.ticksy.com/. We'll be happy to help you!
Main Features
Fully responsive – looks great on every device
Visual Composer Page Builder for WordPress included
Slider Revolution WordPress Plugin included
Customizable menu via theme settings – allows you to switch between different menu styles
Unlimited colors via theme customizer
Different layout styles for Blog Page
Individual background image/color for each page
Album post type:

custom taxonomy for albums
entries for artist/release date, label, producer, three customizable purchase options
easy to use admin interface with media upload and drag&drop to add and rearrange audio files
music player on album page

Event post type:

custom taxonomy for events
entries for event date, time, venue, url to venue, tickets link and message, link to facebook event
support for google maps and youtube/vimeo videos

Photo album post type:

custom taxonomy for photo albums
media uploader for images and preview section with drag and drop image sorting

Video post type::

custom taxonomy for videos
support for youtube/vimeo videos

Changeable full screen background
Contact page template with ajax contact form
Page templates for photo gallery, videos, discography, events and blog, empty page for visual composer and page with sidebar
Support for different social networks
Translation ready – .po/.mo files included
Custom logo and favicons images via theme settings
Complete theme documentation
Free updates and technical support
Lucille Music WordPress Theme Changelog


Current Version: 2.0.9.8.3 – 09 April 2020

-- v2.0.9.8.3----
    - show the image caption to single lightbox gallery 
    - new option added to duplicate existing event post as draft
    - disable tickets link for past events
    - extend the events page builder element to show a specific message when no events are available
    - add new page builder element that shows the contact data
-- v2.0.9.8.2----
    - update Slider Revolution to the latest version (6.1.6)
    - update WPBakery Page Builder to the latest version (6.1)
    - add new event option to choose the currency sign for the ticket price
    - add new option to the event list page builder element to filter by event categories
-- v2.0.9.8.1----
    - small fix regarding the wave player behavior on mobile devices
    - small fix regarding the videos page builder element
-- v2.0.9.8----
    - update Slider Revolution to the latest version (6.1.3)
    - add Bandcamp to the social profiles options
    - small change regarding Featured Album page builder element
    - increase the transition interval for the review slider
    - add new option to add a link to the section heading page builder element
    - add new option to the album post type to open the product link in self or new browser window
-- v2.0.9.7----
    - update WPBakery Page Builder to the latest version (6.0.5)
    - update Slider Revolution to the latest version (6.1.0)
    - open single product gallery in lightbox
    - add support for movie director in album post type
    - add new option to link defined albums to existing product
-- v2.0.9.6----
    - update WPBakery Page Builder to the latest version (6.0.3)
    - wavePlayer small fix - play the next song after the current one finishes
    - remove Google+ sharing button since it is not needed anymore
    - new page builder element that shows all the photo galleries
    - new option for the button page builder element
-- v2.0.9.5----
    - update WPBakery Page Builder to the latest version (5.7)
    - add new price entry for event post type
    - make photo albums page protected
    - add new option to contact form page builder element to select the reCapthca theme
    - implement a smoother sticky menu
    - add support for revisions in artist post type
-- v2.0.9.4----
    - update WPBakery Page Builder to the latest version (5.5.6)
    - php 7.2 compatibility changes
-- v2.0.9.3.1----
    - small fix related to schema.org property for single event
-- v2.0.9.3----
    - updated WooCommerce template according to the latest plugin version
    - update WPBakery Page Builder to the latest version
    - improve Gutenberg compatibility
    - small fix regarding logo centered menu
    - add reCaptcha to the contact form page builder element
    - improve schema.org property for single event
    - add new layout type for single gallery post
    - add support for "Contact Form 7" 
    - add new option in to set multiple recipients for the contact form
    - small fix regarding the albums page builder element
-- v2.0.9.2----
    - new feature that implements RSS and iCalendar event subscription
    - add custom user content at the end of the past events page template
-- v2.0.9.1----
    - update WooCommerce templates according to the latest version - 3.4.3
    - update the premium plugins to their latest versions
    - small improvement on WooCommerce checkout page
    - JetPack comparibility fix regarding maps in event single template
    - small fix regarding contact form email
    - new theme option to show events emphasized in the event related page templates
-- v2.0.9----
    - update WooCommerce templates according to the latest plugin version - 3.3.3
    - small fix regarding the single album template
    - small fix regarding the wave player element
    - replace Envato Toolkit Plugin with the new Envato Market Plugin
-- v2.0.8----
    - change the styling for custom meta boxes to improve readability
    - change alpha color picker implementation according to the latest WordPress update
    - add support for multi-day events
    - update Slider Revolution to the latest version
-- v2.0.7----
    - small fix related to the contact form functionality
    - update the premium plugins to their latest version
-- v2.0.6----
    - introduce artist related functionality to Lucille theme - new custom post type for artists, dedicated Visual Composer element and new page template for artists
    - extend Visual Composer events and albums elements to support artist selection
    - small fix related to custom meta data
    - update the premium plugins to their latest version
-- v2.0.5----
    - small fix related to the discography page
    - small fix on single event page
    - new social option added - Amazon  Music
    - improvement on mobile menu functionality
    - new option to show 4 or 5 albums on row added on latest albums visual composer element
    - small change on xml config file
    - add new option for excerpt length for visual composer blog element
    - add category filter for latest music album
    - show image caption in photo gallery when hover - new theme setting
    - show custom post types categories at the top of the archive pages - new theme setting
    - show only year part of the date on album release date - new theme setting
    - make album cover clickable for featured album visual composer element
    - new options to open external links in the same or new browser tab for event post type
-- v2.0.4----
    - update the included plugins to their latest versions
    - small fix related to next events visual composer element
    - add 2nd phone number to contact template
    - add vk.com as new social option
    - small style change for tables on the cart page
    - improve mobile menu functionality
    - implement page related menu styling options
== v2.0.3=
    - added a new demo to the importer
== v2.0.2=
    - added a new theme option related to the creative menu
    - small fix on wave player
    - new entries for IMDB and Vimeo in social options
== v2.0.1=
    - update Visual Composer to the latest version
    - update Slider Revolution to the latest version
    - small fix related to footer widgets area
    - small change on custom post types related to WPML compatibility
== v2.0=
    - add new customizer category and entry (various colors) for blog post with no featured image
    - fix masonry spacing on single album
    - extend demo importer functionality to automatically download demo sliders
    - regenerate translations in theme and plugin
    - add back-end icons for custom visual composer elements in Lucille category
    - small change related to Latest Albums visual composer element
    - new meta box for contact template to manually set the strings used in this template
    - add new option to Events visual composer element to show past events
    - small improvement on Latest Albums visual composer layout
    - add a new visual composer element - wave music player 
== v1.9.1=
- add new options to set the speed and delay for reviews slider visual composer element
- add new theme option to change the font family
- update slider revolution to the latest version
== v1.9=
    - update Slider Revolution to the latest version
    - small change on single album page
    - add option to emphasize all rows in visual composer events element
    - add bulk actions for custom post types
    - allow <a href=""> tag in copyright area
    - add support for <strong> tag for section title
    - small change on event visual composer element
    - change the behavior for event list layout, when no tickets are aavailable
    - schema.org/event for single event page. 
    - add new theme setting to enable comments on custom post types
    - add event category description at the top of the event category page
    - add Polylang language selector on the creative menu
    - add new widget - latest gallery 
    - allow multiple selection for images on photo gallery post
== v1.8=
    - fix content on featured album visual composer element
    - update Visual Composer to the latest version
    - small fix on events visual composer element
    - add category filter for events visual composer element
    - update Visual Composer and Slider Revolution to the latest versions
== v1.7=
    - small fix on blog masonry layout
    - add new layout option for albums - 3/4/5 items on row on full width layout
    - add new menu centered style
    - implement contact widget for footer sidebar with logo and social icons
    - add category filter as new option for visual composer blog element
    - add new theme setting option to remove post meta from single post template
    - woocommerce - use product category image as background in header area
    - woocommerce - increase height for textarea contianing "Notes about your order, e.g. special notes for delivery." 
    - add support for linkedin & spotify social networks
    - add sharing icons to single album and single events
    - fix contact page template small gap before the email address.
    - add autoplay to user review slider
== v1.6=
    - small fix related to the classic menu
    - add new theme setting to enable/disable WooCommerce sidebar
== v1.5=
    - small fix related to centered menu 
    - added ROCKS demo to importer
== v1.4=
    - fix WooCommerce headers on checkout page
    - option to hide sharing buttons
    - option to hide auto showing featured image on single post.
    - add [from] and [sender name] to the contact form email content.
    - new option to remove sidebar from single post
    - translate single month name in event list
    - paginated view on blog/album page templates
    - add new theme option to remove  date, authors name and category from blog visual composer element and form the blog page templates.
    - add new option to show visual composer row in boxed width
== v1.3=
    - add new theme option to show event title on events list
    - add new theme setting that hides the search icon in the menu
    - add Instagram, Snapchat and Google Play as new available social networks profiles
    - add new visual composer element that shows the icons for the social network profiles
== v1.2=
    - small fix related to the demo importer tool
== v1.1=
    - implement one click demo import
    - small fix related to the centered menu
== v1.0=
    - Initial Release
</strong></a>
[ad_2]
Source