[ad_1]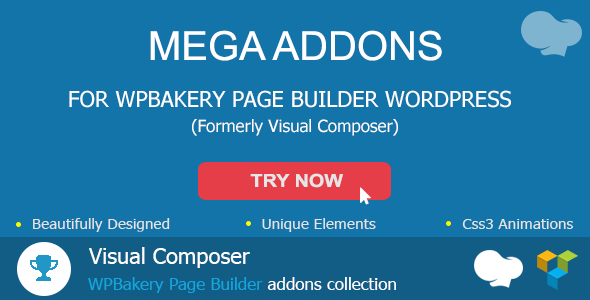 Best Addons Plugin For WPBakery Page Builder – WordPress Plugin
Mega Addons For Visual Composer ~ The best Addon bundle for Visual Composer With 32 addons. This Addon Bundle provide you everything for your Visual Composer Page Builder. Addons for Visual Composer features professional looking, easy to use yet highly functional extensions that can be used in a WPBakery Visual Composer page builder.
What's Included in this Mega Bundle
32+ unique elements with infinite possibilities.
You can disable unused elements from dashboard to speed up your page loading time..
We made this plugin by testing on real devices. Mega Addons Supports All Modern Browsers and Mobile Devices.
Touch behavior can also be setup as you want.
One click import layout from WPBakery Page Builder (Visual Composer) page
Lifetime Updates
24/7 Support on hand to assist you
We are still working on plugin you will get all our updates
Ability to customize the HTML and CSS of the addons easily
Change Log
10.4.3 JAN 22, 2020
- Member Profile:  Added 3 more styles.
- Bug fixed: Stats Counter doesn't work If Its already on top of the page while loading page.
- TextTyper: set custom font size of text typer for mobile devices.
- Stats Counter: Added "After Text" option, put commas or decimal after numbers.
- Now you can add text in "Before After Image" element and background color option. 
- Some other Improvements.

10.4 JUNE 24, 2019
- Added Fade effect for Image Hover Effects
- Added New Styles Of Advanced Buttons
- Bug Fixed: Post Carousel & TextTyper Stopped working in new WordPress Version.
- Minor Bug Fixed & Performance Improvements
- Info List: WP-Editor option for description field
- Info Box: Minor Bug fixed.
- Before After Image: Set Custom Image Width, Height for Desktop & Mobile devices. 

10.2 March 03, 2019
- Info Box: WP-Editor option and Box shadow and "Link To" options.
- Accordion: Options of Collapseable + animation + mouseover and clickable, plus panel height issue resolved.
- Slide To Show option In "carousel slider" for mobile devices.
- Image Alt attribute In all elements
- New design for modal popup for image hover effects.
- Border Style addition in Image Swap 
- Bug Fixed: Roxy, Sara, Lexi style In Interactive Banner.
- Border Style addition in Image Swap
- Added: Modal Popup Hover color and background color and some animations.
- Bug Fixed: Carousel Slider stopped sometimes
- lightobx stopped loading if site is in https

10.1 April 14, 2018
 - More friendly Settings & Now you can check directly Demo pages from each element.
- Added: Width and height option in Image Hover Effects 
- Spaces added between each slide In Advanced Carousel
- Bug Fixed: Advanced Carousel
- Fixed: Flip box flip after page reload in some themes.
- Now you can set color and background color on button when mouse hover In Modal Popup
- Extra Spaces Removed From Interactive Banner Design
- Bug Fixed: In Interactive Banners styles (Roxy, Sarah, Lexi)
- Addition: Border Style option in Image Swap Element

10.0 March 07, 2018
- First Version Released

[ad_2]
Source