[ad_1]
BUY FOR $43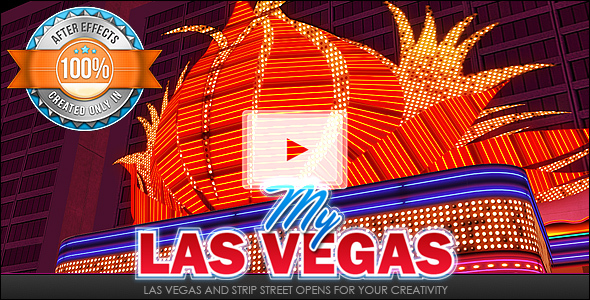 Hey guys, this is another "city-type" After Effects CS4 (or above) template. In this project I tried to create some of the most famous places from Strip street in Las Vegas such as: Bill`s Gamblin Hall, Bally`s hotel, Flamingo Casino, Royale Casino, Riviera hotel, Fremont street… The project was created ONLY IN AFTER EFFECTS! The template perfect for creating trailers, web-intros, promotions and much more. I hope you like it!
100% After Effects: the project was created only in AE, so you can edit everything: camera movements, duration and number of scenes, the number of billboards and LED-screens and much more…
.aep file for each scene (only 9 scenes)
No any plug-ins required
No any pre-rendered stuff
User friendly project`s organization
9 places for images (billboards)
7 places for video (LED-screens)
15 textholders (neon-text on buildings, running text on screen,
texts on casino…)
Easy to basic edit: just import your images and video and change
texts
80 seconds duration
Over 40 minutes video tutorial shows you how to customize this
template
Links to download of the fonts are included in the project
Soundtrack available at AudioJungle.net:
http://audiojungle.net/item/bentley/22151
Credits music performed by SonicCube:
http://audiojungle.net/item/urban-orchestra-symphony/164891
HD version of the preview on Vimeo: http://vimeo.com/38310122
The original soundtrack has been edited for this project. If you need some help with editing of your purchased track ('Bentley' by Slavador) – feel free to write me an e-mail
The project has high system requirements – to work correctly with the template you need a computer with 4-6 Gb of RAM. 12 GB or more
recommended
Rendering information: total duration of rendering is about 7 hours on configuration: Intel Core i7-950, 12 Gb RAM, nvidia GeForce GTX260, Windows 7, 64 bit
If you have any questions or you need help with customization – contact me via my profile page
Please, rate if you liked this project!
Thank you!

[ad_2]