[ad_1]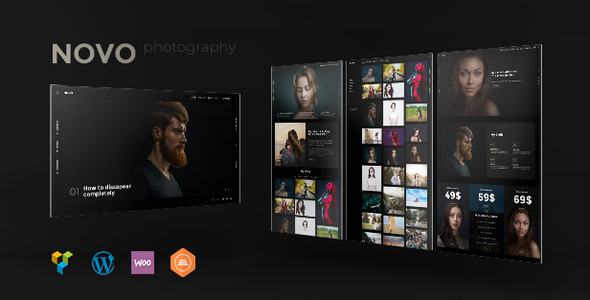 Novo – Photography WordPress Theme
We present you an awesome Photography WordPress Theme. With it, you can create your own unique and beautiful site for Photographer, Blogger, Photography Agency, Photo Studio, Musician, Videographer and more. Various galleries will show the uniqueness of your work and a simple and convenient store – to sell your valuable photos or other products. We try to set many components to do your site better and useful.
What's in the Pack
HTML5 & CSS3 Valid Code
Beautiful and Awesome Design
Responsive & Retina Ready
High Speed & Clean code
Coded with SEO in Mind
Easy Color Management
6 Home Page Variants (+3 in future)
Home Photographer
Home Agency
Home Freelancer
Home Shop
Home Portfolio
Advanced Side Menu
Grid Photo Gallery
Masonry Photo Gallery
Horizontal Gallery
Unlimited Number of Custom Portfolio Pages
Coming Soon Page
Two variants of Blog
Fullscreen Blog Layout
Custom 404 Page
Contact Form
Extended Documentation
Free After Sale Help (e-mail)
And much more…
Notes
Important:
*Please note that theme does not include the images in the source zip file.
Minimum supported PHP version 5.4
Update History
Version 3.0.8
- Added the new Scattered gallery
- Added the new Horizontal gallery type 2
- Added the new Project page horizontal gallery
- Added Gallery Lighbox description always shown
- Added Footer Col 4
- Added the option Prev/Next (Post/Project) Hide/Show
- Added Blog items "read more" button enable
- Added Category (One Home Page) description show

Version 3.0.7
- Added Booking system
- Added Video lightbox feature in the banner shortcode (You can open add video to backgound or open it in the lightbox) 

Version 3.0.6
- Fixed loading gallery problem (filter changes)

Version 3.0.5
- Portfolio Gallery Filtering - the New Mechanism (You can load all photos from categories, Ajax loading without page reloading)

Version 3.0.4
- WooCommerce version update

Version 3.0.3
- fixed 404 and Coming Soon page error after the theme update from 2.4.3 version

Version 3.0.2
- fixed "White Screen" if the Page Template is "Default" 

Version 3.0.1
- Added Memphis remove in the Footer (Theme Options)
- CSS minor update

Version 3.0.0
- Redesign Pages: Home One Page, Agensy, Business, Split Screen, Photographer
- New Theme Options with new customization features
- New video feature (Play-stop buttons)
- Single Blog Post with Sidebar
- New Demo Content Installation
- New license system with theme deregistering 
- Lazy Load feature

Version 2.4.2


<strong>Version 2.4.3</strong>
<pre>
- Fixed CSS bug mobile version button HomePage "One Page" 
</pre>
<strong>Version 2.4.2</strong>
<pre>
- WPBackery plugin update 6.0.2
</pre>
<strong>Version 2.4.1</strong>
<pre>
- Added Photo in the Mobile One Homepage version
</pre>
<strong>Version 2.4.0</strong>
<pre>
- Added Photo Proofing gallery
- Added translation customization in Theme Options
- Added Show/Hide "Category" in Gallery, Shop pages
</pre>
<strong>Version 2.3.5</strong>
<pre>
- WPBackery plugin update 5.7
</pre>
<strong>Version 2.3.4</strong>
<pre>
- Added Amazon Pay checkout form
</pre>
<strong>Version 2.3.3</strong>
<pre>
- Added feature "Logo height" (Theme Options)
- Added feature open social icons in new tabs (target="_blank") 
- WPBackery plugin update 5.6
</pre>
<strong>Version 2.3.2</strong>
<pre>
- Fixed "Portfolio" shortcode categories selecting bug 
- WooCommerce plugin update 3.5
</pre>
<strong>Version 2.3.1</strong>
<pre>
- Fixed the minor mobile CSS issues
- WpBackery plugin update 5.5.5
</pre>
<strong>Version 2.2.2</strong>
<pre>
<strong>Version 2.3.0</strong>
<pre>
- New pages "Musician" Black/White
- New pages "Videographer" Black/White
- New Gallery Shortcode (Select any photos from the media library)
- New Music Plugin (Add your albums, tracks)
- New shortcode coming soon
- New shortcode playlist
- New shortcode albums
- Added possibility add video in the shop
- New shortcode Image Carousel (Instagram feed)
- WpBackery plugin update 5.5.4
</pre>
<strong>Version 2.2.2</strong>
<pre>
- Fixed YouTube video background play.
- New mobile adaptive feature (Images can be cropped by the divices screen or use the origianl image size) - General Theme Options.
- Added photos position in the portoflio shortcode (right, left, top, bottom) - Portfolio Project custom settings.
</pre>
<strong>Version 2.2.1</strong>
<pre>
- Fixed license bug issues on some hostings platforms
</pre>
<strong>Version 2.2.0</strong>
<pre>
- WPBackery update, version 5.5.2 (Visual Page Builder)
- Blog posts customizing (Disable likes, data, featured image)
- New protfolio items customizing (Always visible - hover effect "none")
- 404 and Coming Soon customizing
- fixed Firefox parallax error on the Home SplitScreen
</pre>
<strong>Version 2.1.1</strong>
<pre>
- WPBackery update, version 5.5 (Visual Page Builder) 
</pre>
<strong>Version 2.1.0</strong>
<pre>
- Added new page Parallax Slider
- Added new page Split Screen2
- Added shop download link after purchase. (customer can download photo after a purchase)
- Added GDPR plugin
- Added Photo optimization plugin
- Added possibillity to disable "likes, date" in the Project Pages (Portfolio)
- Added new Portoflio Project Pages styles (Grid, Masonry: 2,3,4 columns)
- Added Before/After slider and shortcode
- Added Right-Click Protection (Disable the Right-Click mouse option)
- Added possibillity to edit 404 and Coming Soon page.
</pre>
<strong>Version 2.0.2</strong>
<pre>
- Fixed mobile video bug (not playing on iOS)
- Added possibility to add YouTube, Vimeo videos to "Banner" shortcode (like background)
- Added Custom link to "Categories" and "About" buttons on the Home OnePage
- Added possibility to add links to the project page in the Pop-up mode
- Fixed problem with updating photos in the Project Page (Set Gallery)
- Added possibility to upload cutom preloader
</pre>
<strong>Version 2.0.1</strong>
<pre>
- Fixed mobile version Home Split Screen, Business
</pre>
<strong>Version 2.0.0</strong>
<pre>
- New 3 Home Pages (Business, Categories, Split Screen)
- Visual Composer Update 5.4.7
- Added new mobile version for Home One Page
- Added customisation custom link in the Categories (Home One Page)
- Added social icon 500px
- Added possibillity to disable download photos (pop-up mode)
- Added possibility to add watermarks (Watermark plugin)
- WooCommerce version update
</pre>
<strong>Version 1.3.2</strong>
<pre>
- WooCommerce version update
</pre>
<strong>Version 1.3.1</strong>
<pre>
- Added posibillity to add multicategories
</pre>
<strong>Version 1.3.0</strong>
<pre>
- Visual Composer update 5.4.5
- Added Video supporting in the main slider "Banner" shortcode
- Added Video supporting in the portfolio "Portfolio" shortcode
</pre>
<strong>Version 1.2.2</strong>
<pre>
- Visual Composer update 5.4.4
- Added Video Shortcode
</pre><strong>Version 1.2.1</strong>
<pre>
- Added customising "Category" and "About" buttons
- Added Social links customization
- Added new Portfolio types and Blog & Portfolio Password Protection 
</pre><strong>Version 1.2.0</strong>
<pre>- Added "Main Color" customization</pre><strong>Version 1.0.1</strong>
<pre>- Fixed included plugins error</pre>
<strong>Version 1.0.0</strong>
<pre>- Theme Release</pre></pre>
[ad_2]
Source