[ad_1]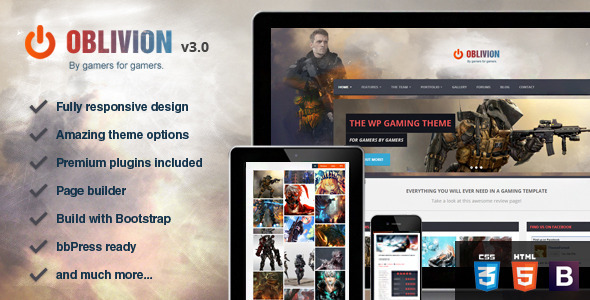 Oblivion – The ultimate gaming theme
Oblivion is the ultimate gaming theme. Created using the latest HTML5 and CSS3 techniques, it allows you to create awesome review sites or portfolios for your games.
Your WP gaming theme. Don't just take our word for it:
Main features:
New: WooCommerce support!
New: BuddyPress support!
New: Parallax blocks!
New: Video blocks!
New: Animated images and icons!
WPML Ready
Translate ready – .po files included
Rating System , widget included
bbPress ready, create your own community!
Fully responsive design
LayerSlider Parallax slider included (worth 15$)
Isotope gallery included (worth 14$)
Unlimited colours
Upload your own backgrounds
HTML5
CSS3 Styling
CSS3 Animations
Build using the latest Bootstrap
Powered by Theme barracks with extensive options:

Typography options
Unlimited colours
Upload your own backgrounds
jquery page slider turn on/off option
Blog options
Seo options
Footer options
Social media options

Awesome Page builder with loads of blocks, simply drag and drop to create the page that you want!
Cross-browser compatible
Seo ready
XML dummy content file included
Extensive documentation file
Support forum
Need help? Visit our Support Forum
I offer theme support via our support forum. If you have any problems or if you find a bug/error, please post them there. I will NOT be able to answer any questions regarding support in the comments. (http://support.skywarriorthemes.com/)
Please note: the images that can be seen in the preview images will not be included in the download. These are for preview purposes only.
Special thanks to:
Burak Çinar,
juhupainting,
nathantwist,
sttheo,
jon-lock,
freeport,
sekigan,
apofiss,
artbatter,
grosnez,
commanderjack for the images
If you love it, please don't forget to rate it!
Update History
Current version: 4.1
July 6th, 2018
- Fixed blog comment count
- Updated translation strings
- Minor css fixes

June 8th, 2018
- Added GDPR support
- Updated FontAwesome to latest version
- Double mobile menu fixed
- Fixed issue with Isotope gallery and LayerSlider
- Updated required plugins
- Added latest WP security patches
- Various CSS fixes
- Updated translations
- Added new translation functions
- Added latest support for child themes
- Added support for Woo lightbox
- Archive page fixed
- Fixed bug with social icons
- Added discord social icon

April 24th, 2017
- Pagination issue when home page is static
- Removed WP Wall plugin and replaced with Wise Chat plugin
- Super Socializer plugin added for social log in
- Added comments to pages
- Pagination issue fixed
- Updated Google maps API
- Oblivion Woo templates updated
- Greensock library updated
- Fixed issue with Buddypress
- Instagram added to social media
- Fixed bug with contact page
- SEO tweaks 
- Post rating bug fixed
- Fixed parallax for apple devices
- Various css fixes 

December 10th, 2015
- Fixed Fontawesome icons
- Fixed tag links
- Fixed WP wall widget
- Fixed rating when there is no overall rating
- Fixed menu goes behind admin bar
- Various fixes.

October 9th, 2015
- Latest Safari and iOS 9 patch
- Fixed parallax for Safari
- Fixed large gaps in activity stream

September 25th, 2015
- Fixed accordion issue
- Updated Woo templates
- Fixed breadcrumbs for Woo pages
- Various css fixes

September 25th, 2015
- Fixed widget compatibility issue with latest WP
- Localization file updated
- Fixed compatibility with "Ultimate Member" plugin
- Added forum sidebar option. (Buddypress and BBpress required for this to work)
- Fixed bug where skills box cover other fields in page builder.
- Fixed parallax height issu
- Fixed roles in one click importer
- FontAwesome updated to latest version.
- Fixed ssl issues
- Fixed WooCommerce deprecated functions
- Fixed issue with child themes and post templates
- Fixed css bug with portfolio bloc
- Fixed category page pagination
- Various css fixes

July 16th, 2015
- Added RTL support
- Layer slider demo included in demo 
- Issue with long category names in portfolio block
- Fixed one click importer, now should work on all servers
- Fixed responsive issues
- Sub-menu link hover colors bug is fixed
- Footer widgets z-index adjusted
- Parallax fixed on mobile devices (activates on click, if you see everything black, you need to add preview image in that block) .
- Fixed translation text domains
- Fixed the trailing comma in the list of post tags.
- Fixed wrong Twitter link in Latest Twitter Widget on some installations.
- Fixed an issue where WP Wall chat would hide all messages after submitting a new message.
- Added option in theme options for BBpress forum title.

September 5th, 2014
- Fixed carousel block
- Search results now dont show images
- Fixed 4k screens CSS bug
- Fixed News block with broken images
- Author link now working on archive page
- Widgets now work on the category page
- Fixed missing pagination 
- Added One Click Installation (.xml file deprecated)
- Comments now work properly

April 12th, 2014
- News block thumbnails fix
- Translation file updated
- Buddypress css bugs fixed
- Review star bug fixed
- Page builder no more room on the page builder fix
- Buddypress widget fix

March 26th, 2014
- BuddyPress and bbpress sidebar added
- BuddyPress and bbpress fonts and styling issues
- Blog style block - pagination removed
- Blog number of pages removed from theme options. Default reading settings is active now
- Buddypress groups listing, the activity meta element fix
- Search result fix for posts and portfolio
- Page builder all ulrs now work with or without protocol
- Author page implemented
- Page builder media button path fixed
- Admin-tooltip.js removed from functions.php
- Pinterest and steam added as social links
- Added full page width for single posts page as option
- Popular widget added option for popular posts by comments and by rating
- Implemented checkboxes for categories in page builder
- Various css fixes

February 9th, 2014
- HTML code in forum title fix
- Image size in page builder blocks 
- BuddyPress sidebar added
- Breadcrumbs fixed
- Page title bug fixed
- Avatar uploading size in BuddyPress fix

February 7th, 2014
- Disqus comment plugin support
- Contact page blocks added 
- Social icons block added
- Contact page now only a map
- Featured image size fixed
- Tabbed news block fixed
- Translation strings updated
- Blog block fixed

January 27th, 2014
- Woocommerce not mandatory anymore
- Right sidebar will appear first in post options
- Blog style page block bug fixed
- Empty p tags appearing in some parts of the theme removed
- Post review total score CSS bug fixed

January 25th, 2014
Just a small update:
- CSS fixes
- Bug fixes we found after last night update

January 23rd, 2014
- News horizontal block bug not going full width
- Contact page form now has the text again
- Added Youtube and Twitch social icons (Twitch icon its not supported with FontAwesome so we added a gamepad until it is)
- Added Youtube to team member block
- Comment form now is ajax driven
- Now you can add a background for a individual page
- Removed footer logo from theme options
- Post review empty stars div removed
- Single post sidebas option
- Fontawesome fix
- Carousel block now has a link option
- On mobile now you need to click twice for the parent link to work
- Other minor CSS Fixes

January 13th, 2014
- WooCommerce Ready
- BuddyPress Ready
- CSS Fixes
- Backend Fixes
- Updated Theme options
- Updated instruction file

November 20th, 2013
- Empty p fixed
- Accordion fixed
- Video metabox added for posts

November 18th, 2013
- CSS fixes
- Plugins removed to external location. Zip file now 3mb~
- Single post without featured image fix
- Isotope fix for posts
- News blog homepage deprecated. Added news blog style block in the page builder so you can place it where you like

November 10th, 2013
- Replaced scroll options: Normal scroll or smooth scroll now available
- Fixed width of portfolio block in Chrome

November 8th, 2013
- Version 2.0 released!
- Parallax block
- Video block
- New 3 different blog layout
- Portfolio block is now isotope
- CSS fixes for responsive
- Animation for images, skills and icons
- Ticker block
- Smooth scrolling

November 3rd, 2013
- Fixed old files submittion
- New home page template layout added

October 21st, 2013
- Pagebuilder fix
- Turn on/off map on contact page
- Add custom map maker from theme options
- Option to choose portfolio items order in portfolio page builder block
- New shortcodes pagebuilder block
- Option to use custom word for portfolio in breadcrumbs
- Localization file updated
- Team members block fix for social icons
- Option to have a fixed background

October 1st, 2013
- Fixed text block for Page builder. Now you don't need to save the template before writting.

[ad_2]