[ad_1]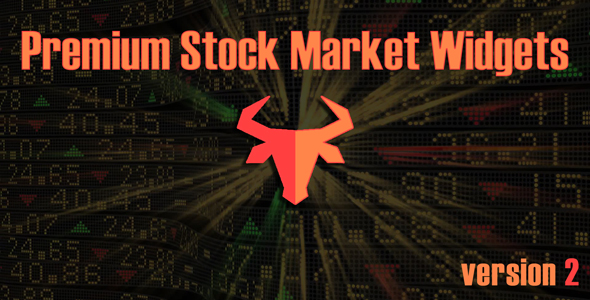 Version 2.0 is live!
If you are already using the plugin please read the upgrade notes and changelog before upgrading.
About Premium Stock & Forex Market Widgets
Premium Stock & Forex Market Widgets is one of the essentials that you will need when starting a new financial blog or putting together a WordPress website related to financial markets. If you run a news website or want to display share price of a public company it will be of great help too. The plugin lets you add financial data (such as stock, currency, commodity, ETF quotes) to any WordPress page or post in a matter of seconds.
Key features
Wide range of stock exchanges The plugin supports Forex and many stock exchanges across the world, including, but not limited to: NASDAQ, New York Stock Exchange, Toronto Stock Exchange (including TSXV), London Stock Exchange, Australian Stock Exchange, Frankfurt Stock Exchange, Hong Kong Exchange, Singapore Exchange and others.
Live and historical market data Both real-time (delayed) and historical quotes are provided.
Multi-asset Apart from currencies and stocks other asset types are also supported. These include major commodities, exchange traded funds (ETF), mutual funds, US Treasury notes / bonds.
Multi-language Static text strings can be translated to any language. Numbers can be formatted using decimal and thousand separators adopted in your country. Locale for dates display can also be selected.
Tons of widget templates A variety of carefully crafted widget types, templates, styles and visualizations. Compatible with all modern browsers. Responsive on mobiles and tablets.
Auto generated asset pages It's possible to make the plugin automatically generate and display virtual asset pages (see sample pages for Apple, Amazon, Microsoft) when certain URL on your website is accessed. A template for such pages can be customized in the backend and constructed based on any combination of widgets.
Info stock market widgets
Info widgets provide stock (company) description along with some extra info such as industry, sector, website, address.
Inline stock market widgets
Inline widgets allow you to natively integrate stock quotes into text paragraphs, headlines, sidebars and other blocks. It is extremely useful when you write news articles and want to include some market data, which would always be up-to-date irrespective of when a visitor reads the article.
Button stock market widgets
With button widgets you can easily create call-to-action links with custom text and embedded stock quotes.
Label stock market widgets
Label widgets are small inline blocks, which dislay stock quotes.
Card stock market widgets
Card widgets let you display live market data of an individual stock. They can be grouped together to display prices of multiple assets in the same style.
Table stock market widgets – Quotes
Table (quotes) widgets provide an opportunity to display live stock quotes and other important metrics in tabular form. You can customize the widget to display assets (stocks, currencies etc) and data fields (such as volume, shares outstanding, market cap, day low & high etc) you need.
Table stock market widgets – Historical data
Table (history) widgets allow to display historical stock data (open, high, low, close, volume) for different ranges and intervals.
Portfolio stock market widgets
When you hold many different stocks it's essential to understand their current value. Portfolio widgets allow you to track appreciation or depreciation of value of a specific portfolio. When setting up a widget you can specify how many stocks you purchased and at what price and the plugin will automatically calculate the current portfolio market value, historical price change, absolute and percentage return.
Accordion stock market widgets
Accordion widgets allow to display a list of stocks and expand each of the stock blocks to see more info.
Comparison stock market widgets
Comparison widgets are similar to regular table widgets, but in this case assets are displayed vertically and metrics are displayed horizontally, which makes it easier to compare key performance indicators between different stocks and currencies.
Chart stock market widgets
You can easily display historical line charts of different time intervals – starting from 1 hour to more than 5 years (subject to data availability for a particular asset).
Doughnut stock market widgets
This widget allows to display a doughnut graph of a certain data field (price, volume, shares outstanding or market cap) of given stocks.
Leaderboard stock market widgets
Leaderboards widgets are full-width blocks, which provide individual stock quotes and some extra metrics, such as daily range, volume, market cap etc. These widgets are best suitable for placement in the header of your website.
Ticker stock market widgets
Ticker widgets is one of the most widely used type of widgets. You can add as many stocks as you wish and their live quotes will be displayed in a scrolling ticker.
Typed stock market widgets
With typed widgets stock quotes can be animated using a typewriter effect. Ideal for full-width background blocks.
Odometer stock market widgets
Odometer widgets animate stock prices using numbers scrolling.
Toast stock market widgets
Toast widgets provide an opportunity to display live stock prices in elegant notification popups.
Gauge stock market widgets
Gauge widgets allow you to visualize where a given stock price is relative to its day or 52 week low / high.
Stock market widget shortcode builder
Widgets are added to a page or post by pasting a shortcode. There is an intuitive and easy to use widgets shortcode builder provided with the plugin and available in the WordPress back-end to customize and preview widgets before publishing. You don't need to manually construct or edit any HTML or PHP code. Absolutely no technical skills are required to use the plugin.
Why choose Premium Stock Market Widgets?
Professional support is at your service to resolve any potential technical issues.
New widget templates, features and visualizations are added on a regular basis.
Plugin is tested against SQL Injection, Cross-Site Scripting, Local File Inclusion and other major types of security vulnerabilities.
Plugin is built in accordance with best programming practices and WordPress Development Codex.
System requirements
WordPress 3.0 and above
PHP 5.6.0 or above
JQuery 1.5 and above
What license is required?
The Regular license entitles you to use the product on one website / domain only. If you want to use it on multiple websites / domains you have to purchase several Regular licenses (1 website = 1 license).
If you charge website users to have access to the product or its components you need to purchase the Extended license.
Themesforest authors — if you want to include this plugin into a theme please contact us to discuss partnership opportunities.
Please adhere to these rules. Read License FAQ for more information.
Installation & usage
Please read FAQ.
Support

Changes history
Source