[ad_1]
BUY FOR $39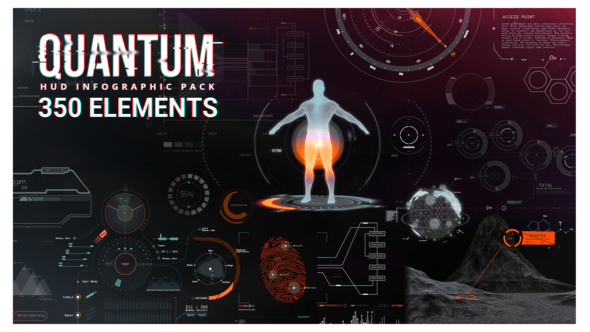 About Quantum HUD Infographic :
In this package we have both complex HUD& data infographics and modular HUDs. So you can combine them to make your own High Tech elements.
After releasing most popular HUD pack (Phantom HUD Infographic) we've decided to take Hitech & HUD world into a new level and guess what we achieve? Yes, Quantum – Modular HUD Infographic Package . Modern , professional and new style in HUD and infographics elements. Useful elements for making Technology and mysterious intros, previewing games, Tracking and match moving videos and etc.
Features :
You can download element guides (catalouge) here and here
Resolution :1920×1080
You need After Effects ( Supports : CS5 and above)
We've included Black&White version of Color HUDs too
All of elements can be used as transparent elements on any footage.
You don't need any plugin to use it. However this package contains plugin version of HUDs. For using plugin version you need : Plexus 2.0 , Videocopilot Optical Flares . This is the list of elements that use plugins (Note: No-Plugin version are included too. If you don't want to change main object , you don't need to use plugin version.):

01 : Solar
02 : Earth Attacked
03 : Earth IT
04 : Heart
05 : Human I
06 : Human II
07 : Iron Car
09 : Hills
10 : Dish Antenna
11 : Satellite
23 : iPhone Device
31 : DNA
33 : Guns
Quantum v2.0 3D scenes are pre-rendered and they don't use plugin. So you can not change the 3D elements or camera movement. 3D scenes are :
City
Battleship
Viruses
Nuclear
Rocket
Drone
Mosque
Infographic 02
Oil Rig
Airplane
Package includes :
After purchasing this item you'll get both Quantum v1.0 and Quantum v2.0
Presentation trailers files (2 HUD Trailer)
36 Complex HUD items (HUD v1.0)
50 Complex HUD items (HUD v2.0) contains 10 line call-out, 10 HUD Titles
270 modular HUD elements
Full Documentation (Help File)
10 overlay textures
Music
The musics in demo are not included. You can purchase them from Audiojungle.net :
Epic Cinematic Dubstep Trailer from ToxicRecordings

Iron Dubstep from audioroom
Iron Dubstep from audioroom
Go to Hell from Amoebacrew
Presentation Sound FX:
Robot Spiders Communicating adn runnng
Quantum V2.0 soundFXs are from freesfx.co.uk
Feedback
If you like this template please don't forget to rate, thanks! Also PixFlow really appreciate your feedback.

[ad_2]