[ad_1]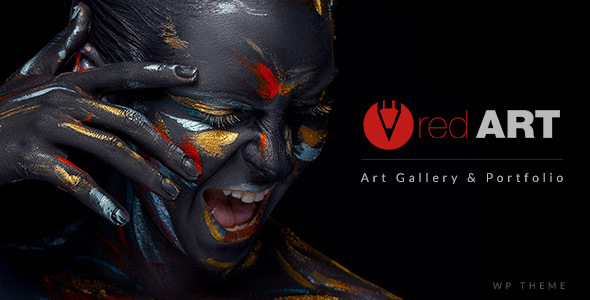 Red Art Photography and Art Gallery & Artist Portfolio WordPress Theme
Red Art a Creative & Artistic Portfolio WordPress Theme. Websites like artist portfolio, art gallery, photography, personal or creative art, Sculpture artist, designers, collectors, art gallery, photography school, Art school, Handcraft website, and photography presentation, body paint, tattoo artist websites can be created.
Red art can be used for vlog, portfolio web designer, portfolio creative, portfolio personal, portfolio photography, portfolio designer, portfolio agency, portfolio minimal, portfolio video, travel photography, travel blogs
Artist WordPress theme is presented with multi demos. Create website for Aquarium, bicycle, fashion model, fitness & body building, winery, art gallery

Visual Composer
The page builder allows you to create a beautiful art gallery layouts visually, without stirring a single line of code. This builder was shaped by user experience at the forefront of its priorities. There are no limitations to use builder element customization and element arrangements.
Portfolio
Spread the world your art work with a awesome image portfolio options that comes with a latest post type and also a custom page to display all your images.
Eye Catching Innovative Blog
Quick and Perceptive blog, built with layouts post options. Just select your style from Medium Blog, Medium I Col Blog and Single Blog all with or without a sidebar. You've got 3 different blog layouts to select from, and even change this on a page by page basis! Want one layout for one category, no problem!
Mailchimp (Email Subscription)
Use the mailchimp newsletter subscribtion box on your website to raise email addresses from your customers and start extending the customer base of your dreams!
Event Calendar
Show your upcoming events with the awesome calendar. You can present your events module in a fresh way and users will know about your exhibitions, and tour dates for the next event. Use our sophisticated events management system and keep track of all your future events. You can sell tickets too!
Contact Form
The theme is totally ready for Contact Form 7 straight out of the box, start creating the forms right away with this awesome plugin, which is compatible with the theme. You can easily display contact forms anywhere on your website.
Google Map
Yes, the theme contact page has support for custom Google Maps, makes it easy to create custom map using the address or the location given. Save time with built-in Google Maps – simply add your location to a contact page in just a few taps.
Set Up Shop with WooCommerce
Our theme has specially designed woocommerce page, you can make a shop page with multiple layout options in no time. Our product is 100% compatible with the most popular eCommerce plugin. We make sure that our theme will just work for selling your designs and photographs or anything easily.
Pricing Table
Now creating a pricing table is easier than ever for your business. Create as many tables as you wish and control the pricing. You can even feature a particular plan for the user convenience.
SEO
We have put a lot of effort on SEO it's a big deal nowadays, so we want to be sure your website gets the best out of others. Performance isn't just a matter of choice, but your website needs to be loaded faster in order to rank higher in Google search engines.
Sticky Menu
Initiate the sticky menu option to show the navigation menu bar even when you scrolling down the page. It keeps the menu links visible at the top all times.
Style Picker
We have enriched the theme with some pre made skins and colors in the theme, which will make your mind blow. You can select the one it fits the best for your business and make use of light or dark skin of your websites.
Responsive & Retina Ready
The theme is fully responsive and look great on all the smallest mobile devices or any of the other high resolution devices that this theme has you covered. Each and every building element will conform to your visitor's screen, creating the most instinctive browsing experience. Our theme is specially crafted to be pixel crisp on all retina screens.
Cross Browser Compatible
No need to test manually in all modern browsers, this theme is compatible with the most recent versions of browsers – Chrome, Firefox, Safari & IE. It is very important that your website performs well for all who visits it.
Slider manager
Create a responsive or full width slides with the amazing slider. Show off your image and content in a great style. You can easily create, edit or remove beautiful slides with nice animations and captions. Customize the slider with our convenient drag & drop backend to your every needs and see the heaps of custom animations for each object on the page!
6 Unique menu styles
Ajax load more gallery
Visual Composer Compatible
Customized Visual Composer shortcodes
Beautiful gallery listings
Unique blog Design
Perfect shop / Product listing
20 skins & Easy custom skin possibles
Light & Dark version
NOTE: Images used in the demo are not included for download, these images are copyrighted, if you are planning to use the photos we can provide the links to buy license.
*RedArt WordPress Theme Changelog *
2019.08.26 – version 1.8.2
* Compatible with WordPress 5.2.2
* Updated: All premium plugins
* Updated: Revisions added to portfolio post type
* Updated: Gutenberg editor support for portfolio post type
* Updated: Link for phone number module
* Updated: Online documentation link, check readme file

* Fixed: Google Analytics issue
* Fixed: Mailchimp email client issue
* Fixed: Gutenberg check for old WordPress version
* Fixed: Edit with Visual Composer for portfolio
* Fixed: Smooth scrolling in ie 11

* Improved: Single product breadcrumb section
* Improved: Tags taxonomy added for portfolio
* Improved: Woocommerce cart module added with custom class option

* New: Whatsapp Shortcode
2019.06.28 – version 1.8.1
* Fixed - Same page post grid and portfolio items issue
* Fixed - Same page recent post and masonry grid issue
2019.06.20 – version 1.8
* Gutenberg Latest update compatible
* Fixed - Mailchimp Issue
* Fixed - GDPR Product single page comment box issue
* Updated wpml xml file
* Updated latest version of all third party plugins
* Updated - language pot files
* Some design tweaks
2018.12.28 – version 1.7
 * Gutenberg compatible
 * Latest wordpress version 5.0.2 compatible
 * Updated latest version of all third party plugins
 * Updated documentation
2018.10.08 – version 1.6
* GDPR Update
* Updated all third party plugins
* Documentation updated
2018.02.21 – version 1.5
* Bulk Install TGM plugin issue fixed
 * Portfolio filter animation issue fixed
 * All theme function updated for child theme support
 * Option to change site title color
 * Unyson pagebuilder disabled with conflict of VC
 * Social shortcode target attribute added
 * Nav menu plugin support added
 * Smile font default css missing fixed
 * retina.js removed for image missing issue
 * Updated all third party plugins
 * BPanel color option issue fixed
 * Menu disable link option issue fixed
 * WordPress 4.9.4 compatible
 * Some design tweaks updated
2017.08.04 – version 1.4
 * BPanel menu color options issue fixed
 * Post comments showing issue fixed
 * Portfolio overlay issue on IOS fixed
 * Updated all third parthy plugins
 * Shop page category display issue fixed
 * Woocommerce 4.8.1 compatible
 * Some design tweaks updated
2017.05.03 – version 1.3
 * Few shortcodes issues fixed
 * Some missing texts updated for translation
 * Updated latest version of all third party plugins
 * Woocommerce 3.0 compatible
 * Visual Composer 5.1.1 compatible
 * Some design tweaks updated
 * Few php warnings fixed
 * Few latest scripts updated
2016.10.06 – version 1.2
 * Dummy data content optimized
 * SSL compatible updated
 * Global page layout option updated
 * Mailchimp updated to latest api 3.0
 * Fontawesome css updated
 * Updated latest version of all third party plugins
 * Dummy content importer updated
 * Unyson importer plugin included
 * Some design tweaks updated
2016.07.18 – version 1.1
 * Dummy content files updated
 * New demos included (Aquarium, Bike, Fitness, Model & Wine)
 * Ultimate addons plugin compatibility
2016.07.12 – version 1.0
 * First release!
[ad_2]