[ad_1]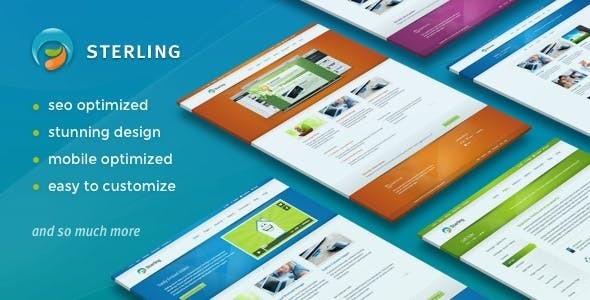 Latest Version: 2.6.9 | Changelog
Premium Plugins:

Free – LayerSlider included
Free – Revolution Slider included

Unlimited Sliders – Add a Slider to any Page Template
Custom Sterling jQuery Slider:

Toggle Randomize Slides
Toggle Pause on Hover
Toggle Animation Effect – Slide/Fade
Toggle Next/Previous Arrows
Header Options:

Sticky header menu + small-height variation
9 Header Transparent Overlay Patterns
Adjust Header Height
Disable Top Toolbar
Disable Menu Dropdowns
Footer Options:

9 Footer Transparent Overlay Images
Up to 5 Footer Columns
Footer Menu
Footer Copyright
Site wide Footer Callout
Custom "scroll to top" link
Toggle "scroll to top" link
Logo Options:

Logo Alignment: Left, Right, Center
Normal Website Logo
Retina Website Logo
Custom Logo Builder (with 9 preset logos)
Custom WordPress Login Logo
Favicon Logo
Color Options:

18 Pre-set Color Schemes
Mix-and-match color schemes
Unique Primary Color
Unique Secondary Color (mix and match)
Mobile Options:

Responsive Design
Retina-ready
Built for all Mobile Devices
Blog Options:

Add Shortcodes to Blog Posts
Easily Hide Categories
Choose between Gravatar.com or Default WordPress Avatars
Toggle Post Comments
Toggle "Posted by" Information
Customize "read more" Button (text, color, size)
Display Related Posts
Social Media Sharing (Twitter, Facebook, Pinterest)
Page Editing Options:

Custom Sub-menu
Custom Sidebar
Custom Page Linking
Page Settings (toggle breadcrumbs, search box + more)
Slider Settings (choose slider, color picker + more)
Gallery Settings (choose layout, image frame style + more)
Styling Options (custom primary color scheme, custom secondary color scheme + more)
Top-Notch Theme Support:

Access to our (SSL) Secure Online Help Center: TrueThemes Help Center
Knowledgeable Support Team
Advanced Support Ticket System
Knowledgebase and FAQ
Extensive Written User Manual
True one-click demo importer for blazing fast setup
Over 100+ Gorgeously-styled Shortcodes:

All shortcodes easily inserted via point-and-click shortcode manager:
Extensive Software and Plugin Compatibility:

All-in-One SEO
Better WordPress Minify
Constant Contact Newsletter Signup
Contact Forms 7
Gravity Forms
MailChimp Newsletter Signup
Post Type Order
WooCommerce
WordPress
WPML
Yoast SEO
…and many more
Industry-leading SEO Optimization:

Clean Valid HTML5 and CSS3 code
Content and Presentation Coding Separation Techniques
Schema.org and Microformats data
Additional Awesomeness:

One-click demo impoprter
100% WPML Multilingual Plugin and Translation Ready.
Seamless Dashboard styling
Artwork Files in Fireworks PNG and Photoshop PSD formats
35 Free PNG button images
Cleaned up WordPress Interface (feels like a proper CMS)
Contact Form Builder (with reCaptcha)
Custom Post Type – Slider Posts
Custom Post Type – Gallery Posts
Custom Widgets
Custom 404 Error Page
Custom Search Results Page
Developer-friendly: Action Hooks, Well-Commented Code, WordPress Codex Compliant
Extensive Written Documentation
Fast Loading Pages
Gorgeous Design – Perfect for every Business
High Ranking Page Speed Tests
Inline Page Editing Tool
Proper usage of wp_enqueue_script() and wp_enqueue_style()
Secure and Optimized PHP Code
Supports Various Media Types (swf, quicktime, iframes, images, vimeo, youtube)
Third level drop-down menus
Threaded Comments
Unlimited Contact Forms
Unlimited Google Fonts
Unlimited Sidebars
Unlimited Sliders
Special Thanks
Changelog:
February 16, 2018 – Version 2.6.8
Fixed: displaying video in lightbox

April 19, 2017 – Version 2.6.5
Added: full compatibility for WooCommerce 3.x
-----
Updated: Removed branding notice from one-click-demo-importer page.
-----
Fixed: is_array() error now fixed when Jetpack enabled.
Fixed: nested blog comments on mobile.
Fixed: "black line bug" in Safari 10.x

January 26, 2017 – Version 2.6.3
New: Option added to site options panel to change background color of main content area (Appearance > Site Options > Theme Designer)
New: Option added to site options panel for color background on main menu and gallery hover states (Appearance > Site Options > Styling and CSS)
New: Option added to site options panel to include top-toolbar in "small height sticky header" (Appearance > Site Options > Header)
New: Sterling is now fully compatible with PHP7
New: 10 new color schemes added to theme:
New: Color scheme (blue-ice)
New: Color scheme (blush)
New: Color scheme (clear-sky)
New: Color scheme (dark-green)
New: Color scheme (dark-knight)
New: Color scheme (leafy)
New: Color scheme (ocean)
New: Color scheme (ruby)
New: Color scheme (sunset)
New: Color scheme (turquoise)
-----
Update: Arranged header options into their own section of the site options panel
Update: Sticky sidebar script updated to latest version
-----
Bug fix: Re-built outdated functions that are no longer valid in PHP7
Bug fix: Sticky sidebar on blog page now works correctly

Version 2.6.2
New: Added tab interface to page metaboxes
New: Welcome screen for new users upon theme activation
New: One-click demo data importer
New: 'Small height' sticky header now available via Site Options > Interface Options
New: Included a 'smarter' Child Theme. Current Child Theme users it's recommended to 'hybrid' your current version with this version (see functions.php)
-----
Update: removed the SEO Module - simply install All-in-One SEO Plugin via Appearance > Install Plugins instead (no data will be lost)
Update: font-awesome updated to latest version 4.7.0
Update: TGM-Plugin-Activation updated to latest version 2.6.1
Update: Function added to remove emoji javascript added by WordPress
Update: Added schema.org and microformats for better SEO
Update: Child pages now indented in responsive view (mobile menu)
Update: Updated screenshot.png
Update: Cleaned up code. deleted _theme_specific_init.php.....moved functions to framework_init.php
Update: Rewrote various code for better performance
-----
Bug fix: Site Options bug resolved on PHP7 server
Bug fix: WooCommerce pages updated and now displaying correctly
Bug Fix: Security update for sidebar generator script

Version 2.6.1
Update: font-awesome updated to latest version 4.6.3
-----
Bug fix: 10px top-margin on full-width rev-slider on mobile
Bug fix: Google Fonts Open Sans for proper function on HTTPS server
Bug fix: header-shadow fix - links on revslider and layerslider now clickable

Version 2.6.0
New: Ability to add page content above gallery items
New: Ability to display related posts on single.php (Appearance > Site Options > Blog)
-----
Update: automatic updates hosted on new server
-----
Bug fix: lightbox size on mobile devices
Bug fix: [hr] shortcode clearing in sidebars
Bug fix: removed forced logo height
Bug fix: category name now displayed in banner area on archive.php

Version 2.5
New: Option to enable a "sticky sidebar" (Site Options > Interface Options)
New: Automatic Theme Updates (Site Options > General)
New: Animated "scroll to top" button
-----
Update: Improved WooCommerce styling
Update: Removed "Activate Sterling 2.2" option from site options (no longer required)
Update: FontAwesome to latest version (4.4.0)
-----
Bug fix: Searchbox not stacking on mobile view
Bug fix: Sticky-header showing on under construction page
Bug fix: Miscellaneous Bug Fixes

Version 2.4
Update: prettyPhoto to version 3.1.6 (XSS Security Fix)

Version 2.3
Update: Sterling has been swept clean of all code affected by recent WordPress XSS Vulnerability.
Update: TGM-Plugin-Activation Script updated to 2.4.1

Version 2.2.2
Fixed Slider script for RTL website
Fixed sticky menu when "top-toolbar" is active
Disabled "gallery count" site option when Sterling 2.2 is activated    
Removed (faulty) metabox taxonomy on gallery posts, now using default WordPress UI
Updated timthumb.php to latest version
Minor bug fixes.

Version 2.2.1
New: Revolution Slider (now freely included with the theme)
New: Add Site Option checkbox to easily enable sticky mobile menu.
New: Custom child theme for use within BuddyPress Environment
-----
Update: Metabox script updated to newly released version (1.0.0)
Update: timthumb-config.php reverted back to more stable setting, caching images in system temporary directory
Miscellaneous bug fixes.    

Version 2.2
New: Sticky Header / Menu Bar. (Site Options > Interface Options)
New: Site Options Panel re-designed to match WordPress 3.8 UI.
New: Ability to add a jQuery Slider to any page unlimited sliders.
New: Ability to create unlimited (custom) Gallery Pages.
New: Selectable Logo positions (left, right and center)
New: (369) Font-Awesome Vector Icons Shortcode.
New: Font-Awesome Vector Icon Boxes Shortcode.
-----
Improved: Better rendering of drop-down menu in IE9 and IE10
Improved: Greater compatibility with Google WebMaster Tools.
Improved: CSS3 PIE script added to provide more CSS3 support in IE8.
-----
Update: Sterling's Shortcode Manager updated to be ready for WordPress 3.9 / TinyMCE 4.0.
Update: TGM-Plugin-Activation script updated to newly released version (2.4.0)
-----
Optimized: Alphabetically oragnized all CSS properties for quicker parsing.
Optimized: Reduced filesizes and number of files used in Site Options Panel.
Miscellaneous bug fixes.

Version 2.1.5
Fixed team member photo frame bug.
Fixed 'calculate shipping' button bug.
Added the ability to use WordPress default avatar.
Added fix for missing left and right slider buttons.
Fixed success message notification css class name.
Updated prettyPhoto to version 3.1.5

Version 2.1.4
Visual improvements to shortcode manager.
Added Pricing Boxes to shortcodes.
Added 'Jumbo' button size to shortcodes.
Added Linkedin to team members shortcode
Added 'Email Label' to team members shortcode
Added new Footer and Blog options to Site Options Panel
-----
Optimized CSS. Removed @import and combined images into single image sprite.
Optimized top-toolbar dropdown menus.
-----
Updated jQuery Isotope to version 1.5.25
Updated custom-meta-box to version 0.9.2
Fixed "un-even rows" bug in Gallery sections.

Version 2.1.2
Update with woocommerce products width and remove bullets css fix.
Update with class_exists check for Jetpack grunion contact form.
Updated with checks for Jetpack plugin, show global notification in Theme activation view if detected.
Update with checks for allow_url_fopen and cURL, and error message fallback.
Fixed error in slide.js init code, removed quotes to boolean true.
Fixed error in wp_lists_comments() callback. Callback function should be truethemes_page_comments
Added function to allow HTML in copyright notice.
Added new site option strings, st_woocommerce_title and st_woocommerce_description.

Version 2.1.1
New file added for CSS3 Media Queries in web browsers > IE8.
Added reference to respond.js for Internet Explorer.
Removed [raw] tags for proper paragraph formatting.
Updated file to latest version. Fixed Google Chrome rendering bug on FAQ template.
Fixed "wrapping checkout button" bug.

Version 2.1
New: Compatibility with WordPress 3.5
New: Theme now packaged with WP CU3ER and Layer Slider Plugins
New: Ability for Sliders on every page
New: Completely re-vamped Core Theme Files for speed security and optimization
Replaced banner code with page slider code. All pages now have ability for custom slider.
Added new metaboxes  to post and page editing screens for custom slider input.
Modified button styling to match WordPress 3.5 styling.
Modified screenshot dimensions as per WordPress 3.5 retina display requirements (600x450px)
New functionality for page sliders.
New script that enables you to easily install recommended plugins for this theme. 

Version 2.0.3
Speed optimizations and bug fixes.
Added code to further clean up wp_head output. Added code to further optimize TrueThemes 'comments on pages' functionality.
Further optimized CSS for woocommerce.
Added CSS3 Media Queries to IE8 and below.
Speed Optimization for 'save settings' functionality.
Added check for WooCommerce page and applied custom CSS Class accordingly.
Image used on main navigation.
Image used on main navigation.
Added new code to add arrow indicators on main nav items that contain child pages.
Added CSS for arrow indicators on main nav items that contain child pages.

Version 2.0.2
Added new shortcodes: content boxes, email encoder, drop caps, highlight text, mono icons.
Added new class name to Footer Callout Button.

Version 2.0.1
Updated with checkbox to allow comments on page.
Updated Twitter widget to work with new Twitter API.
Boxed Layout, Body Backgrounds, Per-Page Styling, Comments on Pages, Theme Designer Options
Improved responsive-ness of Under Construction Page Template.
Modified Shortcode for Notification Boxes.
Added 'closeable' option to Notification Boxes.

Version 2.0
Site Options: Added new option for Slider Navigation Arrows.
Site Options: Added new option for Boxed Layout.
Site Options: Added new option for Body Background Color.
Site Options: Added new option for Body Background Image.
Site Options: Added new option for Body Background Image Position.
Site Options: Added new option for Body Background Image repeat.
-----
Shortcodes: Added Facebook and Google+ to Team Members Shortcode.
Shortcodes: Added Team Members to Visual Shortcode Editor.
Shortcodes: Added Testimonials to Visual Shortcode Editor.
-----
Added styles for Slider Navigation Arrows.
Added styles for Slider Navigation Arrows.
Added styles for Boxed Layout.
Modified JavaScript and PHP for Slider Navigation Arrows.
Added closing div tag for boxed layout.
Added opening div tag for boxed layout.
Added conditionals for custom per-page color scheme.
Added PHP check for Slider Navigation Arrows.
Added PHP check for Slider Navigation Arrows.
Optimized XML strings for WPML Translation Plugin.
Modified CSS for color-picker descriptive text.
Added new page option for custom per-page color schemes.
Added Google+ to Social Media Widget.
Added Google+ Icon.
Added Icon for WooCommerce Page.
Added Google+ Icon.
Updated Metabox script to latest version (0.9).

Version 1.0.9
Added CSS fixes for product review functionality.
Added optimizations for WooCommerce shopping cart widget.
Added fix for Child Theme update notification.

Version 1.0.8
Improved Theme Compatibility with WooCommerce
Site Options: Added new section for WooCommerce Settings
Added WooCommerce conditionals.
Added jQuery superfish function. (for top toolbar nav)
Added WooCommerce conditionals. Enqueue jQuery superfish script.
Added 2 new sidebars for WooCommerce pages.
Added ability for custom Left Nav Menu.
Added Metabox to WordPress Page Editing screen which allows for custom Left Nav Menu.

Version 1.0.7
Fixed all templates and site option to allow text with apostrophe
Fixed fatal error in category, archive, tags..etc caused by undefined function in template-part-small-banner.php

Version 1.0.6
Fixed if conditional loop in comments.php to prevent sidebar from dropping off page.
Loading of jQuery in html head for plugin compatibility.
Minor bug fixes in search template
Optimized PHP Error Reporting
Optimized Timthumb URL for multi-site
Improved Theme Compatibility with WPML Multilingual Plugin.

Version 1.0.5
Improved Theme Compatibility with WordPress 3.4.
Fixed SEO Module bug in Utility Page Templates.

Version 1.0.4
Improved Responsive function of Homepage Lightbox page template.
Improved JavaScript page-specific loading.
Site Options Panel: Added ability to disable Responsive Design.
Site Options Panel: Added ability to disable Searchbar on a global level.
Site Options Panel: Added ability to rename breadcrumbs "Home" link.
Site Options Panel: Added ability to add a Banner Description to 404 and Search Results pages.
-----
Added Localization Strings to Google Maps Widget.
Added JavaScript fix for top-link on FAQ page template.
Added PHP/Wordpress fix for Video Transparency bug.
Added HTML/PHP fix for Video Homepage Left Align.
Added CSS fix for single-line divider.
Added CSS fix for WordPress "nextpage" functionality.
Added CSS fix for #12 display bug on FAQ Page Template.
Added CSS fix for Theme Designer Banner Settings.
Added CSS fix for Tag Cloud background image.
Added CSS fix for Active Main Menu Link showing on Search Results page.
Removed File: "template-part-under-construction-footer.php": Functions have been added to "footer.php".

Version 1.0.3
Improved speed within in Admin Dashboard.
Fixed JavaScript Slider bugs. Clickable links and Featured Image ALT text.
Improved Footer Menu functionality. Menu will not display if nothing is set.
Fixed Business Hours Widget bug. Removed background color when placed in footer.
Improved jQuery Tab Shortcodes.
Fixed CSS bug with 3rd-level menu highlighting.

Version 1.0.2
Added new section to Site Options Panel (JavaScript Slider).
Fixed bug on "Under Construction" page template.
Updated Gallery Posts to allow for multiple categories.
Updated Gallery Posts to allow for page linking.
Improved Child Theme / Theme Designer compatibility.
Fixed column shortcode bug.
Updated TimThumb to latest version.

Version 1.0.1
Fixed PHP fopen error.
Fixed SEO module settings saving.
Fixed javascript error in drop menu, viewable only in error console.
Fixed saving of default settings in site options.
Added suppressing of e_warning and e_notice etc when WP_DEBUG is set to true, does not suppress PHP error reporting.
Minor CSS adjustments for better "responsive-ness".

Version 1.0
Initial Theme release

[ad_2]
Source