[ad_1]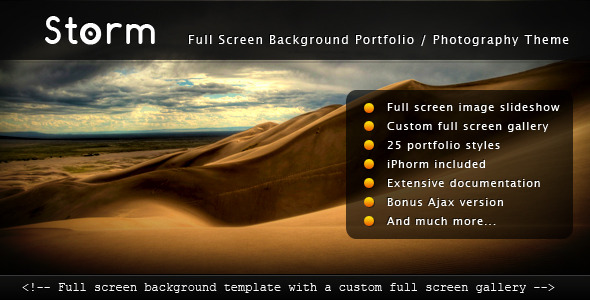 Storm is a stunning full screen background template with a custom full screen gallery,
perfect for showing off your visual work or perhaps you would just like to use images to sell yourself,
what ever you do! Background switcher controls allow you to cycle through background images, which are preloaded to cut loading time. 25 gallery/portfolio
layouts are included so you can pick the one that best suits your work.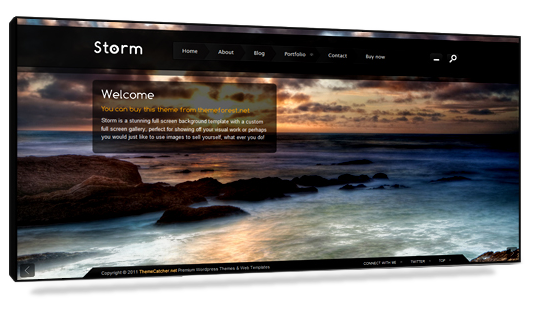 Features
Full screen background
Custom full screen gallery
25 gallery/portfolio styles
Bonus Ajax version – see here for preview
Transparent content areas to make the most of your backgrounds
Extensive documentation
Background switcher controls allow the user to change background image which is saved across pages
Smart background preloading for improved user experience
Minimise button to show background only
Multiple page styles
Valid XHTML 1.0 Strict
Works in all major browsers
Multi language UTF-8 ready
Background maintains aspect ratio at any resolution
Our popular Quform Ajax contact form included
5 amazing galleries with 6 layout options:
Full screen
Colorbox
Pretty photo
Fancybox
Galleria
The full screen background and custom full screen gallery have been designed to look great in most screen resolutions
by automatically resizing the image to fit within the browser window. The images are cleverly pre-loaded to reduce loading
time when switching between images.
Requirements and recommendations
A PHP enabled server (version 5+) is required for the form to work.
NOTE : A basic knowledge of PHP is recommended to be able to adapt the contact form, however the documentation is extensive so you may not need any.
If you are going to rate the template less than 5 stars, please tell us what we can do to make it 5
stars for you and we'll try our best to help you. We would love to hear your suggestions on
how we could improve the template, leave us a comment or send us an email and your suggestion
might make it in to a future version!
Support
We've added a detailed help file to help you make any changes you need to the template as well a
extensively commenting the code. If for some reason this is not enough, feel free to
contact us on our ThemeForest profile if you need additional help.
v1.2.5 – 20th January 2017
Updated Quform to the latest version
Live preview photo credits
Paulo Barcellos Jr., Shane Gorski, NASA/ESA, Kevin L. Cole, Zach Dischner, Arturo Donate, Dave Kirkham, Horia Varlan and ForestWander Nature Photography.
Why not check out the live preview?
Stay connected for updates, support and promotions