[ad_1]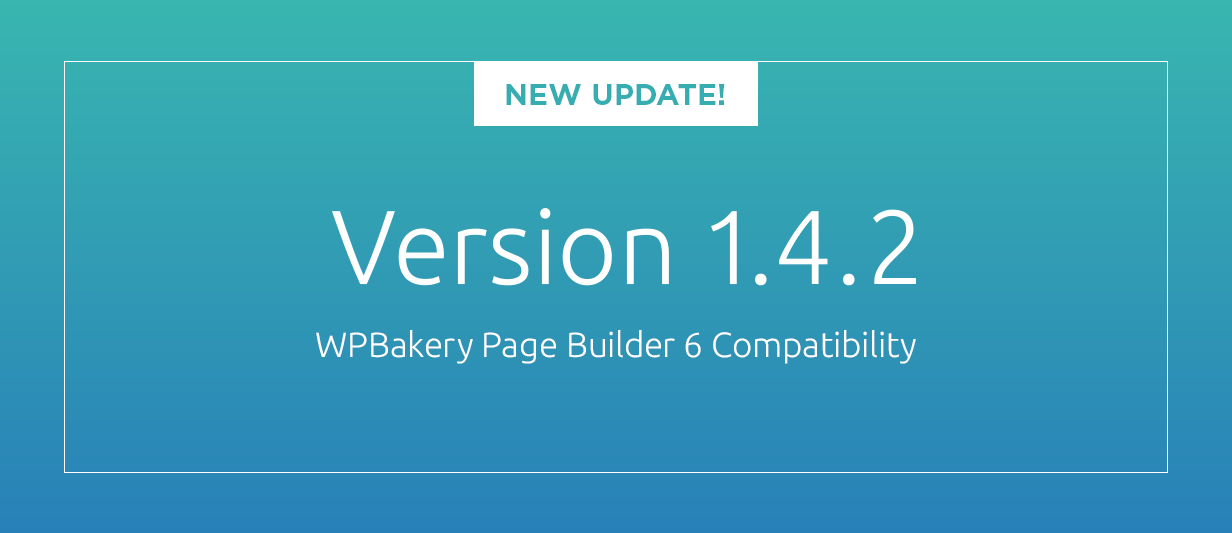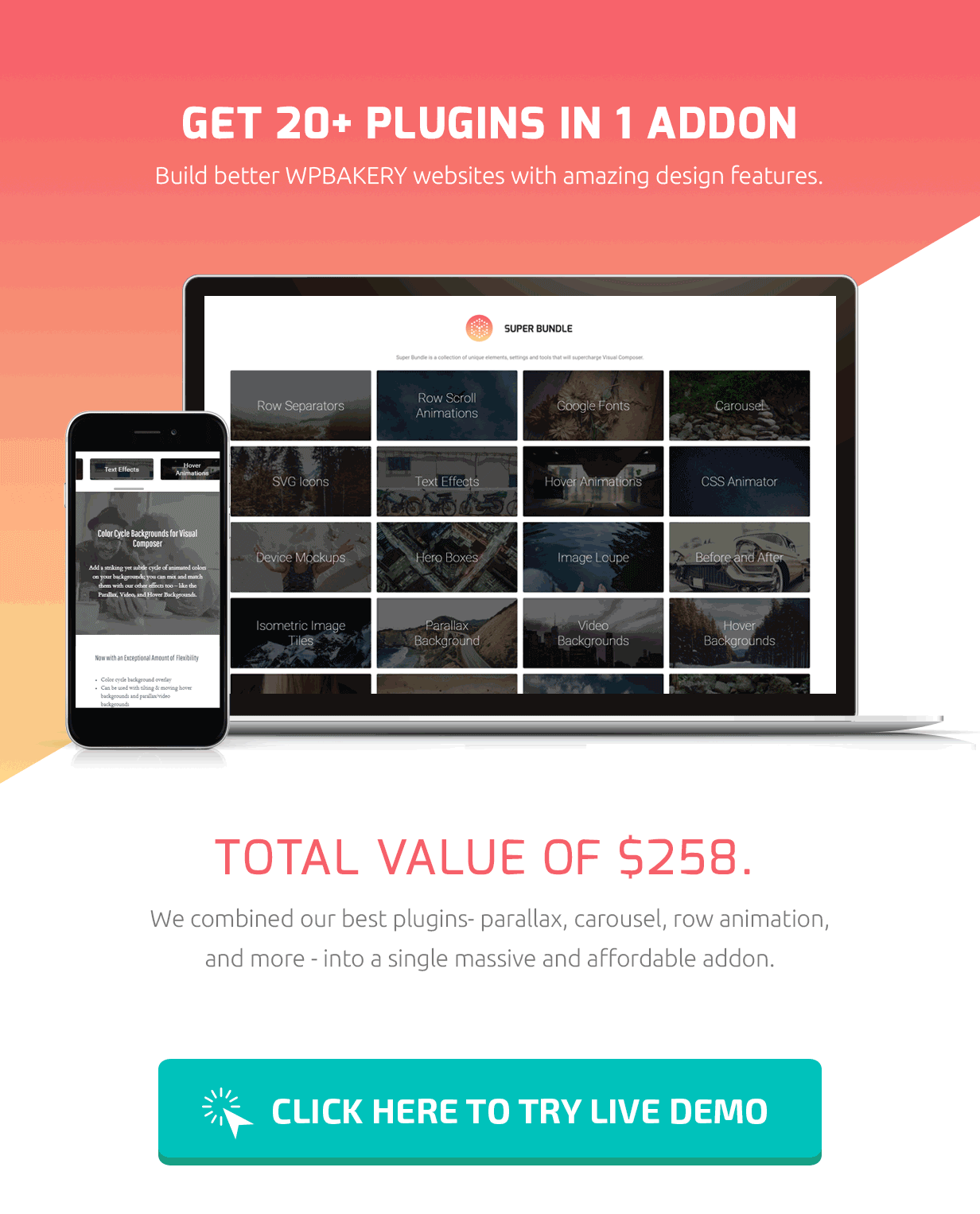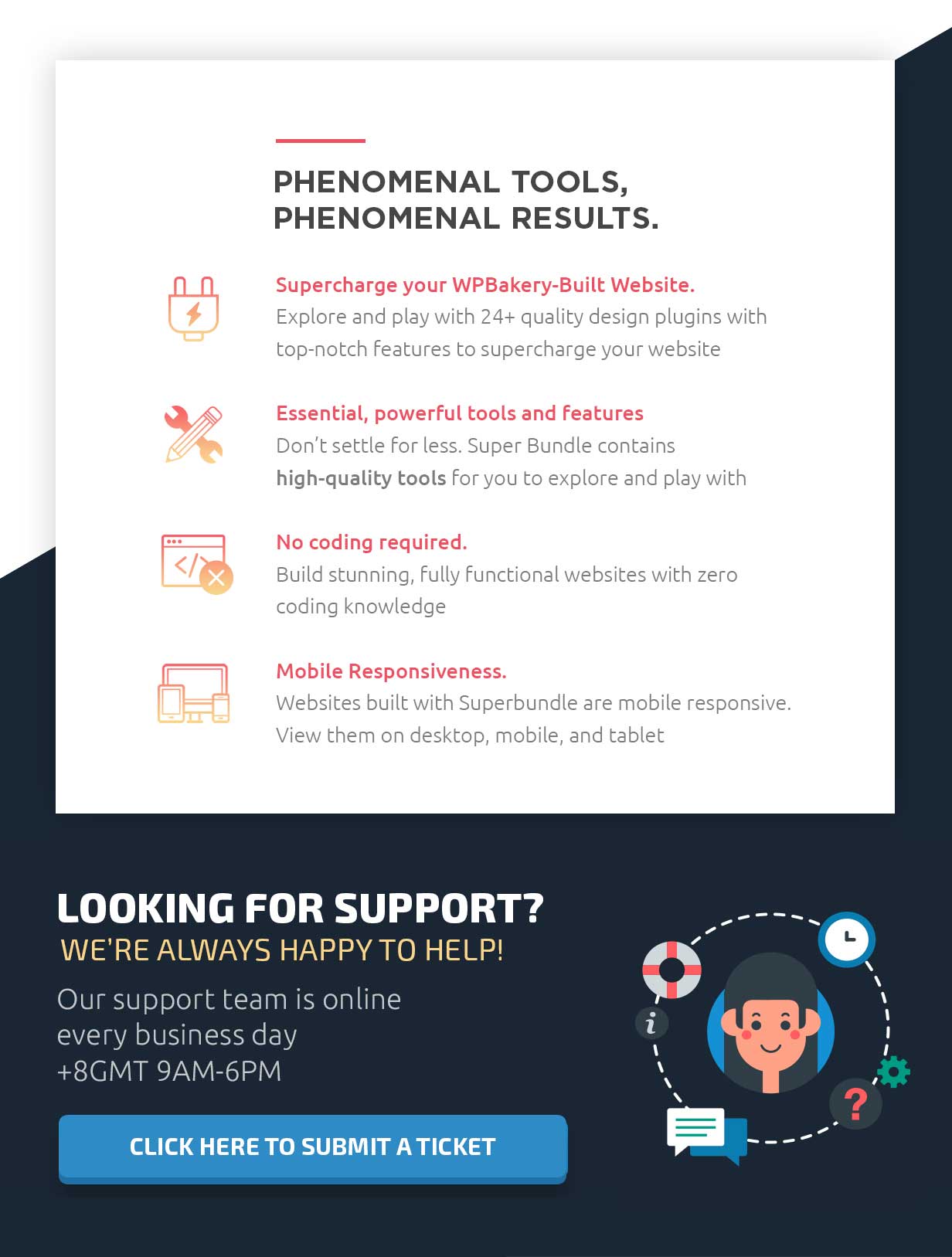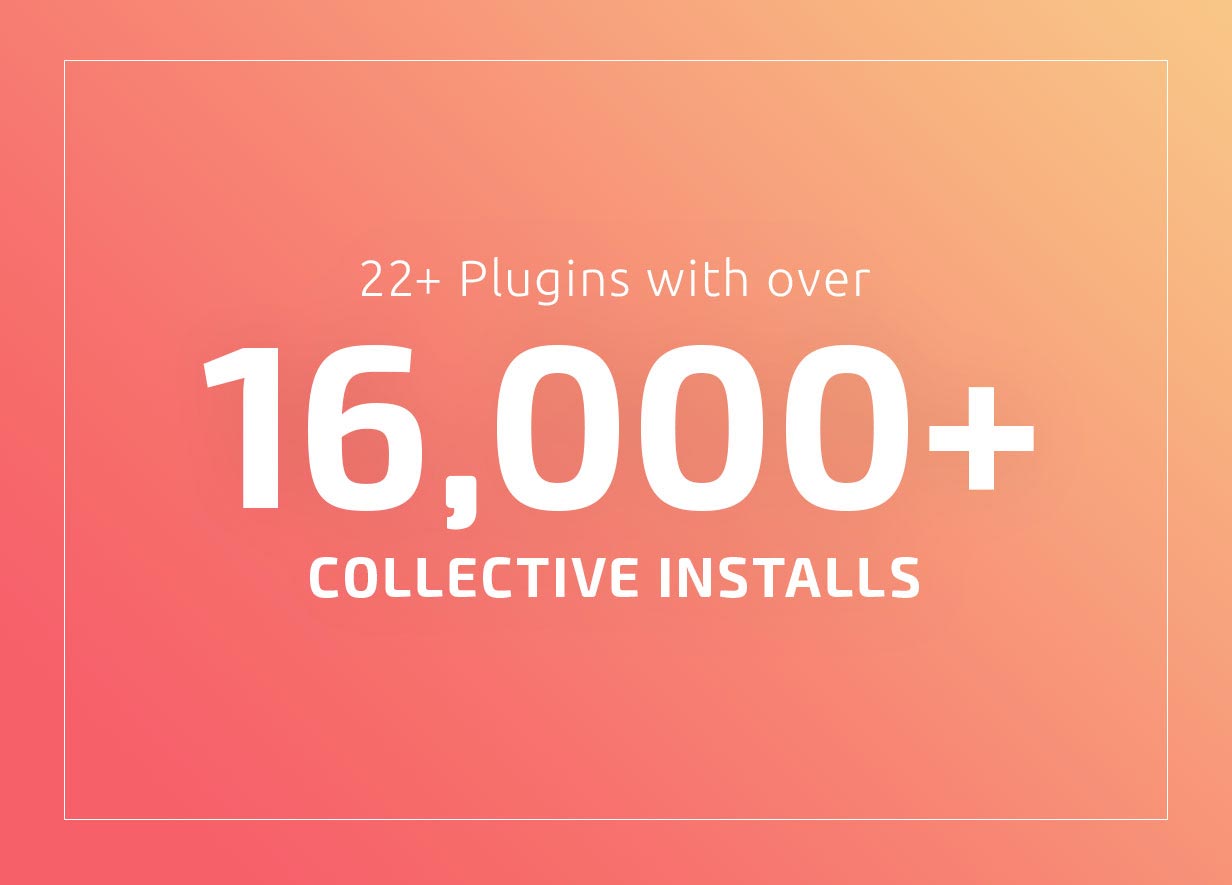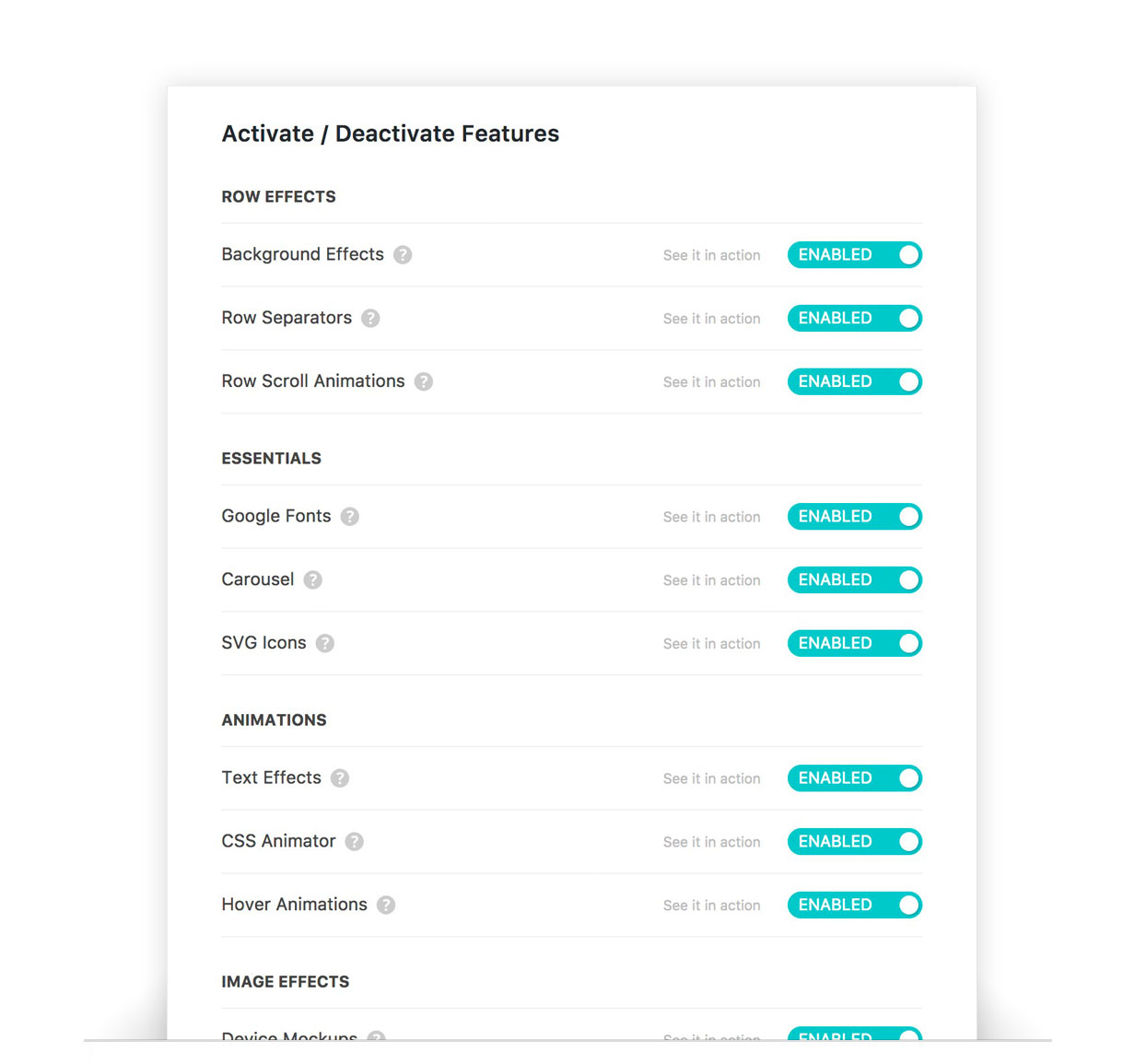 Get 20+ Plugins in 1 Addon – the Super Bundle for WPBakery Page Builder (formerly Visual Composer).
Supercharge your WordPress website with add-ons like Video and Parallax Background, Carousel Anything, Text Animation, and more. Get ALL our addons inside a single addon!
Since 2014 we have been creating dozens of the best WPBakery Page Builder Addons and WordPress Plugins. We combined the best plugins into a single massive and affordable addon so you can impress with your website.

Important: You'll need WPBakery Page Builder for this plugin to work. WPBakery Page Builder Super Bundle is also compatible with Ultimate Addons for WPBakery Page Builder. This might not work with themes/plugins that modify WPBakery Page Builder heavily.
The Super Bundle for WPBakery Page Builder gives you the best collection of our most finely tuned design elements and tools that will supercharge your WPBakery Page Builder experience.
And we aren't talking about the common stuff like colored alert boxes, or differently styled headings.
We're talking unique, efficient plugins with amazing capabilities, such as the ability to separate your rows with gorgeous curving separators, timed entrance animations, Macbook Pro mockups, or the ability to have a preview in the backend WPBakery Page Builder editor which updates as you modify your content.
We're talking the good stuff.
Kick-Ass Features
Turn on or off features as you need them.
Background Effects
Take your pick from the plugin's special background effects to liven up your site: Parallax Background which moves up, down, left or right, Video Backgrounds from YouTube or Vimeo, Hover Backgrounds, Color Cycle backgrounds and Background Gradients.
Option to set parallax direction to up, down, left or right
Add color overlays to your backgrounds
Just copy and paste a Youtube or Vimeo link to turn it into a background
Simply upload any image and we'll make it tilt and move upon hover
Color cycle background overlay
Adjust the color cycle's speed so it moves fast or slow
You can use different background effects and combine them
Row Separators
Emphasize your content with 70+ row separator designs for your web pages. Add contrasts between solid and image background rows by adding funky separators between them.
70+ customizable, high-quality SVG row separator designs
Top & bottom separators
Scale separators vertically and flip them horizontally
Add outlines and adjust their color and thickness
Option to add your own SVG row separator designs
Row Scroll Entrance Animations
Add awesome effects on your rows and content; have them fly in from different directions as they enter the view, or choose from dozens of our other animations. Give your site a interactive spin as your visitors scroll through your page.
13 Entrance Animations
14 Exit Animations
Handles existing WPBakery Page Builder's Row Settings
Pure Javascript is used for speed, no jQuery
Disables in mobile devices for faster page loading
Video Lightbox
Add video or image thumbnails that when clicked opens a large video lightbox popup.
YouTube, Vimeo or Self-Hosted WEBM & MP4 video popups
Use image or video thumbnails
Large fullscreen-size video lightbox
SVG Draw Animation Effects
Upload your own SVGs and animate them to look like they're being drawn onto your website.
Animates SVGs using a "live drawing" effect
Converts SVGs into outlines
Change SVG stroke / outline color and thickness
Choose from 3 different drawing animation styles: Delayed, Simultaneous, and One by One
Text Animation Effects
Decorate your site with captivating headlines using typewriter, scrambler, fade, random letter, vertical flip, or fade text animations.
6 unique text effects
Input different words and add timing for text appearances
Add multiple effects in a single page
Adjust text color, size, and more
Number Count Up
Add an entrance animation to your numbers, to make them count upward when they become visible on your screen.
Simple and easy to use animated count up number
Add a heading and description
Change font size and color of the count up
Change font size and color of headings and descriptions
Add prefixes and suffixes like decimals, percentage signs or currency symbols
12,000+ SVG Icons
Easily search and use thousands of SVG/vector icons for your website, or use them as standalone icons or inside buttons.
Over 12,000 SVG icons
Option to add links to icons and/or place icons in buttons
Customizable background shapes & outline styles for all icons
Option to add animated effects your icons
Carousel Anything
Create carousels out of posts, individual or grouped images, text, buttons, anything – and showcase them to give your website a stylish kick.
Place any element into carousel, like text, photos, videos, and also;
Testimonials, mockups, icons, widgets—anything.
Create carousel for posts or custom post types with 2 preset styles: plain and one that uses the featured image as the background
Google Fonts
Easily select from all 800+ Google Fonts for your headings and normal text per row or column. No longer will you be restricted by your theme's default.
All 800+ Google Fonts readily available at your WordPress backend
Preview of all fonts while picking
No limits from external themes or plugins
Device Image, Video and Slider Mockups
Place your images in desktop, tablet, or mobile mockups and take your pick from different customizable ones.
Wrap images and videos in phone, laptop, browser, and desktop mockups
40+ High-Resolution device mockups to choose from
Apple (iPhone, Macbook, and more), Samsung, and HTC mockups available in different colors
Simply upload images or input video id from Youtube & Vimeo to place in a mockup
Option to show only partial mockups for layout effects
Hero Image Boxes
Showcase your images in stylish, interactive boxes with cool hover effects. Perfect if you want to give your page design a fun spin.
30 beautiful, interactive designs
Fast and hyper-smooth CSS animations
Option to add single hero box or gallery of hero boxes
Add color or tint to hero boxes
Loupe: Image Magnify Element
Loupe: Image Magnify Element or Loupe adds an interactive magnifying glass on your webpage, which is great for observing the finer details of images and text. Perfect for product-based websites.
Interactive; drag along your image to magnify
Choose from click-and-drag or hover
Choose between circular or square loupes
Customizable size, color, opacity and thickness
Add shadows or shining effects to your loupe
Add differently-styled loupes on your page
Before and After Image Slider
Display an interactive slider for displaying before and after images on top of each other. Great for before and after shots, or for showcasing improvements.
Perfect for showcasing "Before & After" images for redesign or make-over scenarios
Supports vertical and horizontal splits, and also diagonal or angular splits—a first for WPBakery Page Builder image sliders
Option to slide via hover, click & drag or scroll bar
Adjust slider color and width
Set starting point for slider
Mix and match your chosen settings
Isometric Image Tiles
Place images in beautiful isometric tiles and boost your website's aesthetic. The tiles can be functional as well and act as links to other pages or posts.
10 isometric layouts: squares, squares arrow, rectangles, rectangles arrow, single square, squares layered, and more
Hoverable & clickable
Option to add links to your tiles
Change your tilt angle, side colors, tile size, gaps, and more
Auto-resize images to fit in tiles
Break out parent containers and span the full page width
CSS Animator Container
Add special rows that animate everything inside them. Create more complex entrance animations to further add style in your pages.
40 CSS Entrance Animations
7 CSS Loop Animations
Animate single or multiple elements
Adjustable animation duration & delays
Option to hain animations together
Add delays and time your animations
Includes full detailed fields
Hover Animations for Rows and Content
Beautify your site and create elaborate effects for your rows and content that animate upon hover. You can string multiple hover animations together that play simultaneously when hovered on.
10+ row background hover animations
8+ element hover animations
Change text color, fade in, fade out, move up, down, left, right, shrink or grow
Option to turn your whole row into a link
Customizable: tweak different animation properties like opacity and tilt amount
Free Image Search (Unsplash, Flickr, Pixabay, Giphy, 500px)
Search and download images directly from the WordPress Media Manager. You can search and download images while editing your content in the WPBakery Page Builder editor without leaving.
Search free images from Unsplash, Flickr, Pixabay. Giphy, and 500px
Integrates directly into the WordPress Media Manager
Automatic attributions when used as featured images
Filter for non-commercial/commercial/no-attribution images
Shows detailed information about each photo
Shows badges of different license requirements
Backend WPBakery Page Builder Live Preview
Not all addons are compatible in the frontend WPBakery Page Builder editor, and lots of people prefer the backend editor. With Backend WPBakery Page Builder Live Preview, you'll be able to view the changes that you perform live while in the WPBakery Page Builder backend editor. No need to keep hitting the preview button or switching tabs to view your changes.
Live preview of your page in WPBakery Page Builder's backend editor
Preview updates with every change you perform
Renders shortcodes even from third-party WPBakery Page Builder addons without any problems
Integrates directly with WPBakery Page Builder's full screen backend mode
No additional configuration
Toggle between desktop, tablet, and phone screen resolutions
Backend WPBakery Page Builder Undo and Redo
Increase your productivity by using our undo and redo buttons in the backend WPBakery Page Builder editor. You can also use shortcut keys CTRL+Z or CTRL+Y (CMD+Z or CMD+SHIFT+Z in Mac).
Easy to access undo and redo buttons
Easy-access shortcut keys: Ctrl + Z, Ctrl + Y for Windows, and Cmd + Z or Cmd + Shift + Z for Mac
Still available even after publishing/saving/reloading the page
Shortcut keys all work as long as your cursor is focused on the window
Browser-saved undo/redo history
Smooth Mouse Scroll
By default, mouse wheel scrolling is jumpy and can degrade the effects of parallax backgrounds or CSS entrance animations. Now, you can have smooth mouse wheel scrolling across your site.
Smooth scrolls other scrollable elements like text areas and divs
Disables itself automatically on mobile devices for faster experience
Works with trackpads
Normalized scroll amount across all browsers
Changelog
Version 1.4.2 - June 14, 2019
===============================

* [CSS Animator] Fixed: Waypoints script not being loaded in WPBakery 6.x
Version 1.4.1 - October 24, 2018
================================

* New: Super Bundle category for all our elements
* New: Same colors for all icons
* [Before & After] New: Added Swap before & after slides
* [Fonts] Updated: Google Font listings
Version 1.4 - August 4, 2018
============================

* New: Added Video Lightbox element!
* Change: For first time activations, undo/redo is now disabled.
* [Backgrounds] New: Added self-hosted video backgrounds
* [Backgrounds] New: Face-lifted element icons
* [Backgrounds] Fixed: When multiple YouTube backgrounds are used, only the last one played
* [Backgrounds] Fixed: Chrome and Firefox showed different gradient directions
Version 1.3 - June 28, 2018
===========================

* New: Added SVG Draw Animation element!
* New: Added Number Count Up element!
* [Backgrounds] Fixed: PHP 7.2 warning regarding count()
* [Backgrounds] Fixed: YouTube videos sometimes did not show up in Window Chrome browsers
* [Backgrounds] Fixed: Added mute=1 to Vimeo videos to enable autoplay without removing the audio track in Vimeo videos.
* [Backgrounds] Change: Made videos permanently muted since browsers no longer allow autoplay on videos with audio
* [Hover Animations] Fixed: Removed all Hover tabs in vc_pie, vc_round_chart, vc_line_chart and vc_raw_js to prevent any incompatibilities.
* [Row Separators] Fixed: Custom colors get applied across all separators in the page.
* [SVG Icons] Change: Exposed `gmb_svg_icons_get_icon()` for other plugin integration.
Version 1.2.2 - May 22, 2018
============================

* [Fonts] Added: Font sizes
* [Backgrounds] Fixed: Vimeo background videos stopped playing
Version 1.2.1 - April 16, 2018
==============================

* [Row Separators] Fixed: Custom SVGs not being applied
* [Isometric] Fixed: Some styles were not being applied
Version 1.2 - March 22, 2018
============================

* [Shadows] Fixed: Shadows for nested columns are now working.
* [Carousel Anything] Various updates - most notably Owl Carousel 2.0
* [Before and After] Various updates
* [SVG Icons] Major fixes - most notably icon styles
* [Fonts] Updated Google Font listing & some minor fixes
* [Hover Animations] Various fixes
* [Device Mockups] Fixed autoplay for Vimeo videos.
* [Isometric] Major fixes
* [Separators] Various fixes
Version 1.1 - November 23, 2017
===============================

* New: Added Shadows feature for columns, images and buttons.
* New: Added Text Gradient feature for text elements.
* Fixed: Removed feature plugin headers

Version 1.0.2 - August 8, 2017
==============================

* [Hover animations & Fonts] Fixed: Modified VCs that override the vc_shortcodes_css_class hook wp-config won't display a warning, but still won't work.

Version 1.0.1 - August 5, 2017
==============================

* Fixed: Compatibility with VC 5.1.1 + WC
* Fixed: Fatal error VC_PAGE_MAIN_SLUG when VC is not activated.

Version 1.0
===========

* Initial release

[ad_2]
Source