[ad_1]
BUY FOR $29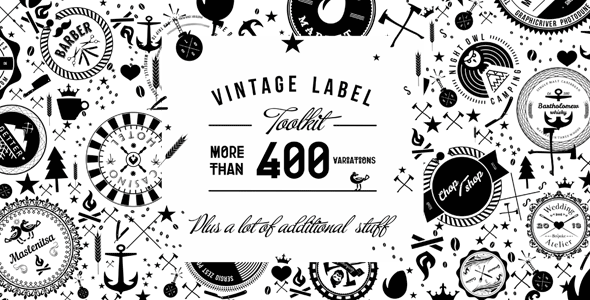 20 circle labels from 40 parts
400 variations
6 additional labels / titles
Sound FX included
25 photos included
All fonts with free licence (links inside)
Dust and light leaks effects
Vector PDF files for print included
Vdeo tutorial
Easy to customize
Watch HQ preview on youtube
Check out video tutorial on youtube
Fast and convenient label toolkit for your videos and even for your corporate style.
Create! More than 400 variations of titles, logo, labels from 40 unique components.
All Inclusive
You get 426 unique designs. Toolkit solves your specific task.
All Fonts has free licence and ready to download. You don't need to pay more.
All highly detailed labels are included in project as vector PDF files and ready to print any size you want.
All sound effects are included! Mastered and ready to use.
You get 6 special additional labels.
Detailed video tutorial with voiceover is included in project. Creating labels turns into a fun game.
Vintage label toolkit is your choice, if:
You need unique logo for print on a booklets, envelopes, covers, business cards and same time animated logo for all your videos and website all in one style.
You need photo-gallery titles.
You have video blog and you need an animated opening, or specific animated ident.
You need beautiful design for your portfolio.
You need fast and creative design for your prints.
and more than a thousand different ideas for your business.
Why you should buy it right now?
It's an exclusive project, it has no analogues and you can buy it only on videohive.net
You will create beautiful label like in our presentation, toolkit is designed to be flexible. You always can change size, font, spacing of your text, so don't worry about it.
You will make your label really fast. All details really fine tailored to each other. You don't need make additional moves.
You can paste your logo inside label instead of envato sign. Leave original colors or fill it with label color.
High quality detailed animations.
Minimum of "motion design cliche" all animations made manualy and appear relevant in each animated label.
Well project organization. We've tryed to create something really handy.
Paste your photo or video, add light and dust effects, and you have perfect look.
All details made from shapes inside After Effects. Even dust and light leaks made from Particular world. There is no prerender – you can go inside and edit every detail you want.
We will help with any issue fast and 24/7. Just contact us through our profile page.
There is nothing required
We have done everything.

Just buy it.
Vintage Label Toolkit for print and web on graphicriver.net only for $8
Great music theme by seastockaudio only in preview

Nice photos at unsplash.com

Thanks to Freesound.org

[ad_2]