[ad_1]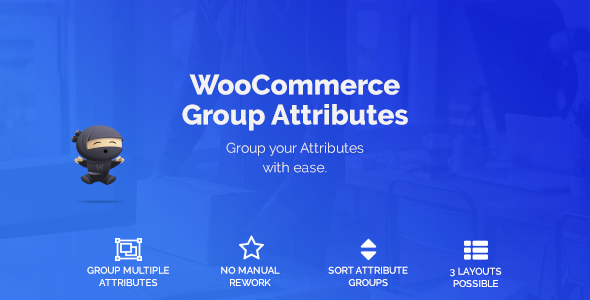 Classify / Group your Attributes
You have many Attributes and want to give your customers a clearer view by grouping them together? Then this plugin will fullfill your needs:
Create a new attribute group
Add the attributes
Put an image if you want
That's it – the plugin handels the rest!
Attribute Group Features
3 Attribute Layouts
Customizable Attribute Value Divider
Odd Background and Text Color
Even Background and Text Color
Advanced Settings
This plugin requires the free Redux Framework Plugin to give you an easy to manage settings panel.
Tested
Tested with WordPress 3.8+
Tested with WooCommerce 2.0+
Compatibility
WooCommerce 2.0+
WordPress 3.8.1+
PHP 5.2+
Changelog
======
1.5.4
======
- NEW:    Attribute group categories now display in submenu under products wp-admin menu

======
1.5.3
======
- NEW:    Added woocommerce_display_product_attributes filter support
- NEW:    Option to hide / show weight or dimensions
- NEW:    Option to set a custom text for "more" attribute group
- FIX:    Weight & Dimensions now grouped in more
- FIX:    Weight & Dimensions missing from layout 4

======
1.5.2
======
- FIX:    Added ob output buffer to shortcode

======
1.5.1
======
- NEW:    Shortcode implemented
        See: https://welaunch.io/plugins/woocommerce-group-attributes/faq/shortcode/
- FIX:    Outdated template issue
- FIX:    PHP notices

======
1.5.0
======
- NEW:    Group Style 4 - basically this is splitting up groups into columns (columns can be set by in settings)
        https://welaunch.io/plugins/woocommerce-group-attributes/product/grouped-attributes-style-4/
- FIX:    Styling issues

======
1.4.2
======
- FIX:    Fixed 3 PHP notices

======
1.4.1
======
- FIX:    Added ASYNC false to AJAX requests to avoid wrong attribute load order

======
1.4.0
======
- NEW:    Attribute group categories
        Attribute group categories can contain multiple attribute groups. 
        These categories can be loaded in the backend when you edit a product. 
        To create categories, simply edit a attribute group and you will see categories in the right sidebar.

======
1.3.7
======
- FIX:    CSS styling issue

======
1.3.6
======
- FIX:    Additonal Woo 3.6 support

======
1.3.5
======
- FIX:    WooCommerce 3.6 support

======
1.3.4
======
- FIX:    Removed TGM Plugin
- FIX:    Multiple Attributes in Groups not showing in Layout 1 only
- FIX:    Removed woocommerce-general CSS dependency

======
1.3.3
======
- FIX:    Layout 3 ":" missing when attribute images plugin not active

======
1.3.2
======
- FIX:    Added support for attribute images plugin latest version

======
1.3.1
======
- FIX:    Attribute order was not correct in layout 3

======
1.3.0
======
- NEW:  Added custom Class to attribute rows so you can hide them via custom CSS
- FIX:  Weight & Dimensions did not displayed correctly
- FIX:  Moved Weight & Dimensions to Bottom

======
1.2.9
======
- NEW:  Attribute image exchange
- FIX:    Fixed Attribute Value Divider

======
1.2.8
======
- NEW:  Added support for Attribute Images Plugin
- FIX:  Mobile / Responsive Issues

======
1.2.7
======
- NEW:  Attribute Archive link introduced
- FIX:  When attribute group in backend is loaded it will respect the sort order
- FIX:  CSS issues with right text align
- FIX:  Updated Attribute Layout to latest WooCommerce Standards

======
1.2.6
======
- FIX:  only load select2 while adding / editing a attribute group

======
1.2.5
======
- NEW:  Load attributes from attribute groups inside product editing
        Demo Video: https://youtu.be/w8ChQ_FfYEE

======
1.2.4
======
- NEW: Sort attributes in an attribute Group

======
1.2.3
======
- NEW: custom attributes are stored in "More"-Group
- FIX: custom attributes did not show up
- FIX: ksort issue

======
1.2.2
======
- FIX: PHP Notice

======
1.2.1
======
- FIX: Removed the check for the meta box class exists
- FIX: Adjusted TGM Init

======
1.2.0
======
- NEW:  Removed Meta Box Plugin and replaced by native Code
        You can now remove the meta box plugin!
- FIX: WPML Support

======
1.1.3
======
- NEW: Improved WPML Support

======
1.1.2
======
- FIX: undefined variable: img

======
1.1.1
======
- NEW: New Documentation & Examples
- NEW: Improved Layout and HTML structure
- FIX: Various structure

======
1.1.0
======
- NEW: Set an order for your Attribute Groups
- FIX: Multiple Attributes in Groups
- FIX: Attributes not in Group will now display before Groups

======
1.0.13
======
- FIX: get_dimensions was called incorrectly

=====
1.0.12
======
- FIX: PHP Notice:  WC_Product::enable_dimensions_display is <strong>deprecated
- FIX: "PHP Notice: id was called incorrectly" 

=====
1.0.11
======
- FIX: Performance issue

=====
1.0.10
======
- FIX: Activation error
- FIX: Language file

=====
1.0.9
======
- FIX: Meta Boxes heavy ajax performance issue

=====
1.0.8
======
- FIX: Meta Boxes 4.8 compatible

=====
1.0.7
======
- NEW: Better plugin activation
- FIX: Better advanced settings page (ACE Editor for CSS and JS )
- FIX: array key exists

=====
1.0.6
======
- FIX: Redux Error

=====
1.0.5
======
- NEW: Removed the embedded Redux Framework AND Meta Boxes for update consistency
//* PLEASE MAKE SURE YOU INSTALL THE REDUX FRAMEWORK & Meta Box PLUGIN *//

=====
1.0.4
======
- FIX: visisble attribute bug
- FIX: show real Attribute Names in backend

=====
1.0.3
======
- FIX: end of file bug

======
1.0.2
======
- FIX: for all PHP versions below 5.4

======
1.0.1
======
- FIX: attributes will now be stores with their attribute ID (means: you can change the slug, attribute name etc and do not have to touch the attribute group)
- NEW: you can now choose if you want to have one attribute in more than one attribute group.

======
1.0.0
======
- Inital release

======
Future Improvements
======
- None but you can suggest yours
</strong>
[ad_2]