[ad_1]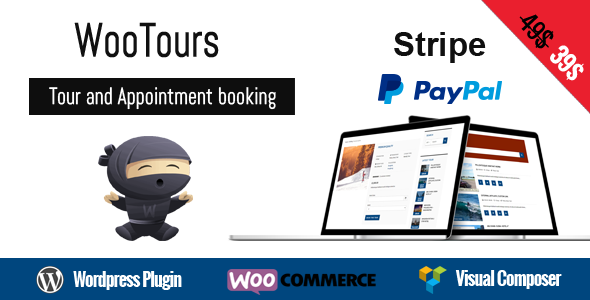 #1 Tour and Travel booking plugin
Latest Version 3.2.4 New update! – 04 March 2020 – view changelog

Compatible with WordPress 4.9 / 5.3++ and WooCommerce 3.7 ++ / 4.X

Let's check how to plugin work with popular themes – View Details
New Taxonomy grid: View Demo
WooTours is WordPress a plugin that helps you create Tour, Travel, Appointment, Events and manage all your online Booking system easily with order system and any payment of WooCommerce. Allow visitors to register account and booking online.
Please ask pre sale question if you not sure about the feature and to make sure the plugin will work as you want
Ver 3.1 – Add tour with different hour and quantity : View Demo
Ver 2.1 – Add discount feature based on number adult
Ver 1.5 – Add Search with filter shortcode : View Demo
Ver 1.5 – Add feature to set quantity for all or each date : View Demo
WooEvents & WooTour is not work together
Demo Account: demo Password: demo
Admin Dashboard demo: http://exthemes.net/wootour/wp-admin/
Frontend user login and register: http://exthemes.net/wootour/my-account/
Our customer's sites
http://www.spoerlein.de/busreisen/
https://cairnsboutiquetours.com.au/tours/
https://www.victoriafallstransfers.com/
https://www.victoriafallshotels.co/
https://martur.com.br/passeios-locais/
Using Avada Theme https://awadengroup.com/
Using The7 Theme https://phuket.id/tour-tanpa-hotel/
https://mayantropic.com/tours/
https://www.medenbach-urlaubsfahrten.de/
https://www.bonjouritalie.com/regulares/
https://vipconnectionsmiami.com/tours/
http://snorkelingthailand.com/
https://www.medenbach-tagesreisen.de/
https://www.smarttravelbelize.com/
https://www.culinarystrolls.com/our-tours/
http://alboranexplorer.com/tickets/
http://locaventure.id/open-trip/
http://hamiltonairbus.com/inter-city-bus/
https://www.algherotours.com/tours/
https://www.sintelugo.com/tours-disponibles/
https://noicetours.com.au/tours/
https://www.cooperativaserapia.it/eventi-serapia/
And more, updating…
Features list
Bookings, allow users to booking Tour
Use WooCommerce to create and sell tickets
Multiple Payment mode
Email to user when booking or booking sucsess or cancel
User History booking
Allow create booking for daily, weekly or special day
Grid shortcode
Table shortcode
Carousel shortcode
Custom ticket types
Free ticket support
3 Single layout
Review + coupon system
Search widget
Search shortcode
Support category, tag
PDF invoice support
Export CSV, PDF, Excel list of customer
Visual Comporser Support
Custom thumbsize
Custom color, font …
User Recently viewed list
WPML Compatibility
Support Loco Translate plugin
Supper easy configuration
And more …
WooCommerce is required to make WooTour work.
NOTE
If your theme has customise and style template of woocommerce, you will need to use your theme style which your has customised and to fix some confilct code by Go To WooTour > General > Main Purpose > Only use metadata :
With this option you can choose default layout for single product as Tour or WooCommerce in Single Tour Setting tab :
To create tour, you could check this:
Release log
---------------------------------------------------------------------------------------
Version 3.2.4 - 04/03/2020
- Add option to change admin date picker to dd/mm/yyyy 
- Fix min quantity duplicate 
- Fix bug save metadata bug with the latest version of WPML 
- Fix live total not working with some themes.
---------------------------------------------------------------------------------------
Version 3.2.3 - 17/12/2019
- Improve admin setting 
- Css bug fix 
- Remove some notice 
- Fix some minor bug with WPML 
- Fix conflict with deposit and product addon plugin
---------------------------------------------------------------------------------------
Version 3.2.2 - 07/06/2019
- Add support advanced order export 
- Add show discount price in live total 
- Add option to enable stock for special variation 
- Add option to set fixed price for tour 
- Add option to change slug of location 
- Some minor bug fix
---------------------------------------------------------------------------------------
Version 3.2.1 - 29/01/2019
- Fix show wrong live total price 
- Allow special date work with week day 
- Fix date picker conflict
---------------------------------------------------------------------------------------
Version 3.2 - 28/12/2018
- New Ajax Search 
- New Taxonomy grid shortcode 
- New min max number of ticket 
- Improve design 
- Improve metadata
---------------------------------------------------------------------------------------
Version 3.1.1 - 03/10/2018
- Fix bug with new version of WPML multi currency 
- Fix notice 
- Fix list code not showing in browser install Adblock 
- Add option to disable multi stock for each variable
---------------------------------------------------------------------------------------
Version 3.1 - 29/05/2018
- Add allow set quantity per each variable
- Some minor bug fix
---------------------------------------------------------------------------------------
Version 3.0 - 26/04/2018
- Add discount by season 
- Add list shortcode 
- Add option to change date format of date picker 
- Add query by location 
- Fix carousel conflict 
- Fix notice php > 7
---------------------------------------------------------------------------------------
Version 2.3.1 - 16/01/2018
- Fix bug do not save tour date and number attendees info
---------------------------------------------------------------------------------------
Version 2.3 - 12/01/2018
- Add more 2 custom field price 
- Add start date option 
- Add Option allow book tour before X day per tour 
- Add grid classic style 
- Add option to show custom date in shortcode 
- Add schedule and map field 
- Fix conflict code with some themes 
- Fix notice
---------------------------------------------------------------------------------------
Version 2.1 - 01/09/2017
- Support discount based on number adult
- Support show special date in calendar
- Improve css. 
---------------------------------------------------------------------------------------
Version 2.0 - 20/06/2017
- Support child + infant price for variable product 
- Support sale price for child + infant 
- Add option to allow user only can booking tour before X day
- Support WooCommerce 3.0 ++ 
---------------------------------------------------------------------------------------
Version 1.5 - 15/05/2017
- Add search with filter
- Add feature set quantity for date
---------------------------------------------------------------------------------------
Version 1.1 - 14/02/2017
- Update total amount bug fix
- Css bug fix.
- Select date bug fix
---------------------------------------------------------------------------------------
Version 1.0.0 - 02/02/2017
- WooTours – First release

[ad_2]
Source