[ad_1]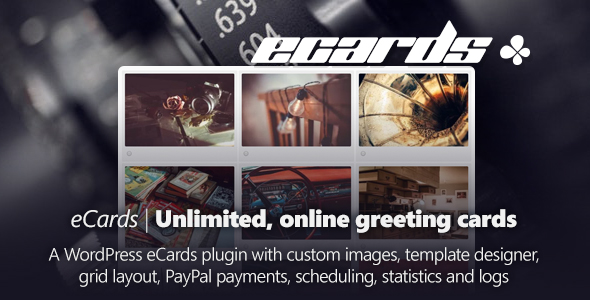 NEW! Version 4.8.1 is out and it brings more speed and Gutenberg compatibility! Create your personalized email templates and use tags and shortcodes to include custom details and content. Read more here.
WordPress eCards is a WordPress plugin used to send electronic cards to friends. It can be implemented in a page, a post or the sidebar. Start your own eCards site! Be it Christmas, Valentine's Day, Easter or Halloween, the eCards plugin works for everything.
eCards makes it quick and easy for you to send an eCard in 3 easy steps. Just choose your favorite eCard, add your personal message, and send it to any email address. When you send an eCard using this plugin, no personal information is stored in WordPress database.
eCards sends any embeddable image, be it JPG, PNG or animated GIF. If no image is found in the post, the eCard is still delivered to its recipient. eCards uses WordPress internal mail sending functions. Save eCard senders as WordPress contacts and export or synchronise them with MailChimp!
Highlight the number of eCards sent using the new [ecard_counter] shortcode.
eCards uses an optional PayPal shortcode to hide the form until a payment is made.
More Features
Member-only restrictions
PayPal sandbox mode
Custom PayPal buttons
= 4.8.0 =
* UPDATE: Added full Gutenberg compatibility
* UPDATE: Updated WordPress compatibility
* UPDATE: Refactored attached images
* UPDATE: Replaced deprecated grid with Flexbox

= 4.7.1 =
* FIX: Fixed Flexbox CSS Masonry

= 4.7.0 =
* PERFORMANCE: Replaced Masonry JS with Flexbox CSS
* PERFORMANCE: Removed jQuery dependency
* USABILITY: Replaced clunky JS calendar with HTML dropdowns
* UPDATE: Updated WordPress compatibility

= 4.6.0 =
* PRIVACY: All eCard (CPT) are no private and invisible to XML sitemaps
* PRIVACY: Removed all eCard logs
* PRIVACY: Removed all eCard senders
* PRIVACY: Removed custom eCard user roles
* PRIVACY: Remove all email addresses after a scheduled eCard is sent
* UPDATE: Updated WordPress compatibility

= 4.5.4 =
* FIX: Fix for user uploaded image
* UPDATE: Updated WordPress compatibility

= 4.5.3 =
* FIX: Fix for wp_mail() filter
* FIX: Removed unused JS variables

= 4.5.2 =
* UPDATE: Replaced date/time picker with vanilla JavaScript (+speed, -weight)
* UPDATE: Removed jQuery dependency from main eCards script (+speed)
* FEATURE: Added email log

= 4.5.1 =
* UPDATE: Removed getButterfly logo
* UPDATE: Removed wording from getButterfly ad box
* UPDATE: Tweaked plugin description

= 4.5.0 =
* FIX: Fixed CSS compatibility with IE
* FIX: Admin UI tweaks
* UPDATE: Added basic template for eCards grid
* UPDATE: Show eCards in WordPress Dashboard by default
* UPDATE: Removed new eCard CPT capability (eCards are read only)
* UPDATE: Removed SparklinesJS
* UPDATE: Removed old, generic stats
* UPDATE: Removed [ecard_counter] shortcode
* UPDATE: Removed jQuery dependency
* UPDATE: Removed WP Mail From II recommendation
* UPDATE: Updated WordPress requirements
* UPDATE: Updated PHP requirements
* UPDATE: Removed unused table and options
* FEATURE: Added basic stats

= 4.4.6 =
* FIX: Fixed wp_mail() headers compatibility with PHP 7+

= 4.4.5 =
* FIX: Consolidated wp_mail() headers
* FIX: Consolidated payment shortcode
* FIX: Fixed undefined variable
* FIX: Styling tweaks
* UPDATE: Removed eCards UI references
* UPDATE: Code quality updates

= 4.4.4 =
* FIX: Consolidated wp_mail() headers
* UPDATE: Updated WordPress compatibility

<strong>= 4.4.3 =</strong>
* FIX: Fixed SQL bug

<strong>= 4.4.2 =</strong>
* UPDATE: Updated documentation
* UPDATE: Relaunched eCards UI
* UPDATE: Code quality updates
* UPDATE: Code performance updates
* UPDATE: Code security updates
* UI: Added better contextual help for additional images

<strong>= 4.4.0 =</strong>
* FIX: Fixed incorrect email message being passed to Akismet
* FIX: Removed unsupported mail attachment argument
* UPDATE: Consolidated appearance settings to avoid overriding options
* UPDATE: Code performance updates
* UPDATE: Updated WordPress compatibility
* FEATURE: Added possibility to attach images from Media Library to posts/pages
* DOCUMENTATION: Added eCard samples (XML import)

<strong>= 4.3.0 =</strong>
* FIX: Fixed missing eCard (Designer) template (added WordPress notification)
* FIX: Fixed date/time picker
* FIX: Fixed Masonry loading behaviour

<strong>= 4.2.0 =</strong>
* FIX: Properly added mail headers to allow for secure sending and reply-to options
* FIX: Fixed carousel to work on more themes natively
* FIX: Fixed some issues with scheduled eCards
* UPDATE: Added ID to eCard form to allow tracking targeting
* FEATURE: Merged all email options into the new eCard Designer
* FEATURE: Added Masonry grid to eCards

<strong>= 4.1.0 =</strong>
* FIX: Fixed large image using the full size (instead of a custom one)
* UPDATE: Added optional carousel behaviour for eCards
* UPDATE: Moved Sparklines plugin to a local folder (instead of CDNJS)
* UPDATE: Refactored internal plugin URL and removed the constant
* UPDATE: Removed path and version constants and replaced them with native functions
* UPDATE: Removed forced hiding of CPT UI
* PERFORMANCE: Only load admin scripts and styles on the plugin page
* PERFORMANCE: Saved multiple database calls for multiple eCards collections

<strong>= 4.0.5 =</strong>
* FIX: Fixed large image size being hardcoded to thumbnail
* FIX: Code formatting fixes for PSR compliance
* UPDATE: Updated date/time picker library and used the full version

<strong>= 4.0.4 =</strong>
* UPDATE: Forced hiding of CPT UI to avoid confusion
* UPDATE: Grouped several developer-only settings

<strong>= 4.0.3 =</strong>
* FIX: Fixed checkboxes not being unchecked

<strong>= 4.0.2 =</strong>
* UPDATE: Added success message to labels list

<strong>= 4.0.1 =</strong>
* FIX: Fixed several PHP notices for unset checkboxes
* UPDATE: All emails now include the selected eCard as an image attachment

<strong>= 4.0.0 =</strong>
* FIX: Removed deprecated phrase from the Diagnostics tab
* FIX: Added HTML content type fix and grouped debugging options together
* FIX: Fixed formatting and line breaks for eCard content
* FIX: Fixed several issues with non-initialized options
* UPDATE: Synchronized with the free version

See official site for the full eCards changelog.
Note: Only current version – 4.0+ – is supported! Please upgrade before asking for support.
[ad_2]
Source